Bob Stoops: 'Ohio State Makes Every Level of Your Defense Execute'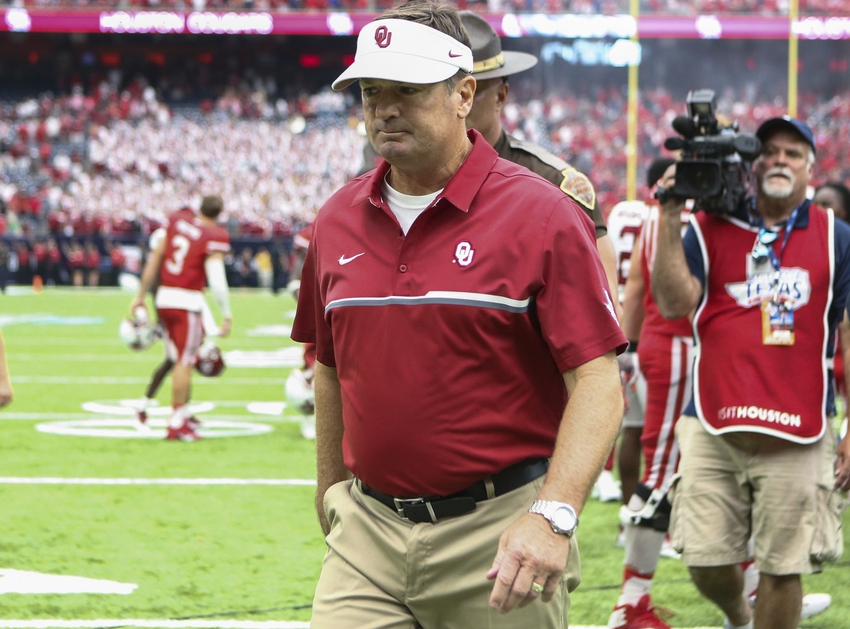 Bob Stoops has won plenty of big games while at Oklahoma. His 50 victories against top-25 opponents ranks second only to Alabama's Nick Saban.
Of late, however, the Oklahoma head coach has struggled against teams ranked in the nation's top five. And that's where the Sooners find themselves this weekend, in a much anticipated showdown of college football blue bloods.
Oklahoma plays host to No. 4 Ohio State, two schools that rank eighth and sixth, respectively, on the list of the most wins in college football history. Last month, the Associated Press ranked Ohio State  and Oklahoma as the top two teams in its All-Time Top 25. The Buckeyes and the Sooners have been ranked No. 1 more than any other school since the AP first introduced its weekly rankings in 1936.
Somewhat surprisingly, though, these two elite football programs have met on the gridiron only two previous times, with each coming away the victor on the others home turf.
The Buckeyes, 2-0 this season with dominating home wins over Bowling Green and Tulsa, are the first team ranked in the top five of the AP poll to take on the Sooners in Norman since 2008. And before that, Nebraska, in 2000, was the only other team ranked as high as Ohio State to come to Norman.
"We just have to compete and be competitive, and play with a lot of energy. That makes up for a lot of mistakes." — OU head coach Bob Stoops, talking about his defense
Those two games didn't turn out very well for the visitors, with Oklahoma showing little mercy against then No. 2 Texas Tech, winning 65-21 behind Sam Bradford, and dethroning top-ranked Nebraska 31-14 en route to a perfect 13-0 season and the Sooners' seventh national championship.
Oklahoma has been phenomenal at home under Bob Stoops, winning 97 of 105 games, and every one of those games has been a sellout at 85,000-seat Gaylord Family-Oklahoma Memorial Stadium. You can count on the stadium being overfilled on Saturday night.
Playing before that many hostile fans at a place where the home team rarely loses might be intimidating to most schools, but not Ohio State. The Buckeyes have the longest active road winning streak among Football Bowl Subdivision (FBS) teams, at 18.
While Stoops' overall record as head coach against ranked teams is highly impressive, the last five times the Sooners have played a team ranked as high as Ohio State, home or away, they have been on the losing end in three of the five games. And the only one of the five games played in Norman – against No. 5 Notre Dame in 2012 – ended in a 30-13 loss.
Stoops also is 0-1 against teams coached by Ohio State's Urban Meyer. Meyer was the head coach at Florida in 2008 when the top-ranked Gators defeated No. 2 Oklahoma 24-14 in the BCS National Championship game.
The Sooner head coach, who was a defensive back as a college player and made his mark in coaching as a defensive coach, knows full well that his Oklahoma defensive will have to play considerably better than it did in the loss to Houston if the Sooners are to have any chance of getting by the Buckeyes on Saturday.
"We're going to have to play better," Stoops said earlier this week in his regularly scheduled press conference. "There's only so much help in this game. When you play a team like this (Ohio State), they stress you from sideline to sideline. They make every level of your defense execute.

"We just have to compete and be competitive and play with a lot of energy. That makes up for a lot of mistakes. When you play hard and just be aggressive, that's when good things happen to you."
Oklahoma is hoping good things come their way in prime time Saturday night. If they do, you can expect the Sooners to regain a lot of the ground they lost in sputtering to a season-opening loss in Houston.
More from Stormin in Norman
This article originally appeared on