Big Third Quarter Saves Texas Football from Disaster vs Iowa State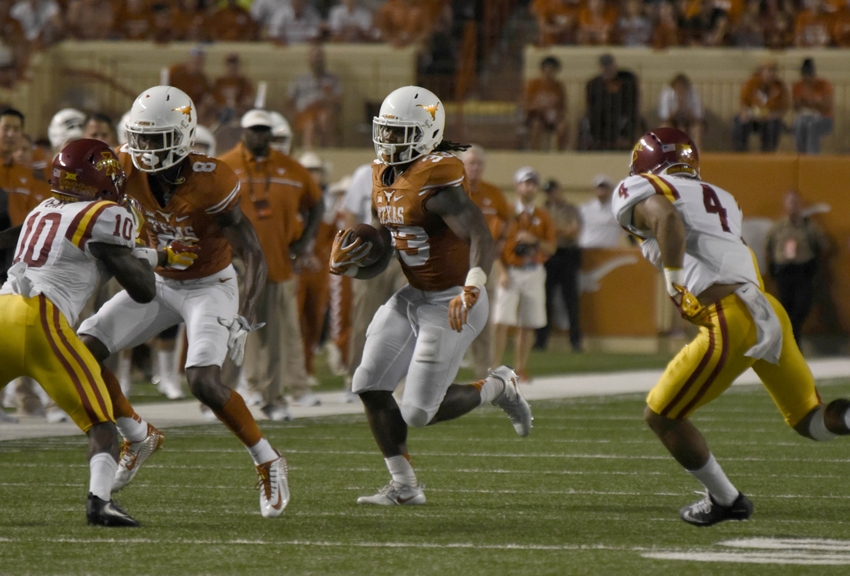 Last season, Texas football was embarrassed by Iowa State 24-0. Through two quarters on Saturday, Longhorn fans feared that that were in for a repeat performance. However, a 21-point third quarter helped create some separation, propelling Texas to a 27-6 win and saving the Horns from an unmitigated disaster.
Texas entered the game on a three-game losing streak with mounting pressure on the coaching staff to save their jobs. They returned home after a month away from DKR and the tension around the program was palpable. Iowa State has seemingly had Charlie Strong's number since he took over at Texas. In 2014, they lost on a last-second field goal before dominating in last season's blowout.
So when Texas stumbled out of the gate, it was understandable that Texas fans started getting nervous. While the defense has been the disappointment so far this season, the first half saw a great defensive performance. The offense, on the other hand, was terrible. Penalties and mental errors killed off numerous drives. They had just 161 yards of offense in the first half. They managed just a field goal before the half. It was the first points that Texas had scored against Iowa State in six quarters.
Trailing the Cyclones 6-3 at the half was not the kind of performance Strong needed to silence his critics. The offense, which had been Texas' lone saving grace in their 2-3 start, was sputtering and looked more like the 2015 unit than the one that had averaged 41 points per game coming into this one.
The third quarter sorted that out. Shane Buechele threw a pair of touchdown passes to Devin Duvernay and Jerrod Heard. Then, D'Onta Foreman capped off a 96-yard, 13-play drive with an 18-yard touchdown run. The Horns finished the game with 507 yards of total offense, led by Foreman's 136 yards rushing on 30 carries. Foreman has rushed for at least 100 yards in seven straight games.
Defensively, this was the best that Texas has looked in 2016. Iowa State had been able to put up points against Baylor and Oklahoma State the last two weeks in near-upset bids. The Longhorns, of course, have struggled to stop anyone. In this game, though, they played like everyone expected them to this summer. Iowa State managed just 280 yards of total offense in the game and scored zero points over the last three quarters.
So while Texas snapped their three-game losing streak and exercised some demons against Iowa State, there's still room for this team to grow. Without their third quarter explosion, this might have been Strong's final game on the Forty Acres. Moving forward, the Horns should try and capture whatever they did coming out of halftime, clone it, and use it in every quarter the rest of the season.
More from Hook'em Headlines
This article originally appeared on