Big Ten West Power Ranking: Wisconsin Gets Season-Defining Win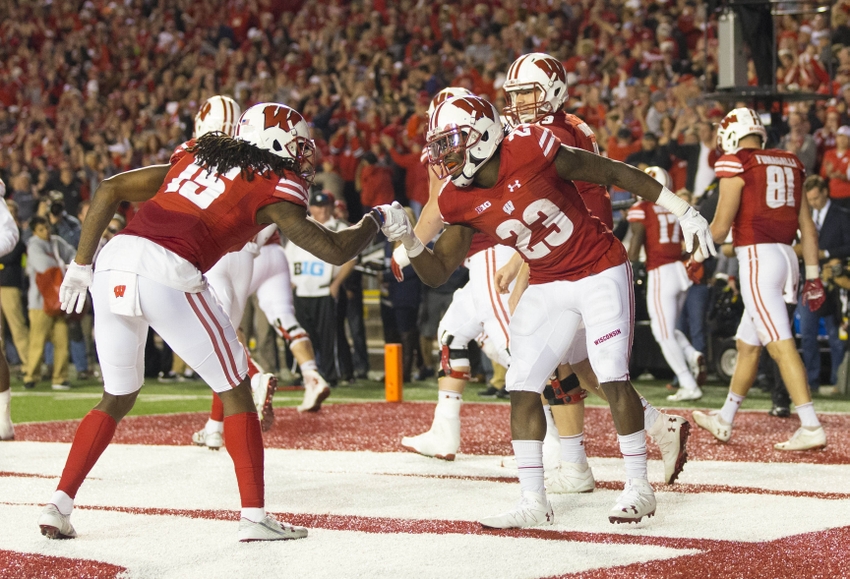 A look at the Big Ten West after week nine of the college football season
Nine weeks have gone by and the Big Ten West is no where close to being decided. After the Wisconsin Badgers survived in overtime at home against Nebraska, the division is even more up for grabs. Every team has at least one loss in conference play and next week features a lot of make or break games for teams.
Looking back at last week, though, the West division lost both of their games to the East. Northwestern fell to Ohio State and Purdue lost to Penn State. Although, Wisconsin jumped back into the AP Poll top-10, and Nebraska didn't fall out despite a loss. Therefore, the Big Ten once again has four teams in the top-10.
For the Iowa Hawkeyes, they're coming off a bye week. After playing in eight straight weeks, it was a much-needed week off, but they will have big test against the 20th ranked Penn State Nittany Lions. It will be their second ranked opponent on the year, their first coming in their last game against Wisconsin.
Here's a look at the Big Ten West and how each team stacks up with each other.
No. 7 – Illinois Fighting Illini 2-6 (1-4)
Last Week: 7
Illinois has been hit hard with injuries this season, especially at quarterback. They're down to third-string quarterback Jeff George Jr., and will probably have to stick with him for a couple of more weeks. George looked better in his second start this past week against Minnesota, as he completed 16-of-34 passes for 156 yards and a touchdown.
Adam Woodbury: Maine Red Claws Draft Former Hawkeye
It might give him enough confidence to perform well against a struggling Michigan State team, who is the only team left on Illinois' schedule that they have a legitimate shot to beat. They'll need more than just George, though.
Illinois has also had a carousel of running backs this year. Kendrick Foster, Ke'Shawn Vaughn and Reggie Corbin all have 50-plus carries on the season and are averaging more than five yards per rush. The Illini need to pick one to rely on and feed him the ball to get their offense going.
It will slow down the pace of the game and keep the Illini in the game for longer. Their defense has given up 40-plus points in two consecutive games now, and Illinois' offense simply can't win in a shootout. However, having the defense step up is easier said than done.
Illinois ranks 81st in scoring defense and teams are completing 64.3 percent of passes against them, as well as averaging 4.3 yards per carry. Although their defense has been the key to their wins.
In both wins this season, Illinois allowed fewer than 10 points. While it might not be a realistic expectation to hold any of their remaining competition under 10 points, their defense has to give their ailing offense a chance.
Illinois isn't ranked last just because they're 2-6. They're ranked last because they don't stick around in games longer than a quarter. Injuries might be part of it, but it's not the whole problem.
No. 6 – Purdue Boilermakers 3-5 (1-4)
Last Week: 6
Gerad Parker deserves a lot of credit for how Purdue has played over the past two weeks. It might not show this past week, but Purdue hung around against then 24th ranked Penn State. The Boilermakers and Nittany Lions were tied 17-17 at halftime and Penn State didn't pull away until midway through the third quarter.
It's the second straight week under Parker that Purdue played a ranked team tough for a half before imploding in the second half. It's easy to look at the 62-24 loss Purdue suffered, but the Boilermakers fought hard despite no one giving them a chance. They simply don't have the talent to last against ranked teams for a whole game.
Parker has made David Blough the focal point of the offense. He's thrown 93 times over the past two weeks, completing 63.4 percent of passes for 590 yards, four touchdowns and two interceptions. Even though Blough has 12 interceptions on the year, being able to carry the load every week is a promising sign for Purdue's future, nonetheless.
Purdue has Minnesota next week, in a game that should be closer than people expect. The Boilermakers might be able to score against Minnesota but their defense still has a lot of question marks. They've allowed at least 30 points in six of eight games this season and put the offense in a big hole early.
Purdue will have to slowly rebuild their program, but Gerad Parker has done a great job of keeping his team focused and playing hard every week. Not a lot of interim coaches can do that in the situation Purdue is in.
No. 5 – Minnesota Golden Gophers 6-2 (3-2)
Last Week: 5
Minnesota is quietly sitting near the top of the Big Ten West with a 3-2 conference record and 6-2 record overall. The Gophers are on a three-game winning streak, although they barely beat Rutgers a couple of weeks ago and this past week beat an underwhelming Illinois team.
Rodney Smith and Shannon Brooks carried the load for the offense, again. They combined to rush for 159 yards and three touchdowns on 32 carries. Minnesota needs their running back duo to sustain that type of production in their last three games of the season against Nebraska, Northwestern and Wisconsin.
That has been the problem for Minnesota this year. Their best win is against Maryland, although the Gophers have gone just 1-2 against teams currently above .500. They have snuck by mediocre teams, and it's worked as they have six wins and likely will add a seventh against Purdue this week.
That being said, Minnesota's true identity could come out in a few weeks. As crazy as it sounds, the Gophers control their own destiny in the Big Ten West. If they somehow manage to win out, they'd win the division and head to Indianapolis for the Big Ten Championship Game.
Until then, though, Minnesota hasn't shown enough to be considered anything better than slightly above-average. They own the 32nd best scoring defense, but allowed FCS-Indiana State and Rutgers to combine to score 60 points. Plus, even with Mitch Leidner back, the offense becomes stagnant if their running game stalls.
Minnesota might be really good, or they could be the biggest pretender in college football. Either way, they've won against teams they were supposed to and will have a tough three-game stretch to end the season.
No. 4 – Iowa Hawkeyes 5-3 (3-2)
Last Week: 4
The Hawkeyes are still a force in the Big Ten, even if not to the extent they were last season. Despite the lack of offense, their defense keeps Iowa in ball games and never gives the opposition an easy win. They own the 16th ranked scoring defense, giving up a mere 18.9 points per game.
Iowa has another big test this week against Penn State. In fact, three of Iowa's last four games are against ranked teams. Even though not many people give them a chance to win, this final stretch gives Iowa a chance to show how mentally tough they are as a team.
This has been a disappointing season after the expectations they had coming into the year, but it wouldn't be a complete loss if the Hawkeyes show fight every week to end the season.
When it comes down to it, though, Iowa is a mediocre team. They don't do anything really well on offense, their defense lives by bend but don't break, and the coaching hasn't been flawless, either. Eight games in and it's finally become a reality that Iowa isn't who we expected them to be after their stellar 2015 season.
With 6-6 being a possible final regular season record, Iowa won't finish near the top of the Big Ten West. However, like previously mentioned, they can make their mark by playing ranked teams tough, which could possibly lead to an upset. The Hawkeyes still have talent on their roster, they've just been unable to  put it all together.
Maybe the bye week helped rejuvenate them. They will have to show that right away because Penn State will come out firing and wanting to jump out to a quick lead on the Hawkeyes.
No. 3 – Northwestern Wildcats 4-4 (3-2)
Last Week: 3
Three of Northwestern's four losses this season have come against teams currently ranked in the AP Poll. The Wildcats still have a small chance to win the Big Ten West. It's a testament to how they have played as of late and bounced back from their dreadful start to the season.
This past week, the Wildcats played Ohio State tough, losing 24-20. The Wildcats were in the game the whole way but did not consistently put together drives that resulted in points. They matched the Buckeyes after a somewhat slow start but didn't have a home run play to ever give them the lead.
Still, the Wildcats are one of the hottest teams in the Big Ten right now, and they aren't a team that anyone wants to play. It makes their upcoming game against Wisconsin even more intriguing.
The Wildcats' defense has seemingly gotten back on track over the past two weeks. It's a great sign, as the offense couldn't keep scoring 35-plus points per game like they did against Iowa and Michigan State. Although, Clayton Thorson will have to continue his solid sophomore season with one of the best games of his career for Northwestern to beat Wisconsin.
This week will make or break the Wildcats' season. It will either be the signature win of 2016 that Pat Fitzgerald is still searching for, or it could end their Big Ten West hopes and suggest that they're good but not a top-25 team, even with their stellar play as of late.
Northwestern is playing great as of late, and a win over Wisconsin this week could move them up in the power ranking next week. The Wildcats are for real, and they still might end the season with eight wins.
No. 2 – Nebraska Cornhuskers 7-1 (4-1)
Last Week: 2
Nebraska played Wisconsin a lot tougher than many people expected coming into the game. A 23-17 overtime loss in Camp Randall is nothing to be ashamed of, but those are the games Nebraska needs to win to prove that they're true title contenders. The Cornhuskers still don't have an overly-impressive win this year, which leaves a lot of doubters for the ninth ranked team in the country.
Adam Woodbury: Maine Red Claws Draft Former Hawkeye
However, there is nothing to doubt about Nebraska. Injuries hit them hard at the wrong time, yet they continued to win and almost escaped Madison, Wisconsin with a win. Devin Ozigbo is slowly getting back to 100 percent healthy, and Jordan Westerkamp is finally healthy. Westerkamp reeled in a team-high three receptions for 62 yards, including a 36-yard grab.
Getting back two key contributors on offense should help Tommy Armstrong Jr in the future, even if it didn't against Wisconsin. Armstrong considered his underwhelming play with two more interceptions. He's up to seven interceptions on the year after his turnover problems seemingly went away for the first half of the season.
Once the Cornhuskers figure out their backfield situation, and Westerkamp gets back to 100 percent, Nebraska's offense will have a better chance of regaining the form we saw in the first half of the season. Until then, Nebraska will have to rely on their defense, which ranks 15th in scoring defense. Their defense also gave the offense a chance to come back down 10 in the fourth quarter against Wisconsin.
With Ohio State this week, Nebraska has to re-focus and not think about their first loss of the season. They have a veteran team, and that should help them stay focused this week because the Cornhuskers still control their own destiny in the West.
No. 1 – Wisconsin Badgers 6-2 (3-2)
Last Week: 1
Wisconsin lost leading tackler Jack Cichy to injury right as Vince Biegel returned. Their defense, which is still one of the best in the nation, has been unable to catch any breaks this year. Despite the loss of a key player, the Badgers still stopped Tommy Armstrong Jr and held an explosive offense to 17 points.
The problems Wisconsin has faced in 2016 haven't come from the defense, though. They used both Alex Hornibrook and Bart Houston for the second straight week, and it's unlikely they stick with one the rest of the season. It puts a strain on the offense to constantly be changing quarterbacks, as well as adding more pressure onto senior running back Corey Clement.
Want your voice heard? Join the Dear Old Gold team!
Dare Ogunbowale has stepped up in past weeks, mainly as a receiver coming out of the backfield. It adds a dynamic to the offense that isn't seen with Clement in the backfield, as well as a security blanket for Wisconsin's quarterbacks.
The Badgers escaped their brutal five game stretch 3-2 and with a shot to win the West. It all lies in the hands of Nebraska, though, but the Badgers can own the critical tiebreaker over Nebraska, Iowa and Northwestern if they beat the Wildcats this week. Not to mention the Badgers aren't out of the College Football Playoff race yet, especially if they win the Big Ten.
Wisconsin is a very good team who have had the misfortune of playing five top-10 teams in eight games. It's not an easy task for any team, and it doesn't get easier with Northwestern this week. The Badgers have had a couple of cough-ups this season, but none too major. Besides, a win over Nebraska cements them as the best team in the division.
This article originally appeared on