Big Ten West Power Ranking: Hawkeyes Move Up After Win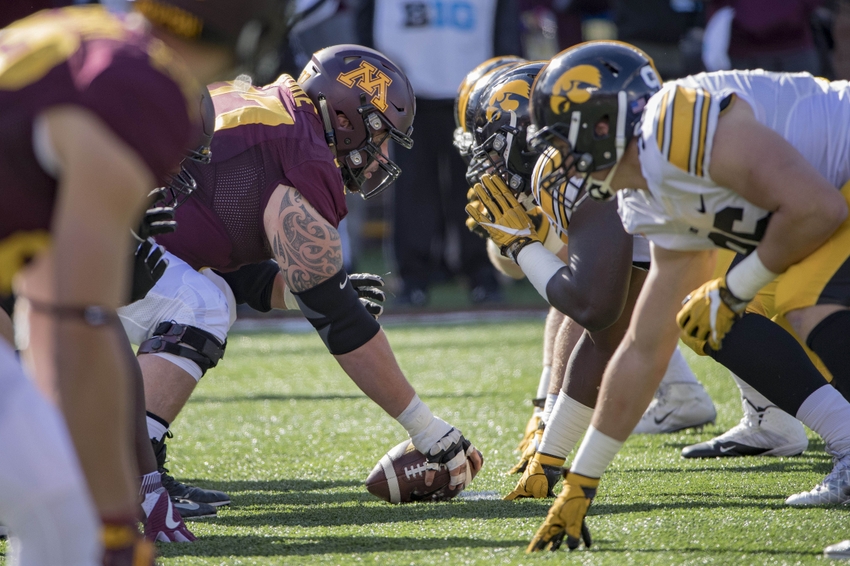 A look at the Big Ten West after another eventful week
The two top teams in the Big Ten West had a bye week, and two games had a matchup of two teams in the division. Therefore, the conference went 2-2 on the weekend, although received promising news on Monday.
Wisconsin and Nebraska each jumped into the AP Poll top-10 to #8 and #10, respectively, despite not playing this weekend. This is the second time this season Wisconsin has moved into the top-10, although this is the highest Nebraska has ranked since 2011. With the significant jump each team took, all four ranked Big Ten teams are now in the top-10.
Just like in previous weeks, outside the clear-cut favorites in the division, it has been another confusing week, as we try to figure out how good each team really is. There is a lot of inconsistency in the division, and the Iowa Hawkeyes are no different.
Iowa escaped with their second Big Ten win of the season over Minnesota this week. That being said, the Hawkeyes looked far from dominating, as the game ended 14-7. Still, Iowa arguably notched their most impressive win of the season and take on Purdue this upcoming Saturday.
After an Iowa victory and two games in the Big Ten West, here's how the division stacks up.
No. 7 – Illinois Fighting Illini 1-4 (0-2)
Last Week: 6
Illinois didn't have an easy start to the season. Three of their first four opponents have spent at least one week in the AP Poll top-25 this year, and Illinois didn't look terrible against them. Hanging in strong for a half against North Carolina, and taking a lead into the fourth quarter against Nebraska, made it tough to get a grasp on this team.
Well, we finally have one, and it's not good. Despite losing quarterback Wes Lunt to an injury, Illinois should have come away with a win over Purdue at home. Purdue is simply not a good football team, but Illinois trailed 21-16 at halftime and ended up falling 34-31 in overtime to lose the Big Ten West Toilet Bowl.
Even though Purdue didn't have their leading rusher in Markell Jones, Illinois gave up 5.6 yards per carry and three rushing touchdowns. It's not a promising sign for the defense but Illinois averaged 6.8 yards per carry and out-gained Purdue 499-459 total yards, showing their dominance on offense.
Backup quarterback Chayce Crouch ran for 137 yards and two scores, while also adding 142 yards through the air.
The Illini gained more yards and won the turnover battle, yet two crucial mistakes late in the game cost them. Illinois' kicker Chase McLaughlin missed a potential game-winning 41-yard field goal as time expired, which forced the game to overtime. In overtime, Crouch lost a fumble on an attempted run that allowed Purdue to kick an easy field goal on their possession to win the game.
No one expected Illinois to be good this year, but losing to Purdue truly shows how much work Lovie Smith has left to do. The Illini travel to Rutgers this week, whose been outscored 150-7 in Big Ten play this year. If they don't beat Rutgers, there is a good chance this team finishes with one win.
No. 6 – Purdue Boilermakers 3-2 (1-1)
Last Week: 7
Purdue is not a good football team, but they already have more wins than last year and are coming off a road win against Illinois. Through five weeks, the Boilermakers are somehow still over .500. They have beaten the teams people expected them to and lost to their two tougher opponents.
The Boilermakers aren't expected to win any more games this season, but beating Illinois on the road and winning their third game of the season is huge for the program and head coach Darrell Hazell, who is on the hot seat.
Despite coming away with a win, Purdue did everything they could to not win that game in the second half. Besides blowing a halftime lead, they gave up 315 rushing yards and three rushing scores, and they made Chayce Crouch look like one of the better quarterbacks in the Big Ten.
Plus, David Blough threw his ninth interception on the year, and second in the game, with 1:21 left in the game at midfield. Purdue picked up a first down on the previous play and had a chance to win the game, but Blough nearly set the Illini up to win.
Hazell used all three timeouts to ice the kicker, though, and it worked. McLaughlin missed the kick and Purdue forced a turnover in overtime and played smart football on offense to win.
Purdue led for most of the game but had to mount a mini-comeback in the fourth quarter. The comeback paired with their coolness in overtime speaks loudly of this team so far this year. They still haven't stuck around against decent teams, but any kind of a win is good for Purdue.
Blough is throwing nearly two interceptions per game, yet the Boilermakers are still chugging along. Winning without Markell Jones is a good sign, but they'll need him when Iowa comes to town this week.
No. 5 – Minnesota Golden Gophers 3-2 (0-2)
Last Week: 3
Minnesota might be better than what they've shown over the past two weeks, but struggling out of the gate in Big Ten play is not a promising sign. A week after suffering their first loss in overtime to Penn State, Iowa shut down the Gophers' offense and held them to seven points.
After topping 30 points in each of their first three games, Minnesota has combined to score 33 points in their past two games. At the same time, their defense has proven to be mediocre at best and unlikely to hold up against the better teams in the Big Ten.
Want your voice heard? Join the Dear Old Gold team!
Frankly, Minnesota's lack of discipline, committing eight penalties, halted nearly every offensive possession against Iowa this past week. Plus, Mitch Leidner completed just 13-of-33 passes. Leidner hasn't been terrible this season but the Gophers needed more from him in a game where they abandoned the run.
It's evident that the Gophers benefited from an easy schedule at the start of the year, and are having a hard time adjusting to the level of play in the Big Ten.
Even though Minnesota held Iowa to a mere 14 points, the defense didn't look overly-impressive, either. C.J. Beathard made a couple of uncharacteristic bad throws and Minnesota had a hard time getting off the field. The defense will need to be a lot better moving forward because the Gophers offense is not hard to figure out.
Minnesota ranks just 59th in the nation in points per game because of their dependence on the run game. Due to penalties and constant pressure, Iowa halted the run game and Minnesota's offense struggled as the game went on.
Maryland, Rutgers, Illinois and Purdue are all winnable games for the Gophers. The time is now to turn their season around because they did not look impressive against the Hawkeyes.
No. 4 – Northwestern Wildcats 2-3 (1-1)
Last Week: 4
Iowa bounced back so Northwestern fell in this week's power ranking. Still, the Wildcats remained ahead of Minnesota this week because of the potential they have shown. They didn't put it together early in the season but seem to be on the right track. They took down a respectable Duke team, hung around against Nebraska, and went into Iowa City and defeated Iowa.
Iowa Football: Three Takeaways From Win Over Minnesota
The Wildcats are still 2-3, though, and there's no guarantee that they'll be bowl eligible. A year after winning 10 games, Northwestern doesn't have a cake walk the rest of the way. However, they catch a struggling Michigan State team this week, a game where both teams desperately need a win to ease their path to bowl eligibility this season.
Coming off a bye week, the big question surrounds the offensive line. If they can continue to play like how they played against Iowa a couple of weeks ago then Justin Jackson will return to 2015 form. In turn, it will relive pressure off Clayton Thorson, who has thrown better over their past couple of games.
The defense is still one of the better units in the Big Ten, but they can't rely on their offense to score 38 points every week. It was only the second time this season that Northwestern allowed more than 21 points. The defense will have a big test this week with the Spartans, which will show what we can expect from them the rest of the season.
The good news is that 5-7 teams will once again make bowls this season. As disappointing as a five-win decrease from a season ago would be, Northwestern would take it. The Wildcats have played well over the past three weeks and I'd expect it to continue after getting fresh legs back following a bye week.
No. 3 – Iowa Hawkeyes 4-2 (2-1)
Last Week: 5
It's evident that this is not the same team that won 12 games in 2015. Although, Iowa isn't a terrible team. Their offense and defense might be inconsistent, but the Hawkeyes find ways to win. Despite a lackluster performance from their offense in Minneapolis, Iowa made just enough plays to come away with a victory.
The bad news is that Iowa reverted back to the offense that can't score. A week after putting up 31 points against Northwestern, the Hawkeyes only managed 14 points for the second time this year. Minnesota ranks a measly 48th in the nation in points allowed per game, but Iowa could not figure out a way to crack their defense.
With stifling defenses such as Wisconsin and Michigan left on their schedule, it's hard to imagine Iowa gaining more than a couple of first downs against them. Their offensive line hasn't given Akrum Wadley and LeShun Daniels Jr a ton of running room, almost every C.J. Beathard throw is rushed, and it will only get harder against elite defenses.
The Hawkeyes have had the same problems all season. If they're able to put it together in the second half then they have a chance to make some noise in the Big Ten and ruin a couple of teams' season.
Although, coming off a performance in which the offense could only move the ball to midfield before stalling out, it's hard to imagine the offense being decent enough to effectively support the defense every week.
Although, Iowa is still 4-2 and has a reasonable chance at seven or eight wins. They might not be a true contender in the Big Ten West, however they win games even if it's not pretty.
No. 2 – Nebraska Cornhuskers 5-0 (2-0)
Last Week: 2
Sure, Oregon is struggling this year and Northwestern is their next best opponent up to this point. Either way, Nebraska is winning and in impressive fashion. Despite having a bye week, the Cornhuskers moved up to #10 in the AP Poll this week, their highest ranking since 2011. This program has come a long ways in a couple of years, and it's time to jump on the bandwagon.
Their 37 points per game ranks 33rd in the nation and their defense ranks 17th in points allowed per game. They rush the quarterback (11 sacks), play great coverage (nine interceptions) and teams only complete 58.5 percent of passes on them.
Despite Tommy Armstrong's career-year and Devine Ozigbo's breakout campaign on the ground, everyone wants to see how they fare against stiff competition. Indiana is not traditionally a powerhouse in football, but they played Ohio State tough and are arguably Nebraska's toughest opponent up to this point. The Hoosiers have been a solid team this year and will put up a fight.
Although at the end of the October and start of November, the Cornhuskers take on Wisconsin and Ohio State in back-to-back weeks. That will show how good of a team they are, as well as likely decide the Big Ten West.
Nebraska hasn't had the daunting schedule Wisconsin has, but they played who's on their schedule and haven't had a problem, yet. This is the best Nebraska has been since joining the Big Ten, and Mike Riley has a potential 10-win team in just his second season as head coach.
No. 1 – Wisconsin Badgers  4-1 (1-1)
Last Week: 1
Yes, it was against Rutgers, but the Michigan Wolverines put up 78 points this past weekend and Wisconsin held that offense to just 14 points the previous week. It's a shame that the Badgers don't have a better offense to complement their defense because they could be a true title contender. Despite their blowout wins over LSU and Michigan State looking less impressive by the week, the Badgers are a really good team, nonetheless.
Their defense ranks fourth in the nation in points allowed per game, averaging a mere 12.2. Plus, they've had the most daunting schedule in the nation up to this point and have only suffered one loss. Even though LSU and Michigan State aren't the national championship contenders everyone thought they were, each ranked inside the top-10 when they took on Wisconsin.
That means Wisconsin has already faced three top-10 teams this season and have two more in the next three weeks — Ohio State and Nebraska. Whether their defense can hold up will be the key because their offense can't outscore either Ohio State or Nebraska if it becomes a shootout.
In fact, their 26 points per game ranks 85th in the nation, and they only managed one score against Michigan. Corey Clement is only averaging 3.9 yards per carry, and I'd expect that to continue since neither Alex Hornibrook nor Bart Houston pose much of a threat through the air.
Still, their defensive-minded style of play has landed them as the eighth ranked team in the AP Poll and a date with Ohio State on national TV. College Gameday will end their love fest with Tennessee and show the best conference in the nation some love this week.
Ohio State might be an 11-point favorite, but never underestimate this Wisconsin defense and how hard it is to win at Camp Randall.
This article originally appeared on