Big Ten Power Rankings After Week 6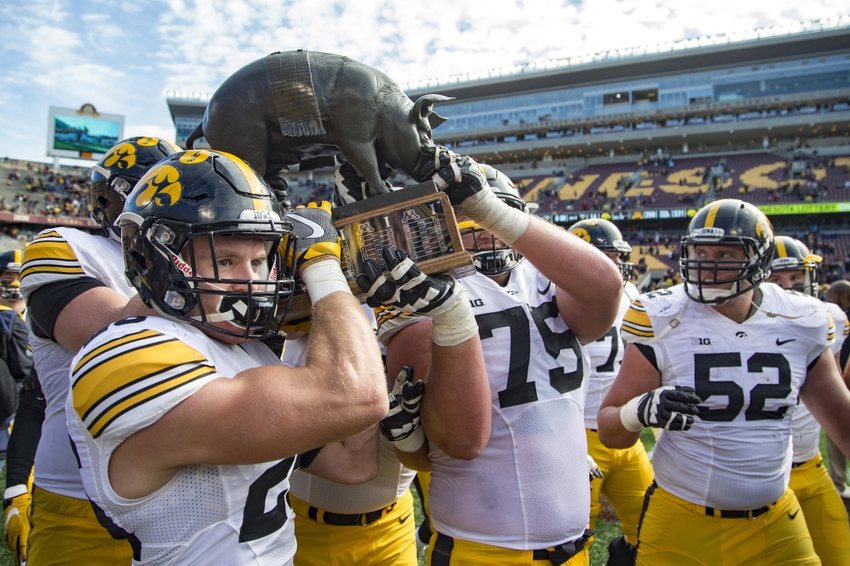 The conference is starting to shake itself out at about the midway point through the season.
There are the haves at the top (Ohio State and Michigan) and there are the have-nots at the bottom of the conference (Illinois and Rutgers).
Iowa and Penn State are the biggest movers this week, but Michigan State is trending way down.  It's possible Sparty falls out of the conference race this early.
1
Ohio State
Buckeyes
(5,0, 2-0)
Last week:
4-0, 1-0
Last rank:
1st
Ohio State struggled some against Indiana, but they were able to pull off a 38-17 victory. Quarterback J.T. Barrett wasn't that good through the air, but he got the job done on the ground. A tough test awaits next week as they travel to Madison to take on Wisconsin.
2
Michigan
Wolverines
(6-0, 3-0)
Last week:
5-0, 2-0
Last rank:
2nd
On their first road trip of the season, Michigan annihilated Rutgers to the tune of 78-0. The Wolverines held the Scarlet Knights to 39 total yards and two first downs, which didn't even come until there were less than 10 minutes left in the game. The Wolverines tallied 600 yards in the game. They will get a break this week before hosting Illinois in two weeks.
3
Wisconsin
Badgers
(4-1, 1-1)
Last week:
4-1, 1-1
Last rank:
3rd
The Badgers were off this week to recover from the loss at Michigan and to prepare for Ohio State next Saturday night. The Buckeyes will be the fourth top 10 opponent the Badgers have faced this season.
4
Nebraska
Cornhuskers
(5-0, 2-0)
Last week:
5-0, 2-0
Last rank:
4th
Another team that was off this week. The Cornhuskers used the off week to heal and prepare for a road trip to Bloomington to take on Indiana next Saturday.
5
Penn State
Nittany Lions
(4-2, 2-1)
Last week:
3-2, 1-1
Last rank:
8th
Penn State dominated Maryland to the tune of 38-14. That was the most complete performance from the Nittany Lions all season. A much needed bye to rest their many injured players. Ohio State visits in two weeks under the lights in Happy Valley.
6
Indiana
Hoosiers
(3-2, 1-1)
Last week:
(3-1, 1-0)
Last rank:
6th
Indiana played decent on the road in Columbus despite what the final score indicated, so we won't dock them a spot here. It doesn't get any easier next week with a visit from Nebraska. A decent bowl game is still an attainable goal for this tough Hoosier squad.
7
Iowa
Hawkeyes
(4-2, 2-1)
Last week:
3-2, 1-1
Last rank:
11th
Maybe Iowa was ranked too low last week, but it's hard to get a feel for this team. They lose at home to North Dakota State and Northwestern, but go on the road and beat both Rutgers and Minnesota. The Hawkeyes are happy to retain the Floyd of Rosedale in Iowa City for another year. Iowa next travels to Purdue.
8
Maryland
Terrapins
(4-1, 1-1)
Last week:
4-0, 1-0
Last rank:
5th
Little went right for the Terps in State College as they got beat 38-14 on Saturday. D.J. Durkin now has the task of regrouping his team after their first loss of the season. The next two games are at home against Minnesota and Michigan State. There are still wins to be had on the Terps upcoming schedule.
9
Minnesota
Golden Gophers
(3-2, 0-2)
Last week:
3-1, 0-1
Last rank:
9th
After a promising 3-0 start, Minnesota has dropped their last two games and haven't won a conference game yet. It's going to be an uphill battle to stay competitive in the West division race for the Gophers. They definitely need to find a way to get more offensive production. They have a trip to College Park next Saturday.
10
Northwestern
Wildcats
(2-3, 1-1)
Last week:
2-3, 1-1
Last rank:
10th
The Wildcats had the week off and now they get a road trip to reeling Michigan State. This game doesn't have the same feel that it did before the season started.
11
Michigan State
Spartans
(2-3, 0-2)
Last week:
2-2, 0-2
Last rank:
7th
Wow. Michigan State was dominated at home by BYU 31-14. What is going on with Mark Dantonio's team? This is the first three game losing streak for the Spartans since 2009. They'll need to right the ship this week against Northwestern and there are plenty of problem areas to fix.
12
Purdue
Boilermakers
(3-2, 1-1)
Last week:
(2-2, 0-1)
Last rank:
12th
Congratulations are in order for Darrell Hazell and his staff for the overtime victory against Illinois. This was a big one for Hazell and gives Purdue a winning record for now. Next week they host their first conference game of the season when they take on Iowa.
13
Illinois
Fighting Illini
(1-4, 0-2)
Last week:
1-3, 0-1
Last rank:
13th
Illinois has still not beaten a FBS team this season and this overtime loss against Purdue was just the latest loss in what is becoming a frustrating first season for Lovie Smith in Champaign. A trip to take on Rutgers next Saturday will be the battle of the Big Ten basement.
14
Rutgers
Scarlet Knights
(2-4, 0-3)
Last week:
(2-3, 0-2)
Last rank:
14th
If Rutgers could be ranked 15th here, they would be. The last two weeks they have been outscored 136-0. Yes they were going against top 5 teams, but at least show something. Rutgers just needs to burn the Michigan tape and move on to next week against Illinois.
More from Victory Bell Rings
This article originally appeared on