Big Ten Power Rankings After Week 13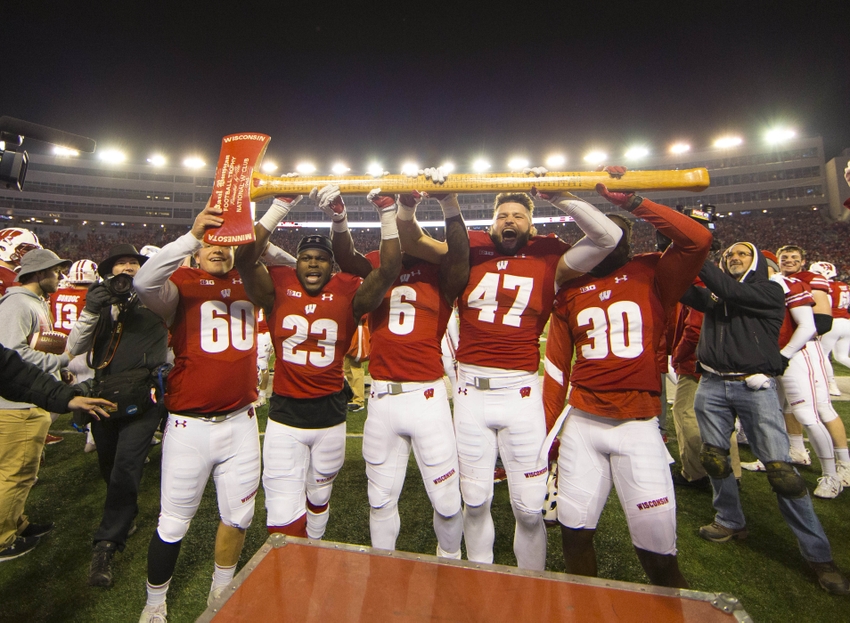 The regular season concluded Saturday with the Big Ten division champions crowned.
The Game went to overtime for the first time in its history and ended in thrilling fashion.  Yet because of tiebreakers, it was Penn State that will represent the East division in the Big Ten Championship game.
Over in the West, Wisconsin won the division and will meet the Lions next week.  Three other teams locked up bowl eligibility and ten teams total will go bowling this season.
Let's look at the power rankings for the last time before bowl season.
1
Ohio State
Buckeyes
(11-1, 8-1)
Last week:
(10-1, 7-1)
Last rank:
1st
Ohio State needed a comeback to secure their fifth straight victory over rival Michigan, but they did just that in a thrilling 30-27 victory in double overtime. They won't be headed to Indianapolis, but will their resume be enough to get them into the playoff? Most likely yes, but it will be interesting for the committee to decide on a team that did not win its own division yet alone a conference title.
2
Wisconsin
Badgers
(10-2, 7-2)
Last week:
(9-2, 6-2)
Last rank:
3rd
Wisconsin started slow against rival Minnesota, down 17-7 at the halftime break. However they stormed back in the second half and won 31-17, retaining Paul Bunyan's Ax for the 13th straight year. The Badgers now will represent the Big Ten West in Indianapolis.
3
Penn State
Nittany Lions
(10-2, 8-1)
Last week:
(9-2, 7-1)
Last rank:
3rd
Penn State capped off its improbable season with an eighth straight victory and a berth in the Big Ten Championship game. The Lions are one of the best stories in college football this year and they still have a chance at the four team playoff if they get a victory over Wisconsin.
4
Michigan
Wolverines
(10-2, 7-2)
Last week:
(10-1, 7-1)
Last rank:
2nd
Michigan fans may complain with the Wolverines dropping here. However, they have lost two of their last three games and are currently trending down. One could make a case for the top four teams in the conference to be placed in any order. The Wolverines still have an outside chance at a playoff spot if chaos happens this weekend, but will likely play in the Orange Bowl.
5
Iowa
Hawkeyes
(8-4, 6-3)
Last week:
(7-4, 5-3)
Last rank:
6th
While they took a step back from their West division championship last year, Iowa finished the season on a good note with a domination of their rival Nebraska 40-10. Iowa now awaits their bowl destination and depending on where the top of the conference teams land, the Hawkeyes could end up with a pretty good bowl trip.
6
Nebraska
Cornhuskers
(9-3, 6-3)
Last week:
(9-2, 6-2)
Last rank:
5th
Nebraska entered their game with Iowa with a chance to still get to the Big Ten title game, but fell completely flat and was never in the game. It's a low end to an otherwise solid year for the Cornhuskers. They will await their bowl destination now and it should be a good one.
7
Minnesota
Golden Gophers
(8-4, 5-4)
Last week:
(8-3, 5-3)
Last rank:
7th
Minnesota started the game against Wisconsin well, but could not finish and fell to their rival for the 13th straight time. 2003 was the last time the Gophers took home the Ax and they'll have to wait at least another year. However it's been a good first season for Tracy Claeys and his team now awaits its bowl invite.
8
Northwestern
Wildcats
(6-6, 5-4)
Last week:
(5-6, 4-4)
Last rank:
8th
The Wildcats will be going bowling after a 42-21 beating of rival Illinois. Just getting to bowl eligibility is an accomplishment for Pat Fitzgerald's team after they started the season 1-3. They await their bowl destination which will likely be one of the conference's lower tier games.
9
Indiana
Hoosiers
(6-6, 4-5)
Last week:
(5-6, 3-5)
Last rank:
9th
Indiana earned their fourth straight victory in the Old Oaken Bucket game over rival Purdue. In addition to that, the Hoosiers will go bowling for the second straight year and that's something the program has not accomplished since 1990 and 1991. Hats off to Kevin Wilson and his team.
10
Maryland
Terrapins
(6-6, 3-6)
Last week:
(5-6, 2-6)
Last rank:
10th
An up and down season for the Terps ended on a high note with a 31-13 victory over Rutgers. After only three wins last season, first year coach D.J. Durkin is taking Maryland to a bowl game after doubling the win total from a year ago. It's something for the Terps to build on.
11
Illinois
Fighting Illini
(3-9, 2-7)
Last week:
(3-8, 2-6)
Last rank:
11th
Illinois ended their trying season Saturday with a loss to rival Northwestern, 42-21. Not the way Lovie Smith envisioned his first season going, but there is some hope for the future, as this is a very young team that should be better next season.
12
Purdue
Boilermakers
(3-9, 1-8)
Last week:
(3-8, 1-7)
Last rank:
12th
Purdue had a lead late but could not hang on, losing to rival Indiana 26-24. The Boilermakers will not be going bowling and they have a long offseason ahead, starting with hiring a new coach and staff to rebuild the program.
13
Michigan State
Spartans
(3-9, 1-8)
Last week:
(3-8, 1-7)
Last rank:
13th
Michigan State's lost season mercifully came to an end Saturday in Happy Valley. A lot must be done to get this team back to competing in the conference. However, they have a good coach in Mark Dantonio and the silver lining with all the injuries this year is all the experience the young players gained.
14
Rutgers
Scarlet Knights
(2-10, 0-9)
Last week:
(2-9, 0-8)
Last rank:
14th
Rutgers concluded their miserable season with a loss to Maryland. In his first year, Chris Ash went winless in conference and the Knights are on a 14-game conference losing streak. They have a long way to go before competing within their own division.
More from Victory Bell Rings
This article originally appeared on