Big Ten Football Power Rankings: Week 2 edition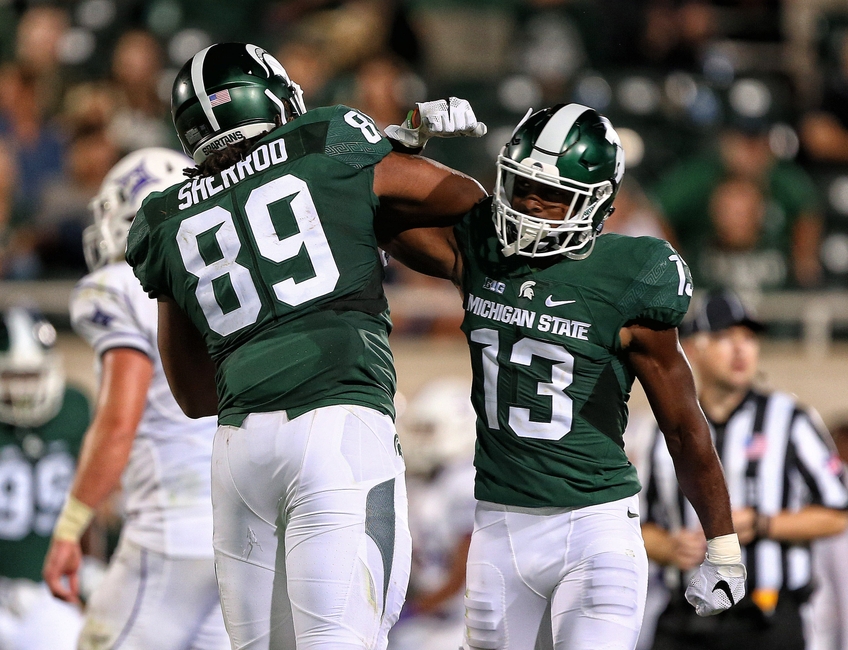 What do our Big Ten Football power rankings look like after the opening week of college football?
Week one of Big Ten Football is in the books and some teams are already sticking out while others are having a tough time adjusting to live action. Some teams were upset, but the majority of Big Ten programs won their week one games.
Northwestern dropped at the hands of MAC foe Western Michigan at home, shocking just about everyone since the Wildcats were a 10-win team last season. Rutgers was stomped by Washington, to no one's surprise, but the rest of the conference won its opening games.
Wisconsin upset No. 5 LSU at Lambeau Field and the Big Ten got the first laugh of the season against the SEC. Michigan State, Michigan, Ohio State and Iowa all predictably took care of business as well.
Let's take a look at the week two Big Ten Football power rankings after a wild opening week of college football.
14
Rutgers
Scarlet Knights
0-1,

Last week: N/A
Rutgers opened the season against No. 14 Washington on the road, and the loss was quite predictable, but the margin was a little surprising. The Huskies took down the Scarlet Knights 48-13 despite only gaining only 76 more yards.
Jake Browning did whatever he wanted through the air against Rutgers and exposed Chris Ash's defense. The Scarlet Knights have a long way to go under the first-year coach.
Next week: vs. Howard 
13
Purdue
Boilermakers
1-0,

Last week: N/A
Until proven otherwise, Purdue is going to remain near the bottom of the Big Ten power rankings. The Boilermakers, led by Darrell Hazell, have been in the basement of the conference's standings for the past few years, and that shouldn't change this year.
Despite a week one victory over Eastern Kentucky, the Boilermakers did allow 398 total yards and 24 points to an FCS squad. Improvement must happen soon or Purdue will be in for another mediocre year, topped off with a Hazell firing.
Next week: vs. Cincinnati
12
Maryland
Terrapins
1-0,

Last week: N/A
Maryland had the luxury of opening the year against a mediocre FCS squad in Howard. The Bison didn't put up much of a fight, allowing the Terrapins to gain over 500 total yards of offense, including over 300 rushing yards.
Perry Hills was 14-of-19 for 126 yards, but the real stars of the game were in the run game. Maryland had six guys rush for over 40 yards on the day. However, the passing defense was not great, allowing Howard to go for 200 yards through the air.
Next week: at Florida International
11
Northwestern
Wildcats
0-1,

Last week: N/A
It was a rough week for Northwestern to open the season. Playing a MAC opponent in Western Michigan looked like it'd be a gritty win, but the Broncos got the last laugh. P.J. Fleck and Western took down the Wildcats 22-21 on their home turf.
While it might be a fluke-ish loss for Northwestern, it just goes to show how far the Wildcats have to go before they can contend for a Big Ten title.
Next week: vs. Illinois State
10
Illinois
Fighting Illini
1-0,

Last week: N/A
The Lovie Smith era got off to a strong start as the Fighting Illini crushed Murray State 52-3. The offense gained 515 total yards while the Illinois defense allowed just 165 in the convincing win.
Although Murray State is an FCS opponent, any time a team can out-gain another like that, it's impressive. Wes Lunt passed for 226 yards and three touchdowns on 15-of-21 completions. Junior running back Kendrick Foster rushed for 118 yards and two touchdowns on only four carries.
Next week: vs. No. 22 North Carolina
9
Indiana
Hoosiers
1-0,

Last week: N/A
Indiana has plenty of offense, but it's the defense that might cause some problems throughout the year. Playing and beating FIU, the Hoosiers did so without star receiver Simmie Cobbs and still made it look routine. After an ugly 13-12 deficit after three quarters, the Hoosiers ran away with it, scoring three touchdowns in the fourth to win.
It wasn't pretty, but Indiana climbed out of a hole thanks to Richard Lagow and Devine Redding.
Next week: vs. Ball State
8
Minnesota
Golden Gophers
1-0,

Last week: N/A
Playing the same night as Indiana to open the season (Thursday), the Golden Gophers of Minnesota were hoping for the same type of result. Just like Indiana, Minnesota trailed after three quarters to an inferior team, only to shut Oregon State out in the fourth, 13-0, to win the game 30-23.
Mitch Leidner had an ugly season-opener, but Rodney Smith picked him up in the run game, racking up 125 yards and two scores.
Next week: vs. Indiana State
7
Penn State
Nittany Lions
1-0,

Last week: N/A
Christian Hackenberg is no longer leading the Nittany Lions, and some believe that's a good thing. The current NFL quarterback regressed in his two years under James Franklin and now it's Trace McSorley's offense.
The first-year starter at quarterback led the Nittany Lions past Kent State, 33-13, and passed for 209 yards and two touchdowns in the process — although inaccurately. Saquon Barkley picked up where he left off in 2015 with 105 yards and a touchdown.
Next week: at Pittsburgh
6
Nebraska
Cornhuskers
1-0,

Last week: N/A
Tommy Armstrong wasn't even the top passer in this one against Fresno State as Mike Riley only allowed him to throw the ball 10 times, completing five for 108 yards and a score. Sophomore running back Devine Ozigbo was the top player for the Cornhuskers, breaking out for 103 yards and two scores while Armstrong rushed for another 42 yards and two touchdowns.
Nebraska shellacked Fresno State 43-10.
Next week: vs. Wyoming
5
Iowa
Hawkeyes
1-0,

Last week: N/A
Iowa's defense struggled for the second straight game. Last year's Rose Bowl loss against Stanford exposed the Hawkeyes a bit, but Miami (OH) did the same in week one, recording over 400 yards of total offense, including 266 through the air.
C.J. Beathard passed for 196 yards and a touchdown while the Hawkeyes' run game was, once again, the saving grace. Akrum Wadley finished with 121 yards and two touchdowns while LeShun Daniels had 83 yards and two more scores in a 45-21 win.
Next week: vs. Iowa State
4
Michigan State
Spartans
1-0,

Last week: N/A
Michigan State's defense was solid, allowing just over 200 total yards against Furman. Mark Dantonio's play-calling was relatively conservative, finishing with just 361 yards, including 171 on the ground.
L.J. Scott was the star of the game, rushing for 105 yards and a touchdown. First-year starter Tyler O'Connor played well after looking shaky early, completing 13-of-18 passes for 190 yards and three touchdowns. Notre Dame is next up in three weeks.
Next week: Bye
3
Michigan
Wolverines
1-0,

Last week: N/A
Jim Harbaugh's second year got off to an emphatic start, demolishing Hawaii 63-3. Sure, the defense is looking great once again, but the Rainbow Warriors aren't exactly the most impressive team in the nation.
Hawaii finished with just 230 total yards while Michigan quarterback Wilton Speight was effective in his first start, finishing 10-for-13 with 145 yards and three touchdowns. Freshman running back finished with 112 yards and two touchdowns.
Next week: vs. Central Florida
2
Wisconsin
Badgers
1-0,

Last week: N/A
Wisconsin shot up our power rankings, beating No. 5 LSU at Lambeau Field to open the season. No one saw this one coming, but the Badgers picked up right where they left off in 2015, beating one of the nation's top teams, 16-14.
The Badgers jumped all the way to No. 10 in the AP Poll for week two.
Next week: vs. Akron
1
Ohio State
Buckeyes
1-0,

Last week: N/A
Another team who just smashed its opening game opponent was Ohio State. The Buckeyes started off with a pick-six thrown by J.T. Barrett and settled down after that, out-scoring Bowling Green 77-3 after the first drive.
Barrett had a Heisman-like campaign, throwing for six touchdowns and rushing for another while Detroit-native running back Mike Weber finished with over 100 yards on the ground in his first career start.
Next week: vs. Tulsa
This article originally appeared on