Big Ten Football Power Rankings: Week 10 edition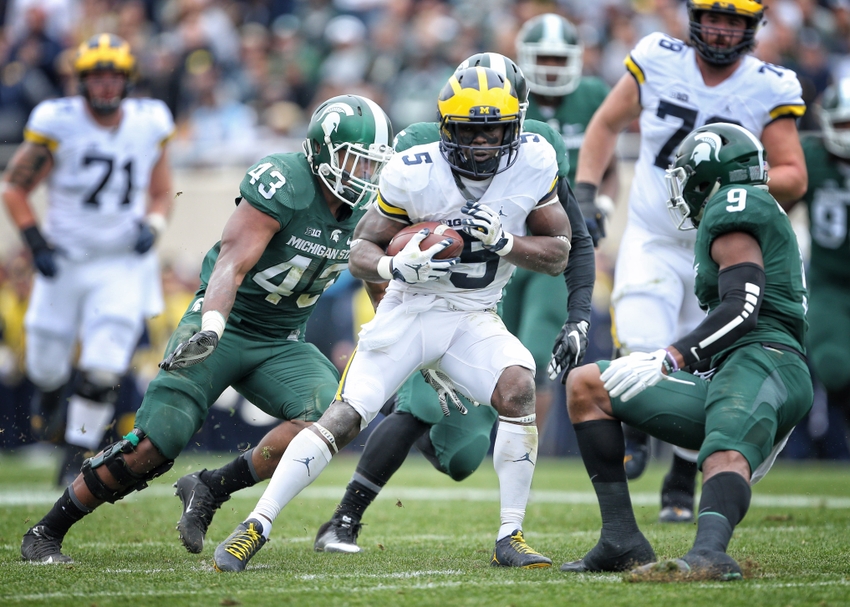 Let's take a look at the Week 9 Big Ten football depth chart after another exciting week of action.
It's crazy to think that the ninth week of the college football season is in the books. It seems like just yesterday we were previewing Big Ten football and now we are looking at who might be playing for the conference championship at the beginning of December.
Another week has passed and the Michigan State Spartans, surprisingly, are without a victory in conference play. After starting the season 2-0, Michigan State has dropped six straight games, most recent against Michigan. The Wolverines were expected to blow the Spartans out, but the game was much closer, and evenly matched, than people were forecasting.
Do the Wolverines deserve the top spot in this week's Big Ten football power rankings or should that go to a team like Penn State that is on a roll lately or the Wisconsin Badgers who just beat another top-10 opponent. Heck, should Ohio State grab that top spot back after holding it for most of the year?
Let's take a look at the Week 10 power rankings to see if there is a new No. 1.
14
Rutgers
Scarlet Knights
2-6 (0-5 Big Ten),

Last Week: 14
Rutgers had an important bye in Week 9 after an 0-5 start to conference play. The Scarlet Knights are nowhere near competitive in the Big Ten this season, outside of a near-win against Minnesota, but that doesn't mean they can't finish the season strong. The one-score loss against Minnesota on the road might be used as confidence moving forward and the bye week could stop the bleeding a little bit. Can the Scarlet Knights turn things around?
This week: vs. Indiana
13
Purdue
Boilermakers
3-5 (1-4 Big Ten),

Last Week: 13
Hosting Penn State in Week 9, the Boilermakers were looking to shock the Big Ten, and they nearly did. The Boilermakers tied things up at halftime at 17, but things quickly fell apart in the second half as the Nittany Lions outscored Purdue 45-7. David Blough continues to be an effective passer, though, and the Boilermakers are avoiding the last place position in our power rankings for the time being. Still, this year has been a disaster for Purdue, highlighted by the firing of head coach Darrell Hazell.
This week: at Minnesota
12
Illinois
Fighting Illini
2-6 (1-4 Big Ten),

Last Week: 12
Lovie Smith would probably like to forget the 2016 season ever happened. After taking the head coaching job in the offseason, the former NFL coach has gone from happy with the progress he has made to second-guessing himself. The Illini are just 2-6 through eight games and have arguably looked like the worst team in the Big Ten for part of the year. They're coming off a 40-17 drubbing at the hands of Minnesota and there may be no end in sight. There's a shot Illinois could win this week, playing against a fellow 2-6 squad.
This week: vs. Michigan State
11
Michigan State
Spartans
2-6 (0-5 Big Ten),

Last Week: 11
Michigan State's season has been as bad as can be. Everything that could have gone wrong at the beginning of the year has gone wrong and the Spartans are just 2-6 one year removed from a College Football Playoff appearance. Still, there is so much young talent on this team that the future seasons should be nothing like this. Unfortunately, though, the Spartans suffered a 32-23 loss to No. 2 Michigan at home last week, even though it was competitive, and also lost potential starting quarterback Brian Lewerke for the year. It's been a rough season in East Lansing.
This week: at Illinois
10
Maryland
Terrapins
5-3 (2-3 Big Ten),

Last Week: 8
Maryland and Indiana played one of the best games of Week 9. The two teams have been similar this season, beating inferior teams while losing to favorites. Maryland might be turning things around under former Michigan defensive coordinator D.J. Durkin and the Terrapins are just one win away from bowl eligibility. Technically, they could get in with five wins, but six is a guarantee. However, losing to Indiana on the road was a tough blow for those hopes and they have four games left against tough opponents, and Rutgers, to get the job done.
This week: at No. 2 Michigan
9
Indiana
Hoosiers
4-4 (2-3 Big Ten),

Last Week: 10
Indiana came away with a big win against Maryland at home last week and the Hoosiers are staying alive in the bowl game chase as well. They're just 4-4 on the season, but they have three tough Big Ten losses to Ohio State and Nebraska (top-10 foes) as well as a much-improved Northwestern team. The Hoosiers are starting to mix things up on the offensive side of the ball with Zander Diamont, the backup QB, getting some carries. He even finished the game last week with 11 rushes for 104 yards and a score. Could this shake-up confuse defenses moving forward?
This week: at Rutgers
8
Minnesota
Golden Gophers
6-2 (3-2 Big Ten),

Last Week: 9
Minnesota took care of business against Illinois this week just one game removed from allowing Rutgers to give the Golden Gophers a scare. In fact, the Gophers finished the game with a slim win over the worst team in the Big Ten, but that wasn't the case against the Illini. Minnesota had no troubles marching into Champaign and coming away with a 23-point win and gaining bowl eligibility. Mitch Leidner is back and healthy, and that's important if the Gophers want to contend for the Big Ten West crown.
This week: vs. Purdue
7
Northwestern
Wildcats
4-4 (3-2 Big Ten),

Last Week: 6
Clayton Thorson is really growing and maturing into a solid Big Ten quarterback. The Wildcats' sophomore went into Columbus last weekend and put up 256 yards and a touchdown against a vaunted Buckeyes secondary. Although the Wildcats came out on the losing end of things, Pat Fitzgerald has to be pleased with how his team played. Heck, the Wildcats have been one of the most improved teams in the conference over the past few weeks and nearly came away with an upset over Ohio State on the road.
This week: vs. No. 8 Wisconsin
6
Iowa
Hawkeyes
5-3 (3-2 Big Ten),

Last Week: 7
Iowa had a bye in Week 9 as well and the Hawkeyes desperately needed it. There's something missing with this team in 2016 after going 12-0 last year and making a trip to the Big Ten title game before losing. The Hawkeyes played in the Rose Bowl and Kirk Ferentz looked as if he might be turning the corner with this program. However, his team has been struggling over the first two months of the year, posting a 5-3 record with tough losses to Wisconsin, North Dakota State and Northwestern. Could this bye week be used as a refresher and help the Hawkeyes get back to their winning ways?
This week: at No. 20 Penn State
5
Nebraska
Cornhuskers
7-1 (4-1 Big Ten),

Last Week: 2
Nebraska rose all the way to No. 2 last week after winning a seventh game and taking advantage of an Ohio State loss. However, the Cornhuskers traveled to Madison to take on the No. 11 Wisconsin Badgers on Saturday, coming away with an overtime defeat. A couple of plays could be the difference between a 7-1 record and 8-0 right now. However, Nebraska still controls its own destiny in the Big Ten West and needs to keep winning order to make it to that Big Ten title game. College Football Playoff hopes are also still alive.
This week: at No. 6 Ohio State
4
Wisconsin
Badgers
6-2 (3-2 Big Ten),

Last Week: 5
Wisconsin took yet another top-10 team into overtime at Camp Randall on Saturday and this time the Badgers came out with a much-needed victory. Losing to Ohio State a couple of weeks ago in overtime looked to end any hopes of a Big Ten title, but the Badgers have played well enough to remain in the chase by beating No. 7 Nebraska by six. The game was about as non-offensive as could be as Alex Hornibrook proved that he still has a long way to go as the Badgers' starting QB.
This week: at Northwestern
3
Ohio State
Buckeyes
7-1 (4-1 Big Ten),

Last Week: 4
Ohio State continues to look more and more beatable by the week. The Buckeyes are coming off a close home victory against the Northwestern Wildcats, which is somewhat surprising. The Buckeyes now have three straight games in which the final score was decided by seven points or less. It started with an overtime win against Wisconsin on the road and then a meltdown in the fourth quarter at Penn State that led to a defeat. Northwestern was playing a great game against the Buckeyes, so they deserve some credit for the 24-20 score. Can the Buckeyes get back on track?
This week: vs. No. 9 Nebraska
2
Penn State
Nittany Lions
6-2 (4-1 Big Ten),

Last Week: 3
When was the last time Penn State was this high on the Big Ten power rankings? It seems like the Nittany Lions have turned a corner this season and that's exactly what James Franklin needed in order to hold on to his job. Penn State pulled off a massive upset against No. 2 Ohio State at home last week. It almost feels wrong to rank them this high, but with all of the recent losses and the Nittany Lions' win over Ohio State last week, this is where they currently belong. As long as Trace McSorley and Saquon Barkley can keep on leading this team to victory, there may be no way they drop. Hard to believe Michigan beat them 49-10 a month back.
This week: vs. Iowa
1
Michigan
Wolverines
8-0 (5-0 Big Ten),

Last Week: 1
We heard it all. Michigan was supposed to run all over Michigan State, making the final margin pretty wide. The Spartans didn't stand a chance against the No. 2 Wolverines, but the game was much closer than people expected. However, Michigan keeps on winning and is now the only undefeated team left in the Big Ten. With the College Football Playoff rankings coming out on Tuesday night, you can expect the Wolverines to show up at the No. 2 or No. 3 spot. This team is the best team in the Big Ten until proven otherwise.
This week: vs. Maryland
This article originally appeared on