Big Ten Football: End Of Season Power Rankings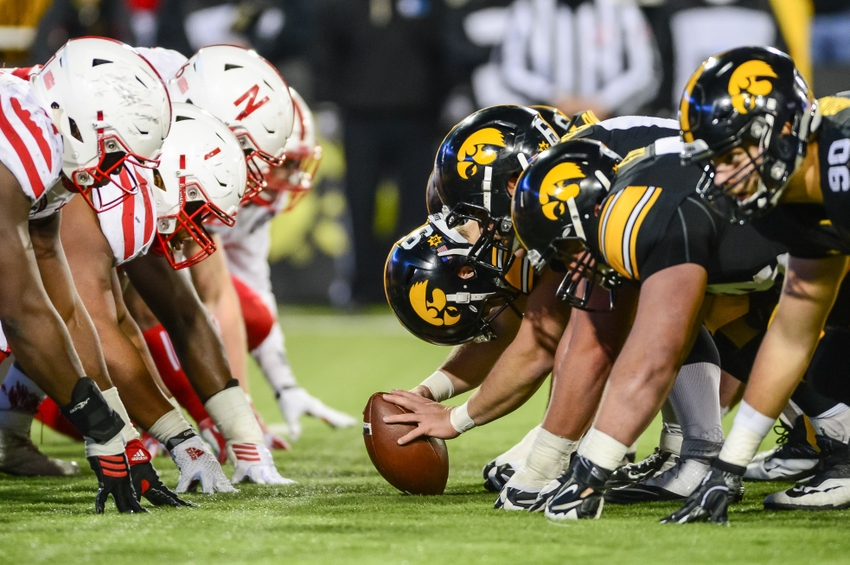 Ohio State made the College Football Playoff, but who is really the best team in the Big Ten this year?
The regular season ended with 10 teams from the Big Ten making a bowl game, and Ohio State making the College Football Playoff.
After Penn State came back down 28-7 in the Big Ten Championship Game to win 38-31 over the Wisconsin Badgers, the uproar of support to put Penn State in the Playoff was massive. Whether it was kicking Ohio State, Washington or even Clemson out, many people wanted to see the Nittany Lions in the Playoff.
Of course, the committee didn't recognize Penn State's Big Ten championship as substantial enough for them to leapfrog any of the top-four teams, especially since they started the evening seventh in the nation.
Nonetheless, they'll be in the Rose Bowl against ninth ranked USC, which is not a bad consolation prize at all for missing the Playoff.
Despite the Big Ten ultimately not getting two teams into the Playoff like some anticipated, the conference did emerge as the best football conference in the nation. In an era where SEC football dominates the national rankings and media, the Big Ten emerged as the committee's favorite conference this season.
Ohio State and Michigan ranked in the top-four for multiple weeks. Plus, Wisconsin and Penn State were also consistent members of the top-10, with Wisconsin finishing eighth.
The committee didn't recognize the Iowa Hawkeyes or Nebraska Cornhuskers in their final ranking, however the support of the Big Ten's top teams says a lot about how competitive the conference was this season.
Now, throw away the rankings and standings, prior to bowl games, here's a look at who the best team in the Big Ten is.
No. 14 – No. 10
14. Rutgers Scarlet Knights (2-10): Rutgers finished the regular season as the only Big Ten team without a conference win. Being shutout four times in conference and play and losing to Michigan and Ohio State by a combined 136-0 is not impressive, either. Chris Ash has a long ways to go, as Rutgers ranked outside the top-115 in the nation in scoring offense and defense.
13. Purdue Boilermakers (3-9): Firing Darrell Hazell midway through the season didn't help Purdue. The Boilermakers went 0-6 under interim head coach Gerad Parker and only topped 25 points once in the final six weeks. There are seemingly brighter days for Purdue with the signing of former Western Kentucky head coach Jeff Brohm, but 2016 brought more horrid memories.
12. Illinois Fighting Illini (3-9): Lovie Smith's first season as head coach did not go well. Illinois lost all but one game in the second half of the season and took a significant nosedive in their scoring offense and defense from a year ago. Rebuilding Illinois will take time, and Smith still hasn't had a recruiting class yet.
11. Michigan State Spartans (3-9): Only beating Furman by 15 should have been at least a small warning sign that Michigan State wasn't going to be as dominating as last year. Their lack of a clear-cut starting quarterback was only the start of their problems. The Spartans finished the season 1-9 after a 2-0 start, a year after making the College Football Playoff. It's one bad year, Michigan State will be back next year.
10. Maryland Terrapins (6-6): Maryland ranked outside the top-50 in both scoring offense and defense. Plus, their only wins in conference play came against Michigan State, Purdue and Rutgers. They benefitted from an easy non-conference schedule and lost by double-digits in all six of their losses. Making a bowl game is a step in the right direction, but Maryland isn't a good football team.
No. 9 – No. 6
9. Indiana Hoosiers (6-6): Putting the Kevin Wilson drama aside, Indiana played well against tough opponents and made their second straight bowl game for the first time since 1990-91. A loss to Wake Forest hurts, however Indiana played Ohio State and Nebraska tough for a half and lost by single-digits to Michigan and Penn State. Still, despite owning one of their more fun teams in recent memory, Indiana is nothing more than an average 6-6 team.
8. Minnesota Golden Gophers (8-4): Minnesota quietly hung around in the Big Ten West this season. On one hand, they beat Northwestern by 17, but on the other hand, Minnesota needed a last second field-goal to down Rutgers. Minnesota is better than people give them credit for, but they still might be one of the weakest 8-4 teams in the nation due to their inconsistent play.
7. Northwestern Wildcats (6-6): Losing to Western Michigan to start the season looks a lot better now. Still, their loss to Illinois State will haunt them. Nonetheless, Northwestern is a completely different team and has finally started to click on offense. This is a lost season, but losing to Ohio State by only four points and playing Wisconsin tough are things the Wildcats can build on. They'll return a lot of key players next year, so watch out for them in 2017.
6. Nebraska Cornhuskers (9-3): The injury bug hit Nebraska hard and contributed to their 2-3 finish after starting the season 7-0. Their once impressive win over Oregon isn't that impressive anymore and losing to Ohio State 62-3 and Iowa 40-10 is telling of their struggles right now. Nebraska fell below Iowa in the bowl ladder and might have just been a beneficiary of an easy schedule to start the season. The Cornhuskers aren't as bad as their loss to Ohio State indicates, but they're also not a top-10 team like many thought at one point. They're in between.
5. Iowa Hawkeyes (8-4)
It's been a rollercoaster of a season for the Iowa Hawkeyes. They reached extreme highs with a stunning win over Michigan on primetime TV and a blowout win over Nebraska to climb up the bowl ladder and land in the Outback Bowl.
Iowa also felt extreme lows by losing to North Dakota State on a walk-off field goal, only beating Rutgers 14-7 and then being embarrassed by Penn State in the primetime slot on Big Ten Network.
The Hawkeyes didn't meet expectations, but they're playing their best football right now as they head into their bowl game against a good Florida Gators team. The Outback Bowl is not what many expected or hoped for before the start of the season, but it's also a dream come true considering where Iowa was just a month ago.
The Hawkeyes ferocious defense covered up Iowa's inability to score many times. Their 11th ranked scoring defense held nine teams to under 25 points and kept Iowa in most games.
The injury bug didn't hit Iowa as hard as other teams, but they still lost key players. It opened opportunities for younger players who will have a bigger role in 2017.
Take away Iowa's fake ID if you want, but this Hawkeyes team is not bad. They find ways to win games, ended their season with three straight wins and outscored Illinois and Nebraska 68-10 in their final two games. The Hawkeyes are good, but it came too late.
4. Wisconsin Badgers (10-3)
Despite owning one of their worst quarterback carousels in the nation with Bart Houston and Alex Hornibrook, Wisconsin still managed to go 10-3 this season with all three losses coming against teams currently ranked in the top-10 of the College Football Playoff Ranking.
Plus, their defense, which ranks fifth in scoring defense, overcame numerous injuries to key players. They didn't have Vince Biegel to start the season and lost leading tackler Jack Cichy midway through the year to a torn pectoral muscle.
It's a testament to how good of a coach Paul Chryst is. He got his team ready to play every week and only lost by seven in each of their three losses. Not to mention Wisconsin held a double-digit lead against both Ohio State and Penn State at halftime.
The Buckeyes and Nittany Lions cracked their defense in the second half and made it a shootout. Wisconsin isn't built to win those types of games, and it showed. However, stopping those offenses for a whole game hasn't been done all year.
Plus, the Badgers contained Michigan's explosive offense and held them to just 14 points. Their offense couldn't move the ball, so they lost 14-7, however it's telling of how good of a defense they have. Not many teams can hold Michigan to 14 points, Ohio State to six points in the first half and Penn State to 14 in the first half.
Wisconsin is a hard-nosed football team that doesn't have the appeal of teams with explosive offenses. Still, they force teams to play their style of football and own arguably the best defense in the nation.
3. Michigan Wolverines (10-2)
Michigan needs Wilton Speight. Say what you want about needing to adapt to a new quarterback, but Michigan looked like a different team on offense with John O'Korn under center against Indiana.
As a result, the Wolverines scored their third fewest points (20) in a game this season and gained their second fewest yards (284) in a single game.
Luckily for Michigan, Speight only missed one game and should play against Florida State in the Orange Bowl. Still, the Wolverines are 1-2 in their past three games after starting 9-0 and haven't looked like the same team we saw early in the season.
In the Wolverines first eight games, they scored at least 30 points in all but one game — 14-7 win over Wisconsin. They have failed to reach that mark in any of their past three games. They simply didn't play well at Iowa, looked lost against Indiana and Ohio State's great defense slowed them down.
Whether they're a little rattled from their rough end of the season or teams know how to stop their once explosive offense, it's a safe bet that Jim Harbaugh will have his team ready to play against Florida State. Besides, despite only scoring 60 points in their last three games, Michigan is still averaging 41 points per game — 11th in the nation — which is telling of how explosive they can be.
Not to mention owning the second ranked scoring defense by allowing a mere 12.5 points per game and only giving up 30-plus points once.
When everything is clicking for Michigan, they're one of the scariest teams in the nation. Nothing seems to be clicking for them right now, though, which is why they finish the season third in the division and in the power rankings.
2. Penn State Nittany Lions (11-2)
Ignoring the debate between Penn State and Ohio State in the College Football Playoff, Penn State shocked everyone in the college football community this season by winning the Big Ten. Somehow, in a division with Michigan, Ohio State and Michigan State, Penn State came out on top and proved why in the Championship Game with a comeback win over Wisconsin.
Penn State's loss to Pittsburgh and 39-point loss to Michigan seem like centuries ago, even if that's the reason they didn't make the Playoff. Although, to rattle off nine straight wins in the toughest conference this season is nothing short of miraculous and impressive.
Their offense, led by Big Ten Offensive Player of the Year Saquon Barkley, is clicking, as they scored at least 38 points in each of their last six games. Plus, their defense finally started to figure things out later in the year after holding Ohio State to 21 points.
Their statistics of ranking 23rd in scoring offense and 39th in scoring defense isn't overly-impressive. It's been their constant improvement over the course of the year, which has culminated in them playing as well as anyone in the country right now, that has caught the eye of so many people.
Penn State is really good this year, but they'll be even better next year. James Franklin, who was on the hot seat at the start of the season, is bringing Penn State football back to the heights they were once at.
1. Ohio State Buckeyes (11-1)
No, Ohio State didn't win the Big Ten, but they still deserve to be in the Playoff. They had one three-point hiccup to a team that ended their season in remarkable fashion, but that doesn't negate the insurmountable success they've had this year.
The Buckeyes have four wins over top-15 teams, with an average margin of victory of 22.5 points. Plus, they shutout Rutgers 58-0 and beat Nebraska and Maryland each 62-3 in back-to-back weeks.
They did so with J.T. Barrett not having a Heisman-like year like many expected. Still, they own the seventh ranked scoring offense in the nation. In fact, the Buckeyes scored 45-plus points more times (5) than they failed to reach 25 points (3) this season.
They complement their explosive offense with a defense that gives up the third fewest points per game at 14.2. Michigan is the only team to score more than 25 points against the Buckeyes this year. Even in their lone loss, their defense kept them in the game by containing an explosive Penn State offense and holding them to just 24 points.
When it comes down to it, you can be mad that the Big Ten champ didn't make the Playoff, but you can't say that the committee didn't choose the best team in the conference. Ohio State passes the eye test, looks great on paper and has the statistics to back up their play.
If there is a team who can beat Alabama this season, it's THE Ohio State Buckeyes.
This article originally appeared on