Mailbag: Big Ten is close to being nation's most lopsided league
I've been spending an inordinate amount of time in airports over the past couple of weeks — DFW, SLC and PDX, just to name a few — and I've noticed something: The NBA playoffs are never not on. Maybe it's time-zone differences, but I could swear I saw the Mavs and Rockets playing in the middle of the day on a Tuesday and the Warriors and Pelicans playing during a red-eye boarding window. It's like March Madness if March Madness lasted seven months.
Because our first question this week makes an interesting NBA-CFB analogy.
Hi Stewart, it's good to have the Mailbag back in action, even though we're still in basketball season. I was wondering which gap is bigger: the NBA Western Conference over the Eastern Conference, or the Big Ten East over the Big Ten West?
— Michael Kasa, Lincoln, Illinois
The fact that NBA conference disparity has been going on for so long now is pretty remarkable given the mechanisms in place — the draft, free agency — that should theoretically swing the balance from time to time. College sports are more susceptible to entrenched hegemony because Alabama, for example, can just keep recruiting a new Amari Cooper every year. Then again, I suppose that's not too different from the Spurs drafting Tim Duncan and keeping him for 18 years.
Right now, the NBA's gap is indisputably bigger, but you can already see the Big Ten heading that way. In fact, potential imbalance was the main reason why Jim Delany initially went with those clunky divisions that both started with the letter L rather than a straight geographic split. Even though Michigan has been irrelevant for most of the past decade, historically Ohio State and Michigan have been a cut above everyone else, so it made sense at the time to place them in opposite divisions. But most fans and media hated both the arbitrary alignment and the prospect of those two meeting in consecutive weeks, so, when the league added two more Eastern schools, it changed to a true East-West split.
Mind you, at the time of that decision two years ago, Urban Meyer had not yet won a national title at Ohio State, Michigan was stuck in a state of RichRod/Brady Hoke-induced malaise and Penn State was reeling from devastating sanctions. Since that time, Ohio State has risen to the top, Michigan has found its savior, Penn State got its reprieve and another East school, Michigan State, has emerged as a national power. Wisconsin, meanwhile, while still very strong, has undergone two coaching changes in three years, Nebraska just fired its coach and most of that division is a train wreck.
It would not surprise me at all if within two years the Big Ten begins an extended run of divisional disparity similar to the former Big 12 South's decade-long dominance of the North. The East has more powerful brands, far more renowned coaches and more fertile recruiting territory. Frankly, I worry for the future of West schools like Minnesota, Iowa and Northwestern whose success is so dependent on development of under-the-radar talent. That can work to some degree but usually runs into a wall when faced with an Ohio State and all the Buckeyes' four- and five-star athletes. To this point recruiting powers OSU, Michigan and Penn State have rarely put it all together at the same time. If and when that happens, those West schools could be in trouble.
Stewart, I think you have relatives back in Missouri so can you answer this for me and for your (hopefully) MIZ-wearing relatives. Should we expect the national media to ignore the Tigers for the third straight year and then, come December, be shocked that they are playing in the SEC title game?
— Dean, Orlando
My in-laws do live in the state of Missouri, but they follow college football about as closely as I follow baseball, which is not at all. But I'm still happy to answer the question and tell you, yes of course we will ignore Mizzou. I believe it's in our official job descriptions. We continue to assume the Tigers will crawl back into a hole at any moment while they just keep churning out double-digit win seasons and division titles.
Here's a crazy stat for you: Since 2007, Missouri has gone 76-31. Over that same time span, SEC East peer Tennessee has gone 50-51. Yet I fully expect the Vols to garner more preseason buzz than the Tigers.
In all seriousness, I've learned by now never to underestimate Gary Pinkel's ability to reload, and I do expect Mizzou to contend in the East. But so much of the Tigers' success the past two seasons was due to their incredible defensive lines. It's hard to imagine there won't be a drop-off after losing players the caliber of Michael Sam, Kony Ealy, Shane Ray and Markus Golden from that run. On the positive front, Mizzou should have one of the SEC's more productive offenses with a veteran quarterback, Maty Mauk, and a very experienced line. As of today, the only East team I'd definitely pick ahead of Missouri is Georgia. I'm not sold yet on Tennessee or South Carolina, and Florida could be dreadful.
Stewart, Oklahoma seems to perform better when they start the season with low expectations from the media. Since they are way under-the-radar this year, any chance the Sooners will finish higher than third in the Big 12 (behind TCU and Baylor)?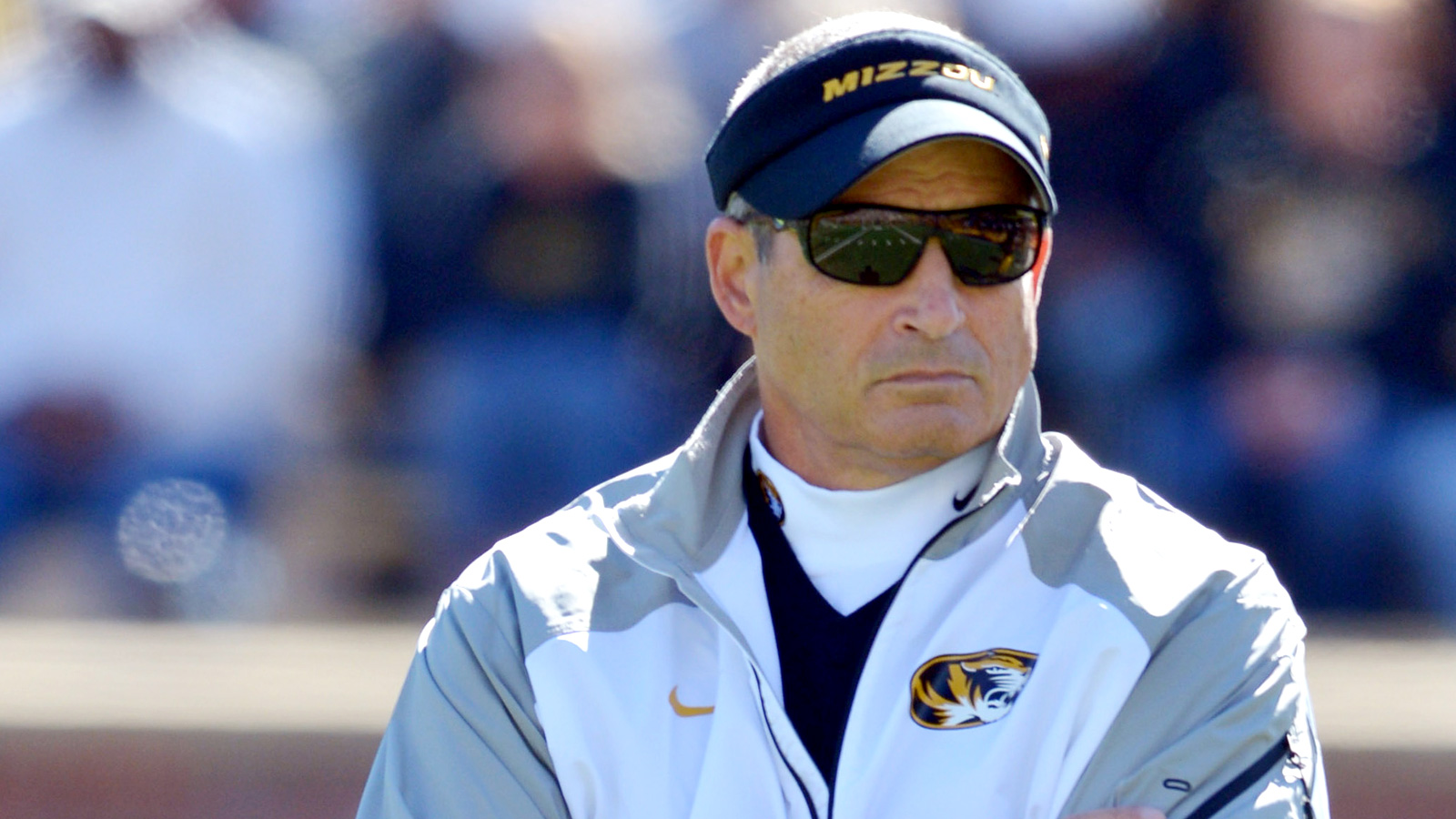 — Mike, Norman, Oklahoma
I visited Norman a couple of weeks ago (sorry we didn't cross paths) and spoke at length with Bob Stoops, who is banking heavily on new coordinator Lincoln Riley's "don't call it the Air Raid" offense to resuscitate the Sooners. I do believe Oklahoma will post a much better record this season. In fact, dare we call it a sleeper? This is, after all, a team that lost three of its five games last year in brutally close fashion before the bottom fell out in the bowl game. I expect no less than 10-3 this year. But will the Sooners be good enough to finish ahead of TCU and/or Baylor? I'd say possibly one, but not both.
TCU handed OU its first loss last season in a back-and-forth 37-33 game in Fort Worth. Despite their disparate finishes last season, there's not much of a talent gap between the two. It's just that Gary Patterson got more out of his than Stoops last year. OU gets the Horned Frogs at home late in the year and could well avenge last year's loss.
Baylor, on the other hand, seems to have completely flummoxed defensive coordinator Mike Stoops the past two years, most notably in last season's beatdown in Norman. OU has given no indication it has any answer for Art Briles' offense. Perhaps the Bears will regress this season. Anything's possible. But given how much firepower and defensive experience Baylor brings back, and given this year's game is in Waco, I have a hard time believing OU will finish higher than Baylor in this year's standings.
Stewart: Curious what your take is on the Michigan "Exposure U" camp? I get the exposure/publicity part of it but it seems like Harbaugh is treading on some risky turf here.
— Ian, Tampa, Florida
The fact summer camps have become an actual subject of interest in college football tells me Harbaugh has already defeated us all.
Stewart: LSU, and all public Louisiana universities, are preparing for a "doomsday scenario" amidst Louisiana's budget crisis. This invites a number of important questions, but since this is a football column, what do you think this means for the Tigers? While I don't expect LSU's players to have to boycott a game like Grambling's players did two years ago, I assume Nick Saban is already mentioning these issues to future recruits.
— Austin Lavin, New Orleans
I hate to see what's happening at LSU, one of my favorite football spots in all the land. The school could be facing a staggering 82 percent budget cut next year due to the state's budget crisis, and the school president said last week he is preparing to essentially declare bankruptcy. While higher education budget crises have unfortunately become commonplace in many states over the past decade, this is the most extreme scenario I've heard of involving a major university. You hope with increased awareness that a less drastic solution will ultimately come to pass.
Fiscally speaking, LSU football would likely be unaffected. Like most powerhouse programs it operates almost entirely on a combination of TV, ticket, licensing and bowl revenue as well as booster donations. I'd be more concerned about the state's lower-level programs that do rely heavily on university subsidies. But you're absolutely correct that it will become a negative recruiting angle. It appears unavoidable that the school will have to cut faculty and possibly entire academic departments, crushing its academic reputation. While LSU is one of the more noted NFL export factories, I'm sure many of its players do still pick the school at least partially on its academic offerings. It could become a recruiting nightmare for Les Miles' program.
But football could also become a saving grace for LSU. Time and again it's been shown that high-profile athletic success boosts fundraising for the entire university. Arguably the best thing LSU could do to help combat the problem is go out and win a national championship this season and help lift the morale of the entire state.
With the new reality that salaries for coordinators at big-time programs continue to escalate, many would have to take a pay cut to land their first head-coaching gig. As a fan of a MAC school with limited resources, how are schools in this situation going to lure great coaching candidates? Will they have to offer more money or find assistants further down the chain to look at?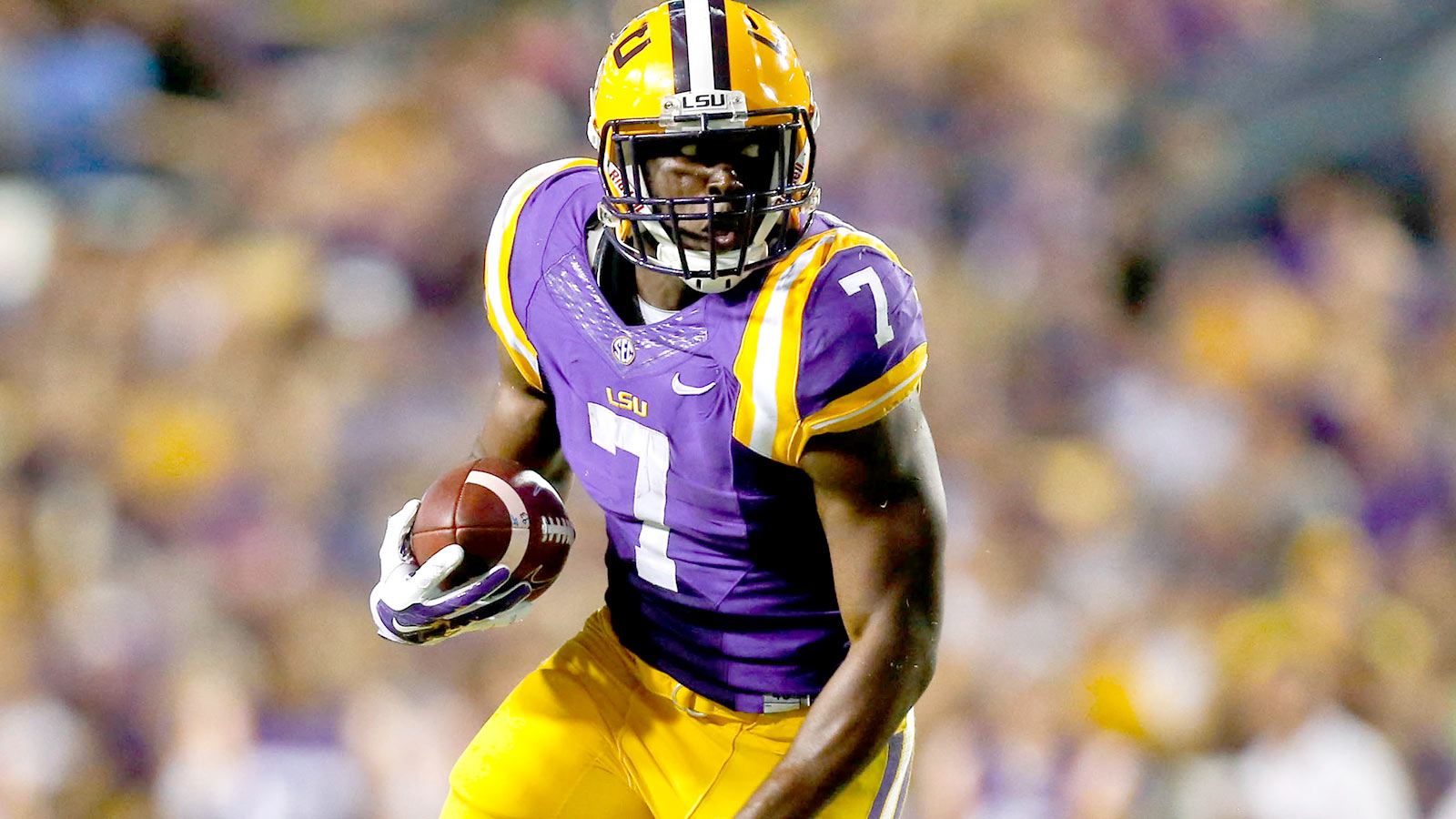 — Kevin Connors, Chesterfield, Virginia
Actually, the dramatic rise in head-coaching salaries seems to be working both for and against coordinators at major programs. While they're benefitting financially by proxy, Power 5 schools appear less willing than in the past to hand the reins to a first-time head coach, in part because it's now a minimum $2-3 million-a-year investment. Of the 14 such jobs that came open the past two years, only three schools — Vanderbilt (Derek Mason), Pittsburgh (Pat Narduzzi) and Kansas (David Beaty) — hired first-time head coaches. The template now is to get that experience at the mid-major level and hope to parlay it into a bigger job down the road, as Gus Malzahn did, for example, by getting that year in at Arkansas State before returning to Auburn.
Knowing that, while the MAC in general is considered a rung or two down from the American and Mountain West, some schools are more appealing than others in every league, and sought-after assistants can afford to be picky. They want to be a head coach, but they don't want to take a graveyard job where they'll be out of a job and out of favor within four years. Successful programs like Northern Illinois, CMU or Ohio (if Frank Solich ever retires) should continue to be appealing, even if it requires taking a temporary pay cut.
I know there could be 100 Jim Harbaugh questions, but mine is this: Is JH coaching UM in five years? If so, does he win a national championship in that time?
— Tony, Flint, Michigan
You're right, I have received roughly 100 Harbaugh questions already. If it's OK with you, I'd like to hold off answering something like this until I've actually seen him coach a game at Michigan.
Stewart, we always hear and think about who has the hardest non-conference schedule each year, but who gets the hardest conference schedule this season due to rotating opponents, who they play on the road, dates of back-to-back tough games, etc.?
— John Ringer. Richmond, Virginia
Good question. Last offseason I made the mistake of picking Auburn to make the College Football Playoff without accounting for just how unfavorable a deck it got in the SEC. While the Tigers obviously fell short of expectations in general, it didn't help that they ended league play with road games against Georgia and Alabama. Auburn's other crossover game was against South Carolina, which, while barely a bowl team last year, was still a tougher draw than Kentucky or Vanderbilt.
As for this season, I believe the Pac-12 South is going to be an absolute beast, with five legit top 10-20 teams in Arizona, Arizona State, USC, UCLA and Utah. And in that league you miss only two teams from the other division. So looking at crossover games, I can't imagine a harder conference slate than that of the Utes, who play at Oregon, at USC, at Arizona and at Washington, all within their first seven conference games. They do catch two slight breaks in that they play five conference home games and end with Colorado. USC's is also brutal and also includes a trip to Eugene, not to mention its road game against Notre Dame is wedged in the middle.
Stewart, with the rise of conference networks and expanded television coverage for college football, many ADs have been vocal about their worries that on-campus attendance is slipping. In your travels each fall, is this really a trend that you've observed? And, if it is an issue, what do you think the best steps are to combat it?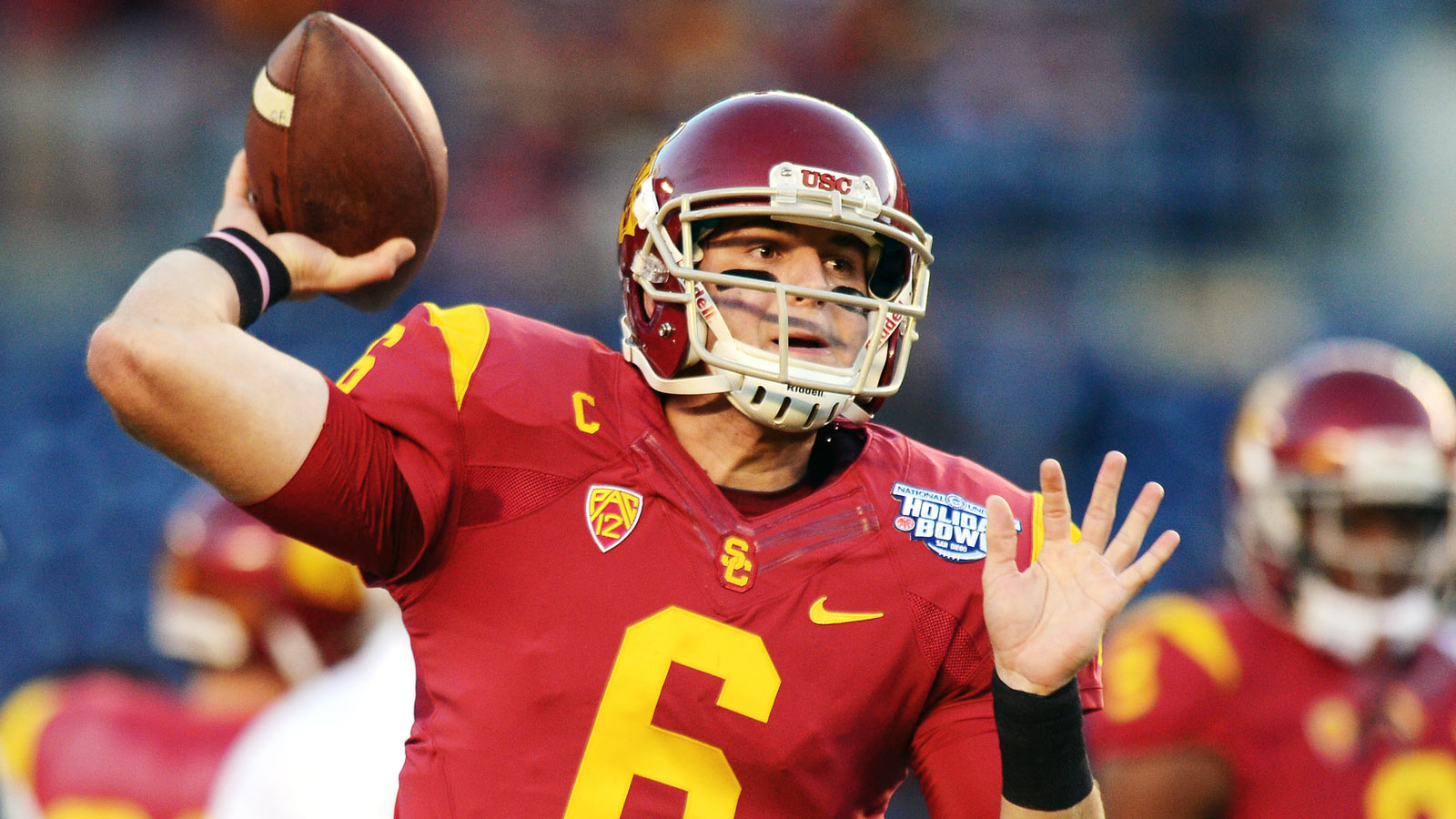 — Philip Allison, New Orleans
It's definitely noticeable in student sections. A real eye-opening moment came at the Ohio State-Michigan game in Ann Arbor two years ago when there were multiple empty rows at kickoff. For an Ohio State-Michigan game. But I've seen the same thing elsewhere, and whereas I'm generally covering big games, I'm sure it's much worse for run-of-the-mill Saturday games. Current students have come up in a different generation where every game's televised, often in spectacular quality, and watching a sporting event without burying one's head in his or her phone is unthinkable. It's a huge concern for ADs because these are their potential future season-ticket holders and donors, and they just don't have the same emotional affinity for fall Saturdays in the stands as we old people do.
Schools are starting to actively combat it by, among other things, reducing prices, outfitting their stadiums with reliable Wi-Fi, pumping in more music and just generally creating more fanfare. Pro franchises are dealing with much the same issues. Ultimately, though, the only two factors that truly ensure good attendance are a high-quality team and a high-quality opponent. As the years go by it's going to be increasingly difficult for all but the very elite teams to fill the stands for a game against a directional school or in-conference cellar dweller. Conference realignment certainly did them no favors in this department, either. So ADs will have to balance beefing up the schedule for attendance purposes without crippling their team's bowl or playoff chances.
Harbaugh in his first year at Michigan or Al Golden in what could be his last year (if they don't do well) at Miami, who do you think has the better season in 2015?
— Dana Boyle, Vancouver, British Columbia
That's it. Harbaugh is officially the new Ditka.
Stewart Mandel is a senior college sports columnist for FOXSports.com. He covered college football and basketball for 15 years at Sports Illustrated. You can follow him on Twitter @slmandel. Send emails and Mailbag questions to Stewart.Mandel@fox.com.