Big Ten Conference Power Rankings After Week 10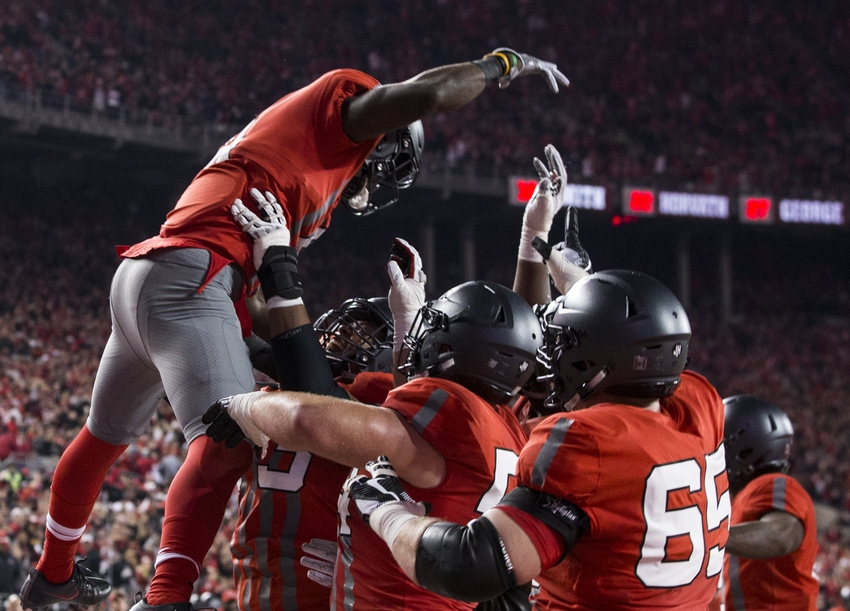 November kicked off in the Big Ten and there is some movement in the top five.
Week 10 in the Big Ten Conference has come and gone and there is now some sorting out at the top of the standings.
With Nebraska's loss to Ohio State, Wisconsin now has the upper hand in the West division.  Over in the East, it will most likely come down to the Michigan at Ohio State game, although, if Michigan does slip up before that game, Penn State could benefit.
Elsewhere in the conference, Minnesota is quietly a seven-win team and Indiana got one step closer to bowl eligibility.
Let's take a look at how the rankings shake out this week.
1
Michigan
Wolverines
(9-0, 6-0)
Last week:
(8-0, 5-0)
Last rank:
1st
Michigan kept rolling with a blowout win over Maryland, 59-3. Is there any team that can stop the Wolverines? Probably not until the Ohio State game at least. Jabrill Peppers could make it to New York City for the Heisman ceremony. Up next for the Wolverines is a road trip to Iowa City to take on the Hawkeyes.
2
Ohio State
Buckeyes
(8-1, 5-1)
Last week:
(7-1, 4-1)
Last rank:
2nd
In what was a matchup of two top-10 teams turned into a laugher as Ohio State pummeled Nebraska in Columbus, 62-3. Ohio State's offense finally showed up, racking up 590 yards against a pretty good Nebraska defense. The Buckeyes are on a collision course with the Wolverines for the East division. First comes two road games, the first being against Maryland this week.
3
Wisconsin
Badgers
(7-2, 4-2)
Last week:
(6-2, 3-2)
Last rank:
3rd
Wisconsin controlled much of the game against Northwestern on their way to a 21-7 victory. The Badgers broke a four-game losing streak to the Wildcats at Ryan Field. With Nebraska's loss, Wisconsin now controls their own destiny in the West. They also still have an outside chance at a playoff spot if they can win the Big Ten Championship.
4
Penn State
Nittany Lions
(7-2, 5-1)
Last week:
(6-2, 4-1)
Last rank:
5th
Penn State justified its high playoff ranking with a dominate performance against Iowa, winning 41-14. The Lions are rolling with five straight wins and that number could move to eight with the remaining teams on their schedule a combined 9-18. A top-10 spot when the new playoff rankings are released is likely. Up next is a visit to Indiana to take on the Hoosiers.
5
Nebraska
Cornhuskers
(7-2, 4-2)
Last week:
(7-1, 4-1)
Last rank:
4th
Nebraska couldn't do much of anything Saturday night as they were beat down by Ohio State, 62-3. On top of the beating, a scary moment occurred when quarterback Tommy Armstrong Jr. went down hard on his head and was carted from the field. He would later return to the sideline, in hospital scrubs no less, so that was a great sign. Nebraska returns home this week to face Minnesota.
6
Minnesota
Golden Gophers
(7-2, 4-2)
Last week:
(6-2, 3-2)
Last rank:
7th
Minnesota got back into the West division race with a 44-31 win over Purdue on Saturday. The Gophers have quietly won seven games this season, while rattling off four straight conference wins. How good are the Gophers? We're about to find out with Nebraska on the schedule next in Lincoln.
7
Iowa
Hawkeyes
(5-4, 3-3)
Last week:
(5-3, 3-2)
Last rank:
6th
The defending Big Ten West champions are pretty much out of the race now with three conference losses, their latest being a 41-14 loss in Happy Valley. Even with a bye week, the Hawkeyes could not solve their offensive woes and only rushed for 30 yards. Bowl eligibility is still a possibility, but Iowa is unlikely to get that this week as they host Michigan.
8
Indiana
Hoosiers
(5-4, 3-3)
Last week:
(4-4, 2-3)
Last rank:
9th
Despite trying to hand the game to Rutgers, Indiana still pulled off an ugly victory 33-27. The Hoosiers turned over the ball four times, missed three field goals and two extra points. The defense is not as good as it was earlier in the season. However, the Hoosiers are still only one win away from back to back bowl berths. They host the surging Nittany Lions next.
9
Northwestern
Wildcats
(4-5, 3-3)
Last week:
(4-4, 3-2)
Last rank:
8th
The offensive woes that plagued the Wildcats earlier in the season returned against Wisconsin. That's what happens when you play an outstanding defense. Northwestern still has bowl eligibility in its sights with three games left. They travel to Purdue for the next game.
10
Maryland
Terrapins
(5-4, 2-4)
Last week:
(5-3, 2-3)
Last rank:
10th
Head coach D.J. Durkin's return to Ann Arbor did not go well as the Terps were run out of Michigan stadium, 59-3. Maryland gave up 660 yards including nearly 400 through the air. With Ohio State and Nebraska in the next two weeks, the Terps will probably need a win against Rutgers to get bowl eligible.
11
Illinois
Fighting Illini
(3-6, 2-4)
Last week:
(2-6, 1-4)
Last rank:
13th
Illinois beat Michigan State for the first time since 2006. Even though Michigan State is a shell of last year's team, this is still a good win for a young Illini squad. Their defense actually played quite well and saved the win at the end of the game. Illinois could still become bowl eligible, but that will be a tough task with Wisconsin next on the schedule.
12
Purdue
Boilermakers
(3-6, 1-5)
Last week:
(3-5, 1-4)
Last rank:
12th
Once again Purdue had a halftime lead and came up short in the end, losing this week to Minnesota 44-31. The Boilermakers need to learn how to close out games. A positive is that David Blough had his fifth 300 yard passing game this year. Purdue returns home to face Northwestern this week.
13
Michigan State
Spartans
(2-7, 0-6)
Last week:
(2-6, 0-5)
Last rank:
11th
Just when you think Michigan State has hit it's lowest point, it goes out and loses to Illinois. There's not much else left to say about the Spartans. This will be the first year since 2006 that they will finish with a losing record. It's a dramatic fall from the top of the Big Ten. The Spartans take on Rutgers next in the conference's pillow fight.
14
Rutgers
Scarlet Knights
(2-7, 0-6)
Last week:
(2-6, 0-5)
Last rank:
14th
Rutgers could not find a way to win a game in which Indiana coughed up the ball four times. Besides the games against Michigan and Ohio State, the Scarlet Knights have been fairly competitive in most of the other conference games. They travel to East Lansing for their next contest.
More from Victory Bell Rings
This article originally appeared on