Big Ten Conference: Football Power Rankings After Week 11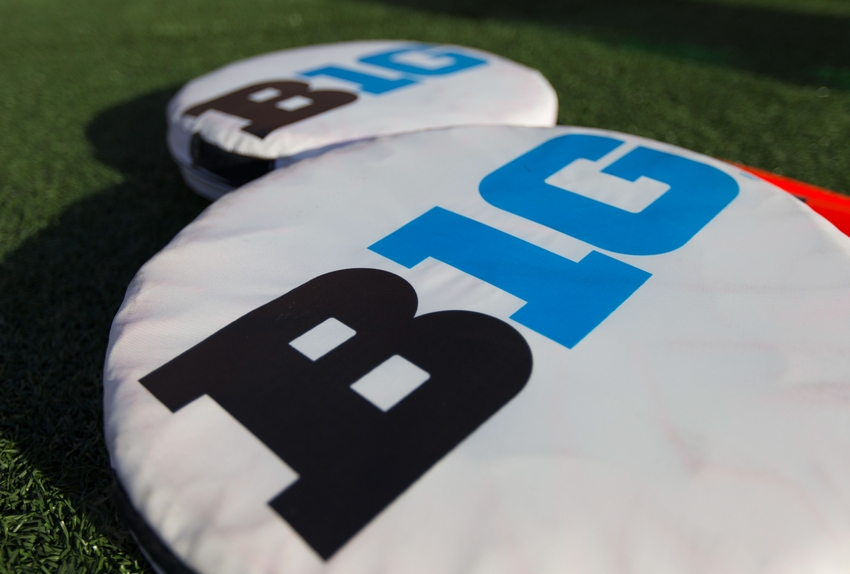 Every week here at Writing Illini, we'll provide some serious #hottakes on the state of Big Ten football through our power rankings.
Things were getting along pretty well for the favorites in Big Ten match-ups on Saturday. That is, until Keith Duncan's leg gave Iowa the biggest win of their season from 33 yards out.
As far as losses to unranked teams go, the CFP committee must hold the Hawkeyes in pretty high regard, as Michigan didn't move in the newest edition of the CFP rankings this week.
That late-night thriller really jammed things up in the East, opening the door for Penn State to win the conference if they win out and Ohio State beats Michigan in Week 13, assuming neither of them lose in Week 12.
Furthermore, between Wisconsin, Ohio State, Michigan and Penn State, not only is the Big Ten Champion still very much in doubt, but do two Big Ten teams have a legitimate shot at the College Football Playoff?
SO. MUCH. FUN. Let's go!
1: Wisconsin Badgers (LW: 2 | ⇑1)
The 6th-ranked Badgers might not be in the CFP's Top 4 yet, but they continue to take care of business on the easier back-end of their Big Ten schedule. Wisconsin made Illinois look like a JV squad, and they've got Purdue next before a rivalry showdown with Minnesota and a spot in the Big Ten Championship.
2: Ohio State Buckeyes (LW: 3 | ⇑1)
The 2nd-ranked Buckeyes similarly made Maryland look like a JV squad, and they continue to roll following that loss to a resurgent Penn State team a few weeks back. With so much still on the line, it's possible they could win out the regular season, not play for the conference championship and still make the national playoff.
3: Michigan Wolverines (Last Week: 1 | ⇓2)
Unlike Michigan State, Iowa clearly didn't fall quite so hard this season. Sure, they had that early season stunner against NDSU, but they're still looking at a 7- or 8-win campaign. Nonetheless, the Writing Illini Power Rankings Committee is going to be harder on the 4th-ranked Wolverines, dropping them two spots for that fairly ugly performance. Losing QB Wilton Speight hurts, too.
4: Penn State Nittany Lions (LW: 4 | ⇔)
A very brief scare met the 9th-ranked Nittany Lions against Indiana, but it was quickly snuffed out. Two winnable games remain, and while they don't fully control their own destiny, this season has been nothing short of a major success already.
5: Nebraska Cornhuskers (LW: 6 | ⇑1)
Minnesota gave the 19th-ranked Cornhuskers a tough game, but ultimately Nebraska bounced back in Week 11. Although the odds are slim, if they win out and Wisconsin stumbles even once, they'll find themselves playing for the conference title.
6: Iowa Hawkeyes (LW: 8 | ⇑2)
What a win for the Hawkeyes, who are now again getting votes in the AP poll. A very solid, if not spectacular, bowl berth still awaits this team if they just get one more victory, which is very possible with Illinois still on tap.
7: Minnesota Golden Gophers (LW: 5 | ⇓2)
Any slim chance the Gophers had at a West title is now gone, but that doesn't take away from a very good season. Northwestern and Wisconsin don't make the last two weeks easy, but they are secure in making a postseason appearance, at the very least.
8: Northwestern Wildcats (LW: 9 | ⇑1)
Northwestern's bowl hopes are still very much alive after a drubbing of Purdue, with Minnesota and Illinois to finish the year. That would be somewhat of a minor miracle after beginning the year 1-3.
9: Indiana Hoosiers (LW: 7 | ⇓2)
Like the Wildcats, the Hoosiers' bowl hopes are still pretty strong with Purdue slated in Week 13. They'll need it after facing a ticked-off Michigan squad this week.
10: Maryland Terrapins (LW: 10 | ⇔)
Maryland fans better thank their baby soft early season schedule, because this team is 1-5 in their last six and can still make a bowl with Rutgers in the final week.
11: Purdue Boilermakers (LW: 11 | ⇔)
Les Miles to West Lafayette?
12: Illinois Fighting Illini (LW: 12 | ⇔)
Well, freshman Jeff George, Jr. was bound to have an absolutely TERRIBLE game, and he did.
13: Michigan State Spartans (LW: 13 | ⇔)
Congrats on killing Rutgers.
14: Rutgers Scarlet Knights (LW: 14 | ⇔)
Congrats on being there for the Spartans.
This article originally appeared on