Big Ten Conference: Football Power Rankings After Week 10
Every week here at Writing Illini, we'll provide some serious #hottakes on the state of Big Ten football through our power rankings.
No real surprises in Week 10, huh? Unless you count the absolute shellacking that Nebraska received at the hands of Ohio State, the outcomes were pretty standard.
You could certainly make the case that Illinois taking down Michigan State at home was a bit of a shocker, but what had the Spartans shown you in their previous six losses to suggest they'd be able to easily win anything?
At this point in the season, for those teams near the bottom, it really doesn't matter anyway. Onto the rankings!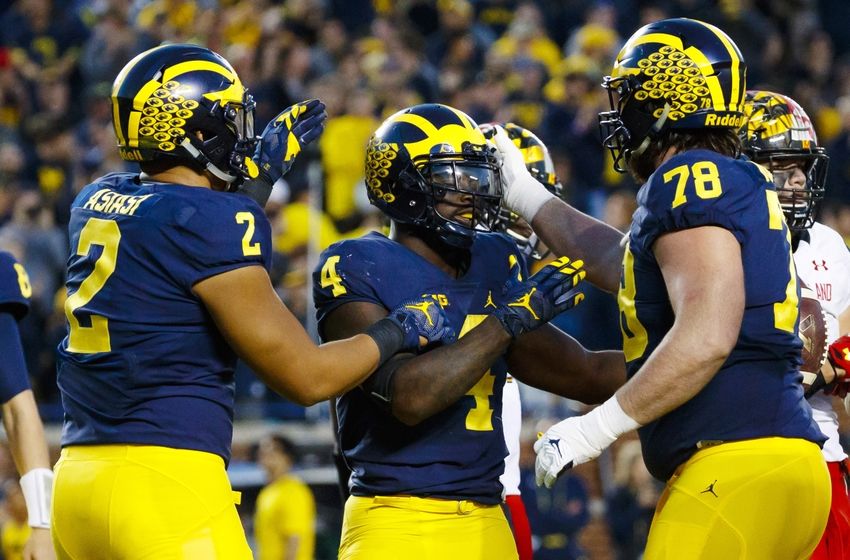 1: Michigan Wolverines (Last Week: 1 | ⇔)
The 2nd-ranked Wolverines took care of Maryland with no problem. As long as they keep their foot on the gas for the next two weeks, that Nov. 26 matchup with Ohio State looms large. Football fans in general, let alone Big Ten fans, should be salivating.
2: Wisconsin Badgers (LW: 2 | ⇔)
Not a lot has come easy for the 7th-ranked Badgers this year, but they continue to use a stifling defense and strong ground game to put other teams away, as they did with Northwestern. Barring an unforeseen hiccup in the last three weeks, a rematch with Michigan or Ohio State in the Big Ten Championship game is likely.
3: Ohio State Buckeyes (LW: 4 | ⇑1)
The 6th-ranked Buckeyes proved that Nebraska's "contender" status was a bit of fluke. And Nebraska is a good team! If anything, this game showed that Ohio State still has another gear that other Big Ten squads, except maybe Michigan, can't reach.
4: Penn State Nittany Lions (LW: 3 | ⇓1)
I don't like dropping teams after a victory, if I can help it. The 12th-ranked Nittany Lions beat down Iowa at home, and they continue having a very impressive season. With a relatively easy end-of-year schedule and a huge brand name, Penn State is in line for a New Year's bowl.
5: Minnesota Golden Gophers (LW: 6 | ⇑1)
Down at halftime to Purdue, the Gophers, now getting votes in the AP poll, turned things around pretty quickly to win. This team is the last direct challenge to Wisconsin in the West Division, but first, they'll have their hands full with a ticked-off Nebraska team.
6: Nebraska Cornhuskers (LW: 5 | ⇓1)
Sure, that loss stings for 21st-ranked Nebraska. Was it any more crushing than the previous nailbiter to Wisconsin, though? Depends on what type of loss you consider to be worse. Still, with a winnable final slate and recognizable brand, similar to Penn State, the Huskers still have a chance for a New Year's bowl. Must win out, however.
Illinois Football: Opening Thoughts Against the Wisconsin Badgers
7: Indiana Hoosiers (LW: 9 | ⇑2)
Indiana has been up and down all year, but throughout it all, they've been competitive. They better be ready to beat Purdue in a few weeks, though, as upcoming contests against Penn State and Michigan aren't going to make that sixth win easy.
8: Iowa Hawkeyes (LW: 7 | ⇓1)
Like Indiana, the Hawkeyes needs to beat a bad team (Illinois) to get that sixth win and become bowl eligible. Their other two remaining games are vs. Michigan and Nebraska, but at least they get both at home. Interesting down year for a team many had pegged as a West contender.
9: Northwestern Wildcats (LW: 8 | ⇓1)
The Wildcats were in it at half against Wisconsin, especially considering the Badgers have struggled mightily in Evanston over the past few years. Purdue and Illinois remaining give them a chance at bowl eligibility, but the margin for error is razor thin now.
10: Maryland Terrapins (LW: 10 | ⇔)
Like their other middle-of-the-pack brethren, the Terps need one more win to make a bowl. They've been trending down for a while, however, so I'm not going to hand it to them just yet. An end of year game against Rutgers is as good of a chance as any.
11: Purdue Boilermakers (LW: 12 | ⇑1)
With Northwestern, Wisconsin and Indiana left to play, it's once again time to look ahead to next year for the Boilers.
12: Illinois Fighting Illini (LW: 13 | ⇑1)
Even against the worst Michigan State team in eight years, that was an uplifting, quality win for an Illini team starting their third-string QB and missing their top two WRs.
13: Michigan State Spartans (LW: 11 | ⇓2)
What more can be said about how far this team has fallen? Regroup. Try again next year. I'm not sure exactly how much better they'll be next season, but I very much doubt it would be this bad two years in a row. Not with what Dantonio has built.
14: Rutgers Scarlet Knights (LW: 14 | ⇔)
Ah, Rutgers. Always holding down the fort for us. Almost pulled out another one.
This article originally appeared on