CFB AM: Genius fan adds 'Game of Thrones' theme to B1G commercial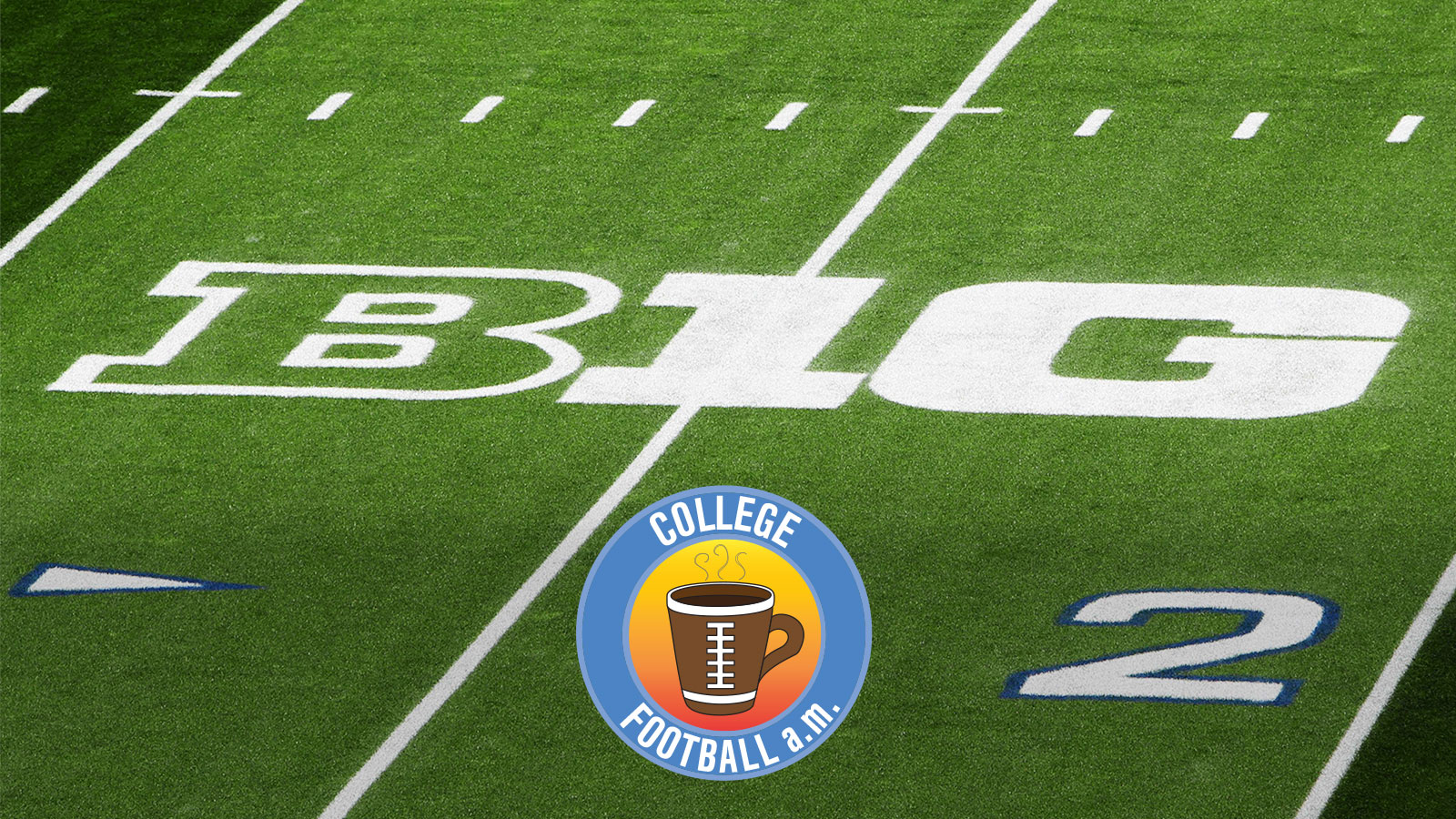 Sometimes, it's amazing what people can do with functioning Internet, a creative mind and free time.
This is one of those times.
Tom McGrath is a guy who makes some pretty cool videos on YouTube and apparently a college football fan.
Recently, he saw an animated Big Ten commercial on his TV and got an idea.
You know what that commercial needs? The "Game of Thrones" theme song (if you don't watch the show, here's the open with the song).
So McGrath got to work, and created this — the most incredible piece of Big Ten propaganda since Bo Pelini's cat. Watch this:
Jim Delany should just hire McGrath now and put him in charge of a new creative department. It's the only proper way to say thank you.
(h/t Land-Grant Holy Land)
THREE THINGS YOU NEED TO KNOW
1. Week 1 officially concluded on Monday evening with Miami at Louisville, a game in which the Cardinals won 31-13 to earn their first ACC win — a league they're proud to join — and give Bobby Petrino a pleasant return to the program. We saw two new quarterbacks, and Louisville sophomore Will Gardner had a better night than Miami true freshman Brad Kayaa. Gardner went 20-of-26 passing for 206 yards and two touchdowns (no picks), while Kayaa completed 17 of 29 passes for 174 yards, one TD and two interceptions.
Playing without superb wide receiver DeVante Parker, who's out with a broken foot, Gardner wasn't asked to carry the Cardinals. Petrino leaned heavily on running back Dominique Brown (33 carries, 143 yards, one TD) and asked the defense to keep Miami RB Duke Johnson relatively contained (20 carries, 90 yards) and limit the explosive plays (the only receivers who averaged more than 13 yards per catch were two players who caught only one pass apiece). Successful night all around for Louisville.
The whole event, really, can be described in two photos. For Louisville, we have former Cards QB Teddy Bridgewater's mom, who showed up in support wearing a sweet T-shirt of her son on draft night:
Nice to see Ms. Rose, mother of Card Forever Teddy Bridgewater, supporting the Cards tonight! #L1C4 #blACCout pic.twitter.com/pJ2Kun99yF

— Nick Stover (@ULFlyingCard) September 2, 2014
And for Miami, there's whatever you call this:
Miami Bane is displeased. pic.twitter.com/cAbVLYeDzr

— SB Nation GIF (@SBNationGIF) September 2, 2014
2. Baylor QB Bryce Petty injured his back in Sunday night's win over SMU after taking a direct shot on a touchdown run and didn't play in the second half. The school called it a "lower back bruise" and afterwards Petty said he felt better. On Monday, an MRI revealed the injury is a bit more serious than just a bruise. Petty apparently has two fractured transverse processes – little bones that extend out from the larger spine bones – and is listed as day-to-day.
The good news is this injury sounds worse than it generally is. It doesn't require surgery and typically heals on its own with rest. Petty can play when the stiffness and pain reach a manageable level (which may have been the case immediately after Sunday's game). But sometimes the injury can significantly limit range of motion in the back and general mobility, which would be a problem for someone who needs to create torque and explosiveness to throw a football.
The important question for Baylor to answer: What's the risk of hurting the back more or creating a situation where the injury nags for an extended period of time if Petty plays in Week 2? He's vital to their 2014 goals in the Big 12 and on a national level, and the Bears' next four weeks stack up like this: Northwestern State, at Buffalo, bye, at Iowa State. They probably don't need him to win any of those three games, so it's critical to give his back a chance to get fully healthy.
3. There's some really unfortunate news for Texas QB David Ash: After Saturday's win over North Texas, Ash called coaches and trainers to tell them he was experiencing headaches and dizziness – the concussion symptoms he's battled multiple times in the past – that he believed came from a specific hit in the game.
Texas beat reporter Max Olson created a Vine of the specific play Ash referred to (Charlie Strong recounted the conversation in his Monday meeting with media):
The scary part here is that's innocuous contact – the kind of hit that is just normal football stuff. But Ash has an extensive concussion history — he missed the final nine games of last season because Texas couldn't confirm Ash's specific injury after he tried to return from a previous concussion only to get hurt again – and we're at the point now where you genuinely worry about his long-term health. If the hit above is all it takes to jar the dormant symptoms in his brain, is it now reckless for Ash to continue playing football?
Ash has been ruled out for this week's game against BYU, and there's no telling what his football future holds. I have no idea if he should quit or not – it's his decision, and it's difficult to lick the seal of a dream. But Ash is a young man with options. He can finish his degree from a prestigious university and go into business. If he wants to remain around football, Strong or others around the country would surely have a grad assistant position for him if he wants to pursue coaching. A university the size of Texas provides endless connections for any student who seeks them, let alone one who played quarterback for the Longhorns. Unlike some, Ash doesn't have to put himself through this and risk his future health, as if football is his only avenue for making it.
We also don't know what kind of information doctors are telling him. It's difficult to know the risks, which is why I'll refrain from saying he absolutely should quit. Hopefully he makes the best decision for him and considers everything ahead. Good luck, David.
THREE THINGS YOU SHOULD KNOW
Another significant Crimson Tide note: They lost two starters to injury in the West Virginia game. Senior safety Jarrick Williams will miss at least four weeks with a fractured foot – he actually finished the game with it broken — and senior wide receiver DeAndrew White is out for two weeks with a shoulder injury.
2. Bruce Feldman debuted his Big Picture column after Week 1, and included is some inside info on a new play that Texas A&M offensive coordinator Jake Spavital swiped from a coaching friend, which worked three times to perfection against South Carolina.
Stewart Mandel also has his Forward Pass after Week 1, in which he writes that the Sumlins and Sarkisians of college football are leaving the Sabans no choice but to evolve.
3. Monday marked the first day coaches can send emails or direct messages to junior prospects and make one phone call per week to senior prospects. Rutgers coach Kyle Flood was up until 2:30 a.m. exchanging DMs on Twitter with recruits. The glorious life of coaching big-time college football.
THREE THINGS YOU MAY WANT TO KNOW
1. See if this makes sense to you: Three Florida players were suspended for the Idaho game. That game was cancelled due to weather. Will Muschamp announced on Monday that those Gators are now back with the team and will play this week. So … it's actually a no-game suspension.
2. If you want to see what it looked like to skydive into the Penn State-UCF game in Ireland over the weekend, the dude who jumped out of the plane posted a GoPro video.
3. There was some mystery as to why Wisconsin running back Melvin Gordon, after torching LSU's defense earlier, suddenly disappeared from the game plan in the fourth quarter as the Badgers were coughing up a lead. Coach Gary Andersen said after the game, "I don't know," when asked why Gordon didn't get more carries, and the RB told media he was fine health-wise. On Monday, Andersen addressed that issue and said Gordon was battling a hip flexor, which is why he didn't get those fourth-quarter touches. Gordon called it all a "miscommunication."
LASTLY
* Good detail here in Bill Connelly's Georgia-Clemson analysis. UGA QB Hutson Mason wasn't tested at all, with 11 of his 25 passes (not counting one throwaway) targeting a tight end or running back. Will there be a point where the RBs can't carry the load and Mason has to do more? Almost surely. The Bulldogs were also without two receivers in Week 1.
* Speaking of Georgia, Herschel Walker called Todd Gurley America's best running back in this SI piece.
* Ohio State tight end Marcus Baugh is serving a two-game suspension for "stuff," says Urban Meyer. Well that explains it!
* Iowa State lost its best receiver for the season after getting smoked by North Dakota State. This does not bode well for Paul Rhoads' future.
* Nice story here: A Michigan State coach's brother is 39 years old and playing college football so he can earn a business degree and try to make a better life for his kids.
* If this doesn't bring at least a brief smile to your face today, I can't help you: A young Oregon fan attended his first Ducks game last weekend and threw up the 'O' with Eugene police.
Have a great Tuesday, all.
Photo bombed by the cops at his first football game @GoDucks #GoDucks pic.twitter.com/V1CK1Syp3h

— Manny Martins (@EmanuelMartins) August 31, 2014
Teddy Mitrosilis is an editor and writer for FOXSports.com. Follow him on Twitter @TMitrosilis and email him at tmitrosilis@gmail.com.