Big 12 plans to scrap 'co-champs' label that hurt TCU, Baylor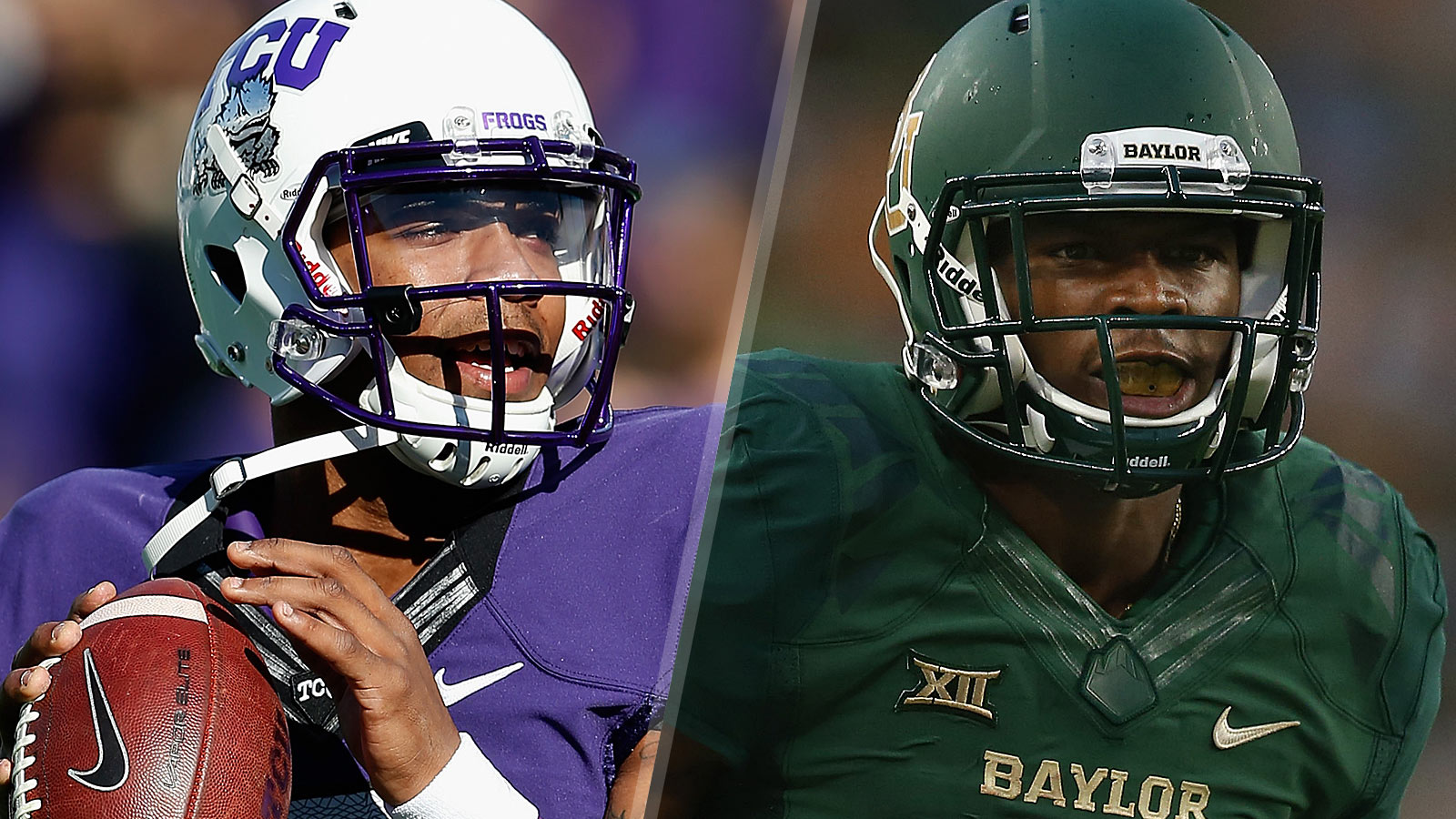 IRVING, Texas — Having watched co-champions Baylor and TCU get excluded from the first-ever College Football Playoff last season, the Big 12 is close to adopting one change to address the snub while laying the groundwork for something bigger.
Speaking with reporters here Tuesday at the start of the annual CFP meetings, Big 12 commissioner Bob Bowlsby said the league will likely scrap its confusing co-champion moniker in time for the 2015 season. Conference ADs and coaches will discuss the matter next week at their spring meetings in Phoenix.
"I'm fairly confident we'll act to put in place a tiebreaker that will determine our champion," said Bowlsby. "That will eliminate one of the variables from last year."
Meanwhile, any decision to implement a conference championship game won't come anytime soon, particularly since the 10-team league isn't currently allowed to do so.
Bowlsby continues to champion an NCAA proposal his league and the ACC have put forward that would "deregulate" conference championship games, eliminating the longstanding 12-team, two-division requirement. The change is widely considered a formality but must first wind its way through the NCAA legislative maze — from the Division I Football Oversight Committee to the FBS legislative council. Realistically, the earliest it could be adopted is October, with an intent to go into effect for the 2016 season.
Even then, it's not a certainty the Big 12 would stage a title game.
"We're going to move forward with the process to try and deregulate the rule, and then I don't know what we'll do beyond that," said Bowlsby. "Our ADs will have to act on that. The coaches have weighted in a bit on that, but we'll probably talk about that more next week."
CFP selection committee chairman Jeff Long has said on numerous occasions that a 13th game helped vault eventual national champ Ohio State over the Big 12's contenders for last year's fourth playoff spot. But it's too soon to know whether that will be the case on a regular basis.
A majority of league coaches expressed support for a 13th game on a recent conference call with reporters, but dissenters note the conference already plays a full nine-game round robin. An extra game could actually knock the league out of the playoff if the wrong team wins, as happened to the Big 12 multiple times during the BCS era.
"Going undefeated in a league where there's a full round-robin is easier said than done," said Bowlsby. "The opportunity to play a 13th game, even if it's a regular-season rematch — which many of them are — may be well advised for us. A plausible case can be made on all sides of it, but we're going to have to come to a conclusion on it."
Seeing as the earliest they could take action is 2016, they won't have to reach that conclusion until after this season, by which point they'll have gone through another year of the selection committee era. In the meantime, Bowlsby said he had "a few questions" to ask his colleagues during this week's meetings, which Long is expected to attend.
"Like, 'Are you kidding me?'" he joked.
Stewart Mandel is a senior college sports columnist for FOXSports.com. He covered college football and basketball for 15 years at Sports Illustrated. You can follow him on Twitter @slmandel. Send emails and Mailbag questions to Stewart.Mandel@fox.com.