The Big 12 is taking as much tackling out of football as possible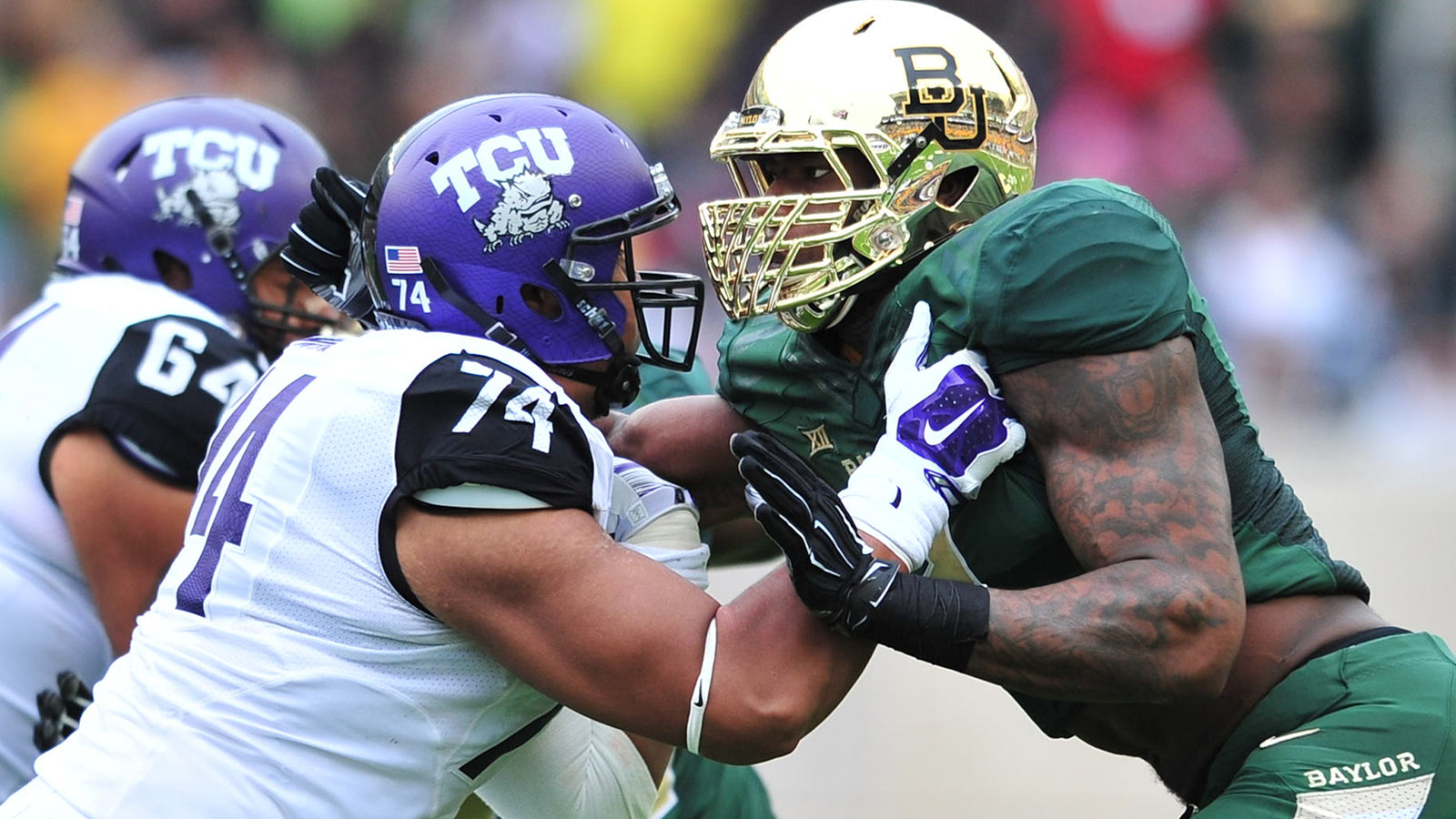 The Big 12 made headlines Monday when the conference announced the adoption of a conference-wide limit on in-season live contact opportunities to no more than two times per week per student-athlete, including game day.
"The Big 12 Conference continues to take the lead in the area of player safety as the first conference to enact more restrictive contact polices than currently permitted," explained commissioner Bob Bowlsby. "Our policy is a 33-percent reduction in the number of contact opportunities allowed under NCAA guidelines. Limiting the number of live contact practices and giving medical practitioners unchallengeable authority on return to play decisions unequivocally demonstrates the commitment of our membership to the health and safety of Big 12 student-athletes. I applaud our athletics directors on implementing an industry-leading approach."
Worth noting: "Live contact" includes live tackling to the ground and full-speed blocking, but it does NOT include "Thud," or wrapping-up, drills that are practice staples for a team trying to work on tackling. News of the Big 12's move prompted a lot of responses along the lines of:
Flag football here we come!! (Also great for recruiting "we save your body for the pros, only tackle twice a week") https://t.co/G0kNtvmd8R

— John Zall (@John_Zall) July 20, 2015
@BruceFeldmanCFB move to full time 7 vs 7 almost complete

— DBW (@The_Real_DBW) July 20, 2015
If you thought the Big 12 was soft/couldn't tackle before… https://t.co/zOH8AF3Mdr

— Dan (@DanKnowsSports) July 20, 2015
This tag isn't helped by the Big 12's rep for gaudy offensive stats and prolific offenses. I contacted a few coaches, guys who coach O-line and on the defensive side of the ball, from the ACC, Big 12, SEC and Big Ten, to get their reaction on what kind of impact this actually will have.
"I think it's come to this anyway," said one of the SEC assistants. "I've coached at places where we used to beat the hell out of 'em during the week. But we're not doing that any more. Most places still like to hit on a Tuesday and that's about it, and it's just to keep from creating bad habits. You've gotta teach 'em how to do it without going full-gear.
"It's the one-on-ones, receivers on DBs, that's how you get 'em hurt, but mostly I don't think this will change much for anyone."
One O-line coach said the biggest change for his program would be that his guys do engage in one-on-one pass-rush drills against his team's D-linemen on Tuesdays and Wednesdays. Those are full-speed.
"It's staying sharp on the speed you're gonna see," he said. "Later in the season, you do gear back on it some, especially if you got a couple of guys banged up."
The OL coach added that those practice periods are usually only about 10-15 minutes long, so each starter may get only three to four reps anyhow.
One of the Big 12 assistants I spoke to said he didn't think the rule means any drastic change. Just tweaking some scheduling, like moving their goal-line work over to the "live contact" day.
Asked for his assessment of the impact of this rule, the O-line coach said, "It's probably more of a headline, because it's a way for them to be on the forefront on the issue of the health and welfare of their student-athletes."
Bruce Feldman is a senior college football reporter and columnist for FOXSports.com and FOX Sports 1. He is also a New York Times Bestselling author. His new book, The QB: The Making of Modern Quarterbacks, came out in October, 2014. Follow him on Twitter @BruceFeldmanCFB and get all of his content on Facebook.