Big 12 Football: Week 13 Power Rankings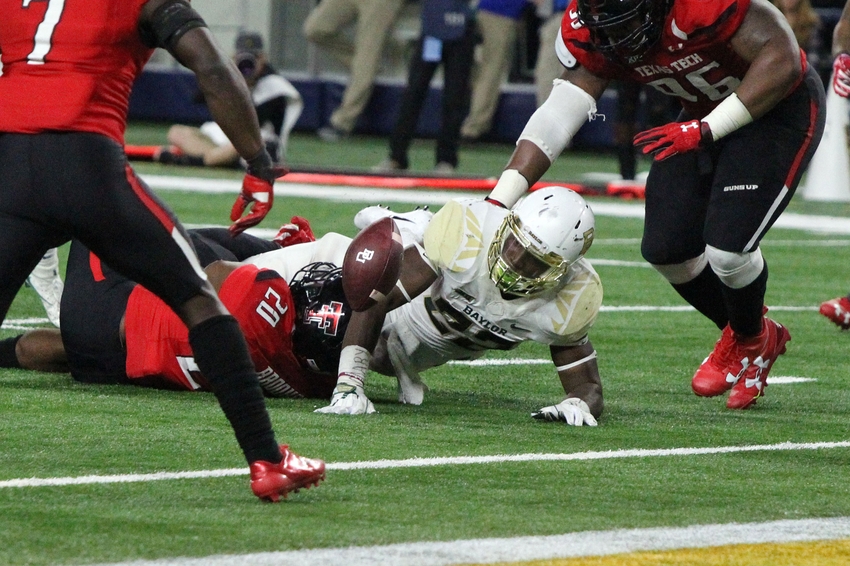 With Week 13 of the Big 12 Football calendar in the books, it's time for another round of conference power rankings.
It's safe to say last weekend in the Big 12 was fairly predictable, however, there were some major headlines that definitely put the coaching carousel in full swing, and might have presented lukewarm responses for other schools headed into 2017.
As I said last week, job security was going to be an issue for some teams down the final stretch. That is the case this season, but the entire Big 12 conference will be affected in some way or another.
With Bedlam this week, and just a few teams bowl eligible, this wasn't the Big 12's strongest season yet, despite flashes of promise, and two teams knocking on the College Football Playoff's door. Underwhelming performances, and the inability to capitalize on opportunities was the Achilles' heel of several programs, who will unfortunately be watching the postseason from their sofas this year. However, with job searches ongoing, recruiting class searches, and offseason conditioning in full swing throughout the conference, not all is lost.
Disclaimer:
The following power rankings are based on observations for weeks 1-12, while forecasting playoff implications; there are no additional factors, so expect these rankings to change a lot this season based off how powerfully these teams are performing.
For those keeping track, here are my Big 12 Power Rankings for Week 12.
10. Kansas Jayhawks (Record: 2-10)
The season is officially over for Kansas, however, head coach David Beaty has something to work with headed into offseason conditioning and workouts. The upside: his team beat a decent Texas team, so there is some standard to work with in deciding the approach for 2017. The downside is that Texas was far too inconsistent this season to really place a ton of weight on that win alone, and with a new staff in Austin, a repeat isn't guaranteed as I suspect the bar to be raised very high for Texas next season.
Kansas had its second win in two years against Texas two weeks ago, which isn't exactly something to write home about, but there are enough players returning in 2017.
Quarterback Carter Stanley had a beauty of a play on a 95 yard pass to LaQuvionte Gonzalez for the go-ahead touchdown. Despite Kansas State winning 21 of the last 25 meetings against the Jayhawks, Beaty has some weapons to work with, which should help the forward progress of the program.
9. Iowa State Cyclones (Record: 3-9)
Iowa State had plenty of momentum coming off its 66-10 route of Texas Tech two weeks ago, but as football folklore goes, sometimes the hangover is too much to bear. For the Cyclones, that victory was short-lived as No. 18 ranked West Virginia brought the house in its 49-19 victory in Ames.
The Cyclones managed to keep Patrick Mahomes out of the game against Texas Tech, but were outmaneuvered all night, allowing West Virginia quarterback Skyler Howard to tie his single-game touchdown record at five.
Iowa State quarterback Joel Lanning managed to put up five touchdowns against Texas Tech, but was rendered virtually useless against a stout Mountaineers' defense that despite allowing 561 total yards of offense by the Cyclones, held them to a field goal and a scoreless fourth quarter in the second half.
The season is over the the Cyclones who are not bowl eligible at 3-9, however, the future is bright headed into the offseason, as most of its starters are returning in 2017.
8. Baylor Bears (Record: 6-5)
Despite some blowback by the Baylor contingent, I had the Bears preseason ranked at No. 6, and it's safe to say that everything I cautioned against has come to fruition this season. Back in August I said, "I think Baylor has enough motivation to pull off some wins and maybe become bowl eligible. But there are teams in the conference that are more advanced, so it's going to be an uphill battle." I also cautioned throughout its initial six-game win streak that eventually the house would collapse, it was just a matter of when it would happen. With Baylor now on a five-game losing streak, a loss against West Virginia this weekend is certainly inevitable.
Against a Texas Tech team who was demoralized against a good Iowa State team two weeks ago, Baylor showed zero fight from the first whistle to the last, as Tech was able to impose at-will. That doesn't speak very highly about a team that's bowl eligible.
With short bursts of momentum, the lack of depth started rearing its ugly head, despite weapons such as Ishmael Zamora and KD Cannon. Texas Tech's defense gave up 634 yards on Baylor, and 33 first downs, however, it was Tech's ability to render a once soaring offense useless in the red zone, and capitalize off the Bears' four turnovers.
Baylor was the favorite to win by four points, but the Red Raiders got the 54-35 victory to end its season on a high note at Baylor's expense. With West Virginia this week, and a head coaching search underway, Baylor's going to have to try and filter out distractions.
Next Game:
| | | | | | | | |
| --- | --- | --- | --- | --- | --- | --- | --- |
| Sat, Dec 03 | West Virginia | vs. | Baylor | | Morgantown, W. Va. | 2:30 p.m. | FS1 |
7. Texas Longhorns (Record: 5-7)
Unfortunately for the Texas Longhorns, a 31-9 loss at home against TCU was enough to overshadow a monumental day for running back D'Onta Foreman, as it was essentially the funeral for Charlie Strong's coaching career with the Longhorns.
It was rumored that after a botched public relations job by the Texas administration, Coach Strong would have another shot at staying through 2017 if he was able to win against the Horned Frogs. All the weapons were certainly there, however, nothing the Longhorns seemed to put together on Saturday was effective in putting points on the board. It's one thing for players to show up at a press conference and show their support for their head coach, but it's quite another to show up on the field where it matters and play like your coaches' jobs are on the line. Texas players failed to do that, and unfortunately, its bowl season is now up for Coach Tom Herman to decide on.
Foreman joined Ricky Williams as the only players in the history of Texas Longhorns' football to amass 2,000 rushing yards in a single season. On the flip side of that accomplishment, the 2017 Texas Longhorns also became the first team to post three consecutive seasons since its four-season skid from 1935-38.
Regardless of what Foreman does in terms of a draft decision, Texas returns several key players in 2017 including quarterback Shane Buechele, who should be effective in the type of offense Herman runs.
6.  Texas Tech Red Raiders (Record: 5-7)
Dare I say, but Texas Tech's defense came alive in its 54-33 route over Baylor last weekend. A notable stat to mention is linebacker Jordyn Brooks, who recorded eight defensive stops, and was hugely instrumental in the redzone for Texas Tech.
Its win over Baylor marked the first time Texas Tech beat Baylor since 2010, when the Tommy Tuberville experiment was underway. Sure, Baylor had a down year, but it doesn't take away from the enormous day the Red Raiders had. Quarterback Patrick Mahomes threw for 586 yards and six touchdowns, putting him in a rare fraternity of passers. According to ESPN Stats, Mahomes' performance against Baylor was his fourth game with 500-plus passing yards this season–something no other FBS quarterback has been able to accomplish. Mahomes also became the third FBS player behind former Texas Tech quarterback Graham Harrell and Houston's Case Keenam to have multiple seasons with 5,000-plus total yards.
We all knew going into this game it would be an offensive slugfest, but few projected "The Shootout" to be so one-sided, especially with Baylor as the favorite to win.
Knowing just how much was riding on Texas Tech, its players showed up in a dominating way, and as a result, Texas Tech athletics director Kirby Hocutt announced at a media availability two days later that Kliff Kingsbury had his full support headed into 2017. If all the stars align as they should, next season should be pretty special.
5. Kansas State Wildcats (Record: 7-4)
Kansas State's 34-19 victory over Kansas gave head coach Bill Snyder his 200th career win, but against a TCU team this week, it's not far off to say the Wildcats have the momentum to perhaps hand Snyder win No. 201 as well.
Snyder is just the sixth coach in college football history to amass 200-plus wins, so that's no easy feat. However, its 34-19 victory over Kansas wasn't the easiest victory for Snyder to celebrate, as I imagine several glaring issues really took the front seat shortly after players carried him off the field.
The Wildcats coughed up a turnover, had five penalties for 60 yards, managed to throw just 99 yards passing, and had issues on special teams. Kansas State has the ability to finish the season at 8-4 with a victory against TCU on Saturday, however, the Wildcats will need to clean up mistakes if it wants a more favorable bowl.
Next Game:
| | | | | | | | |
| --- | --- | --- | --- | --- | --- | --- | --- |
| Sat, Dec 03 | TCU | vs. | Kansas State | | Fort Worth, Texas | 11:00 a.m. | FS1 |
4. TCU Horned Frogs (Record: 6-5)
TCU's 31-19 victory over the Texas Longhorns in Austin sealed the deal on Charlie Strong's fate, but also helped the Horned Frogs work through some of the issues it had been having as of late, particularly on the defensive side.
Defense has been an issue for TCU this season (then again, it's the Big 12, what's new?), but against a powerful D'Onta Foreman, the Horned Frogs managed to contain the Longhorns when it mattered. TCU's defense limited Texas quarterback Shane Buechele all afternoon, and managed to register four sacks, which shows an improvement in its pass rush that could give the Horned Frogs and edge against Kansas State this week.
The Horned Frogs allowed just 407 yards against the Longhorns, which is crazy considering Foreman accounted for 165 yards on 31 carries and never saw the endzone.
TCU managed to put up four rushing touchdowns, which isn't a good look for quarterback Kenny Hill, who many fear, hasn't done enough to ensure he's irreplaceable, despite having eligibility left. If TCU wants to go 7-5 headed into bowl season, Hill will need to spread the ball more against Kansas State, or the defense will have their game plan read.
Next Game:
| | | | | | | | |
| --- | --- | --- | --- | --- | --- | --- | --- |
| Sat, Dec 03 | TCU | vs. | Kansas State | | Fort Worth, Texas | 11:00 a.m. | FS1 |
3. West Virginia Mountaineers (Record: 9-2)
For Texas Tech, cold weather seemed to be an issue, but for West Virginia–a team that played in a "Snow Bowl" the week prior against Oklahoma–the weather was no problem in its 49-19 route over Iowa State in Ames.
Coming off a huge win against Texas Tech, pundits threw caution on West Virginia that Iowa State's record wasn't an exact indicator on just how good they were. West Virginia clearly paid attention and dialed up the game plan accordingly, despite closely matched stat lines.
The Mountaineers only allowed Iowa State to score a single touchdown on a 97 yard kickoff return by Kene Nwangwu. Otherwise, capitalizing on fumbles and mental errors by the Cyclones put West Virginia at a clear advantage throughout the game. As previously mentioned, quarterback Skyler Howard threw five touchdowns to tie his single game record, in addition to throwing for 330 yards.
West Virginia lost a shot at the Playoff or conference title against the Sooners at home two weeks ago, but thanks to losses by a few teams this weekend including Michigan, and Louisville, if the Mountaineers can close out the season at 10-2 with a win over Baylor this weekend, it could be looking at a prime bowl spot.
Next Game:
| | | | | | | | |
| --- | --- | --- | --- | --- | --- | --- | --- |
| Sat, Dec 03 | West Virginia | vs. | Baylor | | Morgantown, W. Va. | | FS1 |
2. Oklahoma State Cowboys (Record: 9-2)
Bedlam Week is here! With West Virginia dropping the ball against Oklahoma, the Cowboys are officially the team to beat in order to keep the Sooners Big 12 title and Playoff dreams alive.
Cowboys' quarterback Mason Rudolph has thrown 251 of 391 passes this season for 3,591 yards, 25 touchdowns, and four interceptions. Freshman running back Justice Hill leads the Cowboys in rushing touchdowns at five, and junior wide receiver James Washington leads the team with nine receiving touchdowns. While the numbers against the Sooners' leading scorers are noticeably less, the Cowboys have managed to string together some impressive wins this season.
Oklahoma might have two players in serious contention for the Heisman right now, but those hopes hang entirely in the hands of Mike Gundy's team on Saturday. This is definitely one of those games football fans aren't going to want to miss.
Next Game:
| | | | | | | | |
| --- | --- | --- | --- | --- | --- | --- | --- |
| Sat, Dec 03 | Oklahoma | vs. | Oklahoma State | | Norman, Okla. | 11:30 a.m. | FOX |
1. Oklahoma Sooners (Record: 9-2)
The Sooners control their own destiny at this point. With a strong Heisman campaign being presented for both quarterback Baker Mayfield, and senior wide receiver Dede Westbrook, there's a lot of pressure on a very good Oklahoma team going into Saturday. Many are hoping the Cowboys pull off the upset to dash any Big 12 shot at the national title, and apologies Sooners, but it could be possible.
At the beginning of the season, Oklahoma fans were calling for defensive coordinator Mike Stoops to be fired or resign following the loss against Houston. As many who follow the Big 12 know, defenses often show up when they want to and are incredibly inconsistent, but when a team is winning, the defensive woes are a lot easier to cover up. Just remember that if the Sooners win, its defense will have to be locked in regardless of who they play in the post-season.
Next Game:
| | | | | | | | |
| --- | --- | --- | --- | --- | --- | --- | --- |
| Sat, Dec 03 | Oklahoma | vs | Oklahoma State | | Norman, Okla. | 11:30 a.m. | FOX |
This article originally appeared on