Big 12 Football: Week 10 Power Rankings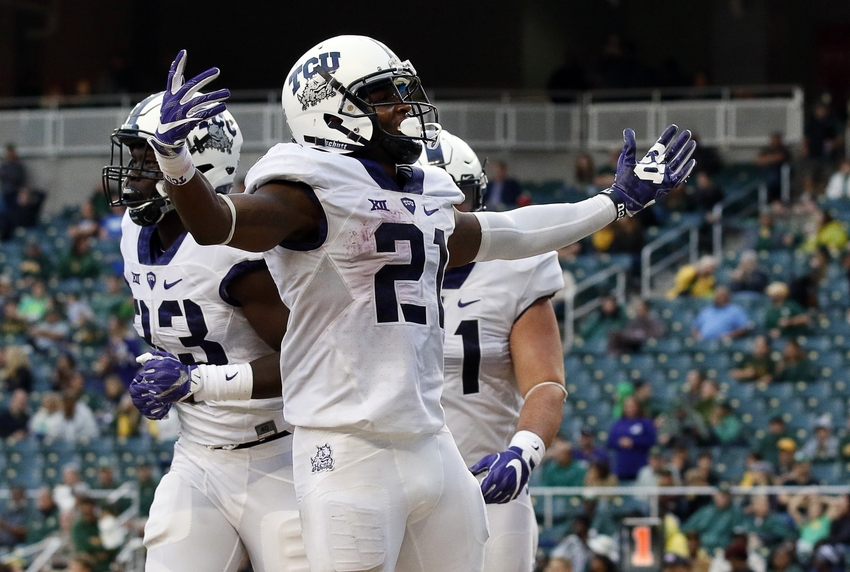 With Week 9 of the Big 12 Football calendar in the books, it's time for another round of conference power rankings.
Several interesting things happened last weekend in the wild world of the Big 12. Road wins, road losses, and the identity of some teams being questioned entirely.
Every team will face a bumpy ride as the season progresses, but others will capitalize on mistakes and any other inevitable unforeseen circumstances. With conference play headed towards the final stretch, bowl implications and several other factors (such as jobs) will mean wins become more and more critical. With that said, expect for some crazy football this month.
Disclaimer:
The following power rankings are based on observations for weeks 1-4, while forecasting playoff implications; there are no additional factors, so expect these rankings to change a lot this season based off how powerfully these teams are performing.
For those keeping track, here are my Big 12 Power Rankings for Week 9.
10. Iowa State Cyclones (Record: 1-8)
It really must be frustrating for Iowa State head coach Matt Campbell. The Cyclones have had chances this season to pull upsets (and it still could  happen), but even though last weekend resulted in another loss, there are some positive takeaways.
First off, the Cyclones limited the nation's No. 14 team to just two field goals in the second-half. That's a tremendous accomplishment for the defense, especially knowing just how much of an offensive threat the Sooners are. Baker Mayfield threw for 328 yards and four touchdowns, but the Cyclones' run defense limited the Sooners to 115 yards rushing, and zero rushing touchdowns in its 34-24 loss.
Quarterbacks Jacob Park and Joel Lanning are making for an effective combination, with Park accounting for two of the Cyclones' touchdowns, with Lanning scoring a 41 yard rushing touchdown on 4th & 2 at the Oklahoma 41-yard line.
With both the Cyclones and Kansas Jayhawks sitting at 1-8, this weekend's game could be very interesting.
Next Game:
| | | | | | | | |
| --- | --- | --- | --- | --- | --- | --- | --- |
| Sat, Nov 12 | Kansas | vs. | Iowa State | | Lawrence, Kan. | 11:00 a.m. | FSN |
9. Kansas Jayhawks (Record: 1-8)
Despite a 21-48 loss against No. 20 West Virginia, you almost want to be proud of Kansas for for the point differential not being greater. Kansas was handed its 40th straight road loss against a very good team, and even though it was shut out in the first half, they mounted a pretty solid second-half performance.
Replacing starter Montell Cozart, quarterback Carter Stanley threw for 127 yards, two touchdowns, and one interception against West Virginia, including a 45 yard pass to Taylor Martin for the 6. The Jayhawks were able to assemble four, second-half scoring drives, proving that whatever the second-half adjustments were, paid off.
Cozart was taken out of the game in the second-half after taking a hit, and is currently in concussion protocol. With that said, it could be a long week of speculation for Kansas as it prepares for Iowa State on Saturday. With David Beaty looking for a second win this season against a Cyclones team that can be scary at times, at least Stanley proved himself as an excellent option.
Next Game:
| | | | | | | | |
| --- | --- | --- | --- | --- | --- | --- | --- |
| Sat, Nov 12 | Kansas | vs. | Iowa State | | Lawrence, Kan. | 11:00 a.m. | FSN |
8. Texas Tech Red Raiders (Record: 4-5)
Texas Tech's defense has miraculously showed up the last two weeks, but unfortunately, its offense looks completely lost. The season started in typical Red Raiders' fashion: high offensive numbers, impeccably placed touchdowns, and a quarterback who was finally solidifying himself in the national narrative. When Texas Tech beat TCU two weeks ago, it was marginal and against a solid defense. The offenses productivity was largely attributed to Mahomes & Co. going up against a defense that was better than what they were used to.
Against a Texas defense (which is improved, but still lacking firepower), Texas Tech's offense looked confused. With blown assignments, blocking issues, and the inability to turn the run game into a factor, Tech was just unable to unleash the Air Raid at will, despite Mahomes throwing for 376 yards and three touchdowns. Running back Da'Leon Ward has emerged as a workhorse for the Red Raiders, and even managed to put a touchdown on the board, so improvement is there, it just wasn't enough to move the chains on necessary drives.
With the loss against Texas, Texas Tech now needs to find a way to win two games on the road against Oklahoma State, Iowa State, and Baylor to become bowl eligible.
Next Game:
| | | | | | | | |
| --- | --- | --- | --- | --- | --- | --- | --- |
| Sat, Nov 12 | Oklahoma State | vs. | Texas Tech | | Stillwater, Okla. | 2:30 p.m. | FS1 |
7.  Kansas State Wildcats (Record: 5-4)
Kansas State only lost to Oklahoma State 43-37 on the road, but they fell a few spots on the rankings because of fundamental errors that are preventing this team from being on the Top 5.
Quarterback Jesse Ertz was really ineffective in the air, throwing 12 of 18 for 87 yards, and 1 interception, however, he managed to get it going on the ground, rushing for 153 yards and three touchdowns. If anything, this exploits the Oklahoma State defense in perfect timing for Texas Tech, but it also means Kansas State has a lot of work to do before heading into Waco to play Baylor this week.
Another point of concern for Kansas State is to finish. It's interesting how early in the fourth quarter, the Wildcats were able to mount a 9 point lead, allow two scores by Oklahoma State, then stall out in the final seconds on 4th & goal with a Cowboys' interception. This game ended in a very similar way Texas and Texas Tech did, highlighting the necessity for Big 12 teams as a whole to play more consistently, and with greater focus.
Next Game:
| | | | | | | |
| --- | --- | --- | --- | --- | --- | --- |
| Sat, Nov 19 | Baylor | vs. | Kansas State | | Waco, Texas | TBA |
6. Baylor Bears
Unfortunately, the game was met with controversy surrounding former coach Art Briles, and the true meaning behind its "Blackout," but for more on that, click here. A concern people had going into the game, was how focused the team actually was, given the controversy. I don't think the controversy itself played a role in the Bears' loss, but more so, its depth.
Before the season began, the majority of its freshmen signing class were released from their letters of intent, so that limited a significant amount of players who could be thrown into the rotation if need be. Later in the season is when coaches typically decide if redshirts need to fill roles, but the Bears don't have that option. We all knew at some point this season that would be an issue, as there are only so many plays and reps a player can take in a certain season.
Many believed a 1-point loss against Texas was just a fluke, but giving up 688 yards at home against TCU has created a trend. Quarterback Seth Russell threw 22-of-42 for 282 yards, one touchdown, and one interception, but the TCU defense registered three sacks in its dominant performance.
With No. 14 Oklahoma on the road this weekend, that loss trend has a very high probability of continuing.
Next Game:
| | | | | | | | |
| --- | --- | --- | --- | --- | --- | --- | --- |
| Sat, Nov 12 | Oklahoma | vs. | Baylor | | Norman, Okla. | 11:00 a.m. | ABC / ESPN2 |
5. Texas Longhorns (Record: 5-4)
Running back D'Onta Foreman is emerging as one of the nation's top players, and his elusiveness is difficult to contain. Look no further than Baylor and Texas Tech as an example of this. In the last two weeks, freshman quarterback Shane Buechele has demonstrated poise, and a command of an offense many have given up on several times this season.
Foreman accounted for 341 yards on 33 carries in the Longhorns' 43-37 victory over the Red Raiders in Lubbock. Buechele was 20-of-40 for 244 yards and two touchdowns. Tyrone Swoopes has been practicing at the running back position a lot in the last few weeks, but the "18 Wheeler" package was definitely a factor in short-yardage situations for the Longhorns. Comparing Buechele and Swoopes to Texas Tech quarterback Patrick Mahomes, the tandem have been more effective working in their specialty roles than Mahomes has been as a dual threat since his injury against Kansas State. If Swoopes and Buechele had a few more years together, that could be a terrifying package, but I'm sure the rest of the Big 12 is breathing a sigh of relief that isn't the case.
Texas is now 5-4 on the season, and needs just one win to become bowl eligible. For now, it appears the heat has cooled off head coach Charlie Strong, and should be an interesting meeting between the Texas and No. 20 ranked West Virginia this weekend.
Next Game:
| | | | | | | | |
| --- | --- | --- | --- | --- | --- | --- | --- |
| Sat, Nov 12 | Texas | vs. | West Virginia | | Austin, Texas | | FS1 |
4. West Virginia Mountaineers (Record: 7-1)
After its stunning victory at Texas Tech a few weeks ago, many had high expectations that West Virginia would continue to dominate both on offense, and defense for the remainder of the season. With its only loss against a good Oklahoma State team, the Mountaineers were able to do enough to earn a double-digit 48-21 win over Kansas.
The Mountaineers put up 605 yards of offense, and its defense managed to shut Kansas out the entire first half. Despite a valiant effort in the second-half from the Jayhawks, the Mountaineers were just too stout to allow more than three scores. Quarterback Skyler Howard threw for 260 yards and two touchdowns, plus a 22-yard rushing touchdown in the first quarter. What this shows, is just how poised the Mountaineers are, and even through a loss that could have had playoff implications, they find ways to win.
West Virginia is a mature team, with all the necessary tools to go into Austin this weekend and snap the Longhorns' win streak. If it can contain D'Onta Foreman, and/or prevent Tyrone Swoopes from producing in his notoriously devastating "18 Wheeler" package, the Mountaineers could be in business for the rest of the season.
Next Game:
| | | | | | | | |
| --- | --- | --- | --- | --- | --- | --- | --- |
| Sat, Nov 12 | Texas | vs. | West Virginia | | Austin, Texas | | FS1 |
3. TCU Horned Frogs (Record: 5-4)
Down. Goes. Baylor… again.
Coming off a loss at home to Texas Tech last weekend, TCU knew it had to carve out a statement win, and with Baylor suffering its first loss of the season in Texas, the Horned Frogs were able to dismantle a vulnerable Baylor team, 62-22.
I remember at the beginning of the season when experts were talking about how defense could be an issue for Baylor, especially with the losses of four starters, and injuries. Questions arose at how offenses would be able to exploit such losses, and TCU had no problem putting on a clinic to remaining Big 12 teams that have Baylor on their schedules.
Not only was TCU quarterback Kenny Hill able to throw for 244 yards and score a touchdown on Baylor, running back Kyle Hicks put up a career high 192 yards rushing, for five touchdowns. The most impressive state of the day, however, was TCU's 688 total yards of offense, compared to just 415 by Baylor–a team that average 616 yards-per-game in 2015.
TCU has a bye this weekend, before hosting No. 18 Oklahoma State in two weeks.
Next Game:
| | | | | | | |
| --- | --- | --- | --- | --- | --- | --- |
| Sat, Nov 19 | TCU | vs. | Oklahoma State | | Fort Worth, Texas | TBA |
2. Oklahoma State Cowboys (Record: 7-2)
Oklahoma State held on to win against Kansas State 43-37 on the road last weekend, but there were some uncomfortable moments for the Cowboys who allowed two quarterly lead changes. Even though the Cowboys committed three turnovers including two interceptions, quarterback Mason Rudolph was able to amass 457 yards, and five touchdowns.
While Kansas State controlled the time of possession, the Oklahoma State defense was able to keep the Wildcats out of scoring in the fourth quarter after a one-yard rushing touchdown by Jesse Ertz early on.
Defensively, the Cowboys allowed Kansas State to put up 432 yards of offense, including three rushing touchdowns by Ertz. What this tells a visiting Texas Tech team this week, is that disrupting the run defense is tangible, if Tech running back Da'Leon Ward can break through, or if Mahomes has to roll out.
Penalties were also an issue for Oklahoma State, which committed seven for 67 yards. Facing a Texas Tech team which is noticeably improved in that department, if the game next week is close, chalk it up to discipline, as the Red Raiders only had four penalties for 14 yards against Texas.
Next Game:
| | | | | | | | |
| --- | --- | --- | --- | --- | --- | --- | --- |
| Sat, Nov 12 | Oklahoma State | vs. | Texas Tech | | Stillwater, Okla. | 2:30 p.m. | FS1 |
1. Oklahoma Sooners (Record: 7-2)
Given the rushing numbers Oklahoma has put up this season, you'd think that the losses of Samaje Perine (injury), and Joe Mixon (suspension) would have had an impact on the Sooners' ability to spread the football out. Not so much, as Dimitri Flowers carried much of the workload, accounting for 115 yards in Oklahoma's win over Iowa State.
A game that began a little lopsided, the Sooners were able to come back from an early second quarter deficit for a 34-24 victory on the road.
I've mentioned all year how Iowa State had the talent to to pull an upset sooner or later, and while they were unable to pull it off against the Oklahoma, the second-half of play was a bit alarming. Oklahoma was held to just two field goals in the second half, and its defense gave up a 10 play, 86 yard touchdown in the fourth quarter. If Oklahoma wants to remain in contention for the Big 12 title, or a major bowl game, it has to learn to dominate through four quarters of football.
Next Game:
| | | | | | | | |
| --- | --- | --- | --- | --- | --- | --- | --- |
|  Sat, Nov 12 | Oklahoma | vs. | Baylor | | Norman, Okla. | 11:00 a.m. | ABC / ESPN2 |
This article originally appeared on