Which Vanderbilt-Houston game did you watch Saturday?
Here's guessing you watched one of two BBVA Compass Bowls Saturday.
And then you had a really confusing conversation with a friend who seemed to watch a completely different game.
Maybe you tuned in for the first half, saw Vandy go up 24-0, and flipped over to college basketball.
Or perhaps you were channel surfing and stumbled upon Houston in the midst of a 24-0 run that tied the game in a single quarter.
The final score was 41-24 in Vanderbilt's favor, but two viewers could have taken away completely different talking points from the same game if they watched different parts.
We'€™ll fill you in on what you missed so you know what the heck your buddy'€™s talking about.
If you only saw the second half, you missed:
"The Robinette and Matthews Show"
Houston's freshman QB Patton Robinette and senior WR Jordan Matthews teamed up for two 50-yard touchdowns, while Ribonette also ran one in on his own in the early going. Matthews had the play of the half with a one-handed catch, shown below.
Houston looked like a member of the ACC, not the AAC
Houston we have a problem. #CompassBowl pic.twitter.com/0uxmCrLcNX

— Vasili Katsaitis (@Greek_man44) January 4, 2014
The Cougars didn't waste any time getting the game knotted up after halftime, mounting a 24-0 run that tied the game in just 15 minutes. In that span, Houston freshman QB John O'Korn threw two TD passes, including this floater to Markeith Ambles:
Now that's how you break out of a 0-11 slump on third downs.
Vanderbilt came back
This long run by Daniel Spencer: http://t.co/H0nx74QESh, sets up this TD catch for Markeith Ambles: http://t.co/KTvzVVtsgw. VU up 24-14

— ESPN CollegeFootball (@ESPNCFB) January 4, 2014
The Commodores never trailed in the game but after the Cougars took over in the third, you could pretty much call Vanderbilt's bounce-back in the final frame a comeback. The Vanderbilt D reappeared and made two interceptions in the final frame, while not allowing a single point and just 28 yard from scrimmage. In fact, the defense's only real lapse was when they allowed 62 yards on Cougar freshman Demarcus Ayers' kickoff return.
Whichever part of the game you watched, you may have wondered:
Is Vanderbilt coach Franklin ready for a new challenge?
Vanderbilt coach James Franklin's future in Nashville has been a subject of speculation as of late, but the Commodores frontman earned a second bowl win in Vanderbilt's third consecutive postseason game. To put that accomplishment in perspective, Vandy went 2-10 in the previous two seasons before Franklin took over in 2010.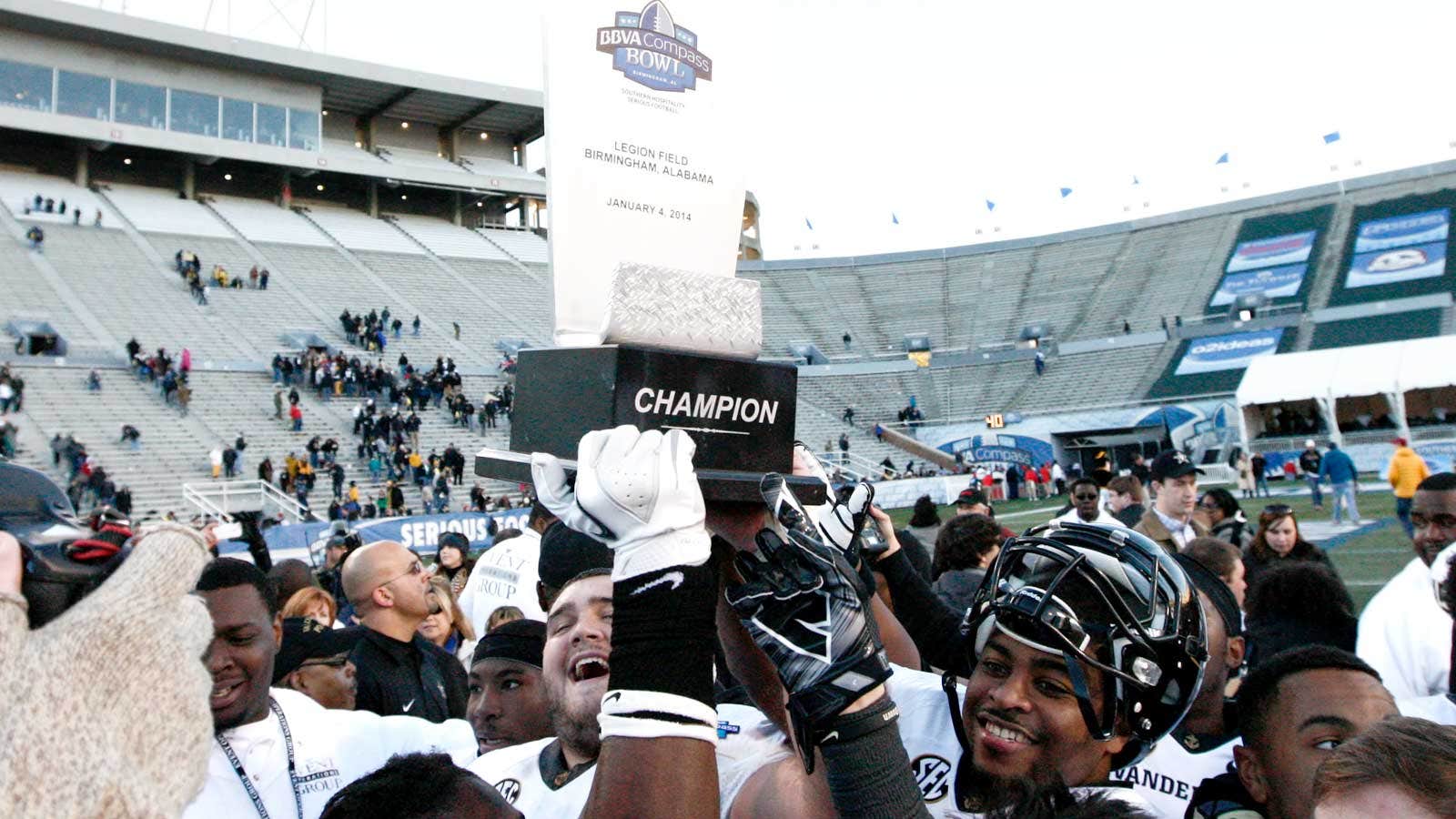 And it sounds like Vandy fans want him to stick around for another year: