Baylor's Briles takes top billing in ranking of Big 12 coaches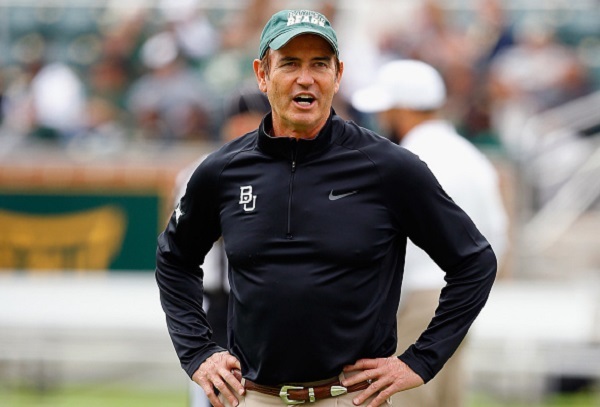 Quick. When you think of Baylor football, what comes to mind?
Quarterbacks. Spread attack. Speedy receivers. Touchdowns. Titles. Art Briles.
Now, did you ever think you'd think that about Baylor football, the longtime doormat, laughingstock and punch line of the Big 12?
Credit Briles.
The Texan-born innovator transformed cloud-of-dust high school offenses in the state before jumping to the college level under Air Raid pirate Mike Leach at Texas Tech. After a successful stint as a first-time head coach at Houston, his alma mater, Briles took over the Bears with a vengeance.
Now he has the program prepared to open the 2015 season ranked in the top 10 and as serious contenders for the College Football Playoff. The odds could not have been stacked higher, yet Briles has knocked them down with every swing.
That's why Athlon Sports has ranked Briles as the No. 1 coach in the Big 12, eclipsing the legendary Bill Snyder at Kansas State, the bullish Gary Patterson at TCU and Oklahoma's Bob Stoops.
In seven seasons at Baylor, Briles has compiled a 55-34 record with five consecutive bowl appearances. It's a remarkable accomplishment considering the Bears won 35 total games in the 12 previous seasons in the Big 12 under four head coaches. Needless to say, Baylor never made it to a bowl game in any of those seasons, sniffing the postseason just once, when Guy Morriss' 2005 squad finished 5-6.
Briles has established a quarterback lineage with Robert Griffin III, Nick Florence, Bryce Petty and now Seth Russell. He runs one of the most exciting, high-scoring offenses in the nation. He has improved Baylor's facilities, which includes the sparkling new McLane Stadium, and he is winning recruiting battles against the likes of Texas.
Now who would have ever thought that?
(h/t Athlon Sports)