Baylor coach Matt Rhule lands nearly 30 recruits amid scandal-scarred times
Last Friday, just as Baylor coach Matt Rhule was about to host his last recruits before Signing Day, yet another bombshell dropped involving the program he took over. A newly filed lawsuit alleges that at least 31 Baylor football players committed 52 acts of rape from 2011-14, and that members of Art Briles' coaching staff encouraged recruiting hostesses to have sex with recruits.
The new allegations — specifically those related to recruiting — led to speculation that the NCAA may now get involved in the Baylor case. Many believe the program deserves heavy sanctions.
Rhule, who arrived from Temple in early December, told FOX Sports in an interview Wednesday he's not concerned about that possibility.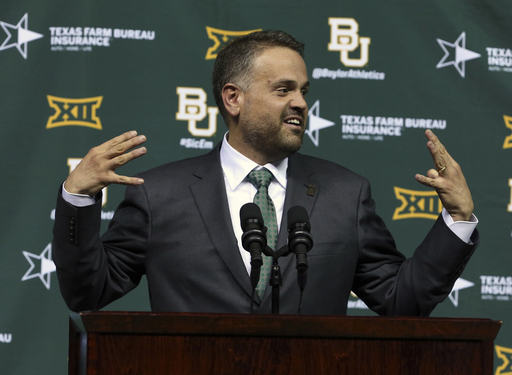 "The NCAA said early on that they are not going to approach this the way maybe hey did Penn State," said Rhule, himself a Penn State alum. "The documented sexual assaults that happened, while they were awful, they're not necessarily an NCAA issue. That's a federal issue, that's a Title IX issue, that's an issue the proper authorities have already begin to handle."
But Rhule fully acknowledges that the ugly headlines involving the previous staff will continue to hover over the program. And that's it's his job to prevent anything like them going forward.
"The lawsuits — they're probably not going away," he said. "There will be a lot of lawsuits here, and a lot of those will reach the headlines. …
(You can listen to the entire interview here:)
"You always want to be tremendously respectful of the victims of sexual assault here," he said. "So you don't want to diminish anything. One woman assaulted is too many. You want to learn from things that went wrong, and make sure we do everything we can in our power to make sure that doesn't happen again."
Rhule on Wednesday signed a class of nearly 30 players (including Arizona grad transfer Anu Solomon), quite the accomplishment given the fact Baylor had just one commitment when he took over. Many doubted he'd be able to pull together a class on short notice given the circumstances. He pitched, in part, the fact that so many of his lightly recruited Temple players have gone on to become NFL draft prospects.
"These kids grew up loving Baylor, grew up watching RG3 and Kendall Wright and Corey Coleman," said Rhule. "The academics here haven't changed, the campus hasn't changed, the athletic facilities haven't changed. There are new coaches. We just had to extend the opportunity to come take a look, find out our plan for them, how we're going to develop them."
Baylor fans will undoubtedly hold this class in high regard given the players' willingness to commit at a time when much of the public at large is still excoriating the school.
"When we look back at the things that happened in the past, it does anger us, it does make us upset, it does make us want to enact justice, and I certainly understand that," said Rhule. "But my job is to make sure the kids that come here are the right kids, and that we play great football, we educate our players and we make sure our kids are tremendous examples of how to do things the right way on and off the field."