BamaHammer.com Breaks Down the Auburn Tigers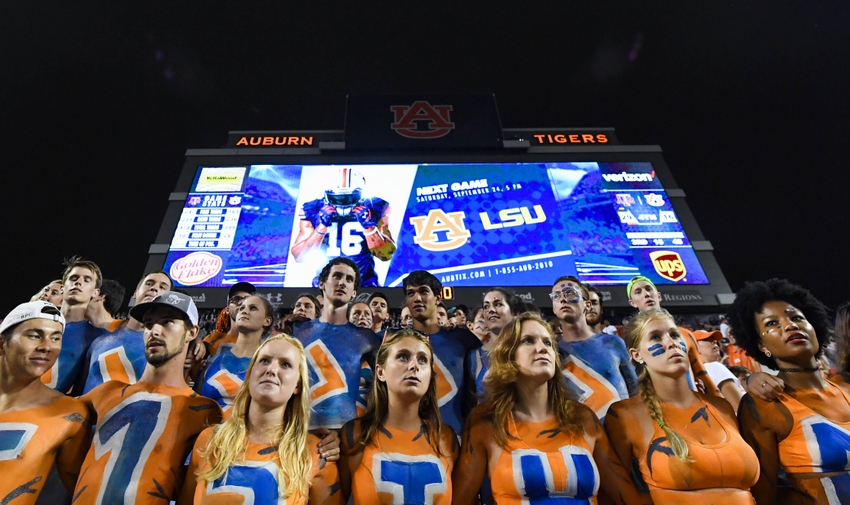 One man's very unique breakdown on the annual Alabama-Auburn game this Saturday afternoon – also known as the Iron Bowl rivalry.
EDITOR'S NOTE: The Iron Bowl has been broken down from one side to the other during this week, but none quite like how BamaHammer.com writer Kevin Brooks sees this game, the Tigers and rivalry. Happy Thanksgiving!
Fans and Alumni
You have got to be a special kind of person to be a Auburn fan in Alabama.
When Auburn folks say they are family, they mean it. They even brag about keeping in all in the family, based on their extremely small fan base. Only women and men who have never touched a football are Auburn fans, a'ight? Hand a football to the average male Auburn fan and they can't throw the ball 10 yards.
Speaking of being soft, have you ever heard Jordan-Hare after Auburn has done something good? The crowd sounds like 90,000 high-pitched screaming girls – because the crowd are just a bunch of pansies and girls.
As a barometer, go into any store that sells Alabama and Auburn merchandise. The Auburn stuff has dust on it, while the Alabama stuff cannot stay on the shelves. The reason for this is because only Auburn family members wear that garbage. They are like a cult.
These people are really confused and contradict themselves all the time. Just look at their mascot – or mascots. It's a cat and a bird. Really? What does a tiger and a bird have in common, other than wanting to kill each other? Maybe they should just drop the bird mascot, since they can't seem to keep them alive and the ones that are alive don't wanna live on the plains. Just last Saturday, the bird decided life wasn't worth it anymore and did a kamikaze dive into the goalpost. No word yet on if he lived or not, poor thing.
Speaking of things that do not go together, it all brings me to the Stevie Wonder fashion sense the university had when picking the school colors. Orange and blue, really? I'll tell you what, if you do not want to get together tonight at the bar, wear a orange and blue outfit. Or better yet, an Auburn shirt.
Who dresses the Auburn cheerleaders? I mean, Auburn girls are hard enough to look at – but they take it a step further and gave them Freddy Krueger sweaters. It's insane. They look like they are hand-sowed by the wicked witch of the West to me. If you were to ask one of them where they are from, they will tell you "Auburn". No, you are not from Auburn – you are from Alabama!
I hate to burst any family bubbles, but people outside of the south have no freaking clue where this Auburn place you speak of is. They have never heard of it. Auburn is right on the border of Alabama and Georgia, and for years both states have been trying to pawn Auburn off on the other – neither state wanting Auburn. It's a dead zone like Chernobyl, but instead of nuclear fallout in the air it's cow farts.
Do you know what Auburn fans do to celebrate a win? The roll their own trees with toilet paper. Who rolls their own tree when they are happy about something? No wonder the bird took a nose dive into the goalpost.
Nerds and visors
One must read the fine print in the contracts of every Auburn coach, because somewhere in there it has to state that you must dress like a extra in the movie "Revenge of the Nerds" – complete with mock turtleneck shirts and sweater vests. To top it off the Auburn look, all coaches must also wear a sun visor, everyone except for Coach Kevin Steele. Nothing he can do about his bald head.
Just look at that photo of Gus Malzahn and you will see what I mean by the Auburn look. You thought the fashion sense on the Plains couldn't get any worse, now they all wear that Under Armour garbage. If it wasn't for the fact that Under Armour sponsors Auburn, I might buy some of their products. But when you stick your product on a third-rate program like Auburn, you diminish said product. It's kinda fitting, really. Under Armour is generic like Auburn.
Alabama wears Nike. I don't know what's more legit in their respective worlds – Nike or Alabama football. So the next time you see a overweight sausage-neck goober in a tight-fitting Under Armour undershirt at the local Planet Fitness, you can thank Auburn's goofy fashion sense for that.
Auburn offense/Alabama defense
Gus Malzahn, the guy who looks like Richard Simmons on a diet, is the Auburn head coach and offensive coordinator because he is your classic control freak. Gus Bus should hand his offense over to someone else while he still can, before he's shown the door on the Plains. This weekend's beatdown will get him one step closer to said door.
The key to stopping Auburn's offense is having smart linebackers that will not allow first-down success. Its a run-first offense, so the key to stopping them is following the football and tackling. It's not rocket science. If you wanna make Gus swallow his gum and start grinding his teeth, just stop Auburn's running game and put them in third-and-long. The only time Auburn goes NASCAR is when they have quick success and they attempt to continue the momentum going all the way into the end zone.
If the Alabama linebackers do their jobs and go to the football, its gonna be a long night for Auburn in the Iron Bowl. Auburn's current starting quarterback looks like a stolen DNA sample of Greg McElroy grown in some agriculture lab in Auburn. He looks like G-Mac's evil twin brother who isn't as smart or good as G-Mac. Alabama's defensive touchdown numbers should be going up after the Tide defense is done with this clown.
Auburn defense/Alabama offense
The man running Auburn's defense this year is another one of these Swiss Army knife coaches – Kevin Steele. I'm sure if you are an adult, you have heard the name Kevin Steele before, because at one time he was probably coaching for your favorite team at one time or another. Heck, he was at Alabama once! I'd say he's running the Auburn defense this year, because Lord only knows where he will be at next year. Ke'vin Steele is a coaching hobo, never ever staying in one place too long and wearing our his welcome. I think this guy has coached at all the major SEC and ACC schools at one time or another.
Steele must not be that good of a coach if he didn't last long at Alabama under Nick Saban's rule. He lasted about a cup of coffee before he "took" another job – kinda like Major Applewhite "took" another job. Lord Saban knows this man. Lord Saban knows how many steps it is from the bus to the locker room at Bryant-Denny Stadium. I think he knows what Steele is gonna want to do and how to counteract it.
The key to beating the Auburn defense is to bully the bully and make their asses quit. Establish dominance early with a touchdown point drive and the stop their offense – it's game over. They will fold like a lawn chair. Alabama needs to do the exact thing they have been doing for 11 weeks now and apply Kiffin's methodical offensive game plan. It's a proven winner.
Special teams
I've noticed that Lord Saban has been a little tense lately, and I think this is the week his sends it on special teams when it comes to punt and field goal blocking. Alabama is due for a blocked punt.
With Eddie Jackson out, Lord Saban has done a kick returner shuffle and as of now Trevon Diggs is the man. We don't need anything special out of Diggs – just catch the ball and do not fumble it. If you have a chance to make a play, by all means go for it. Just secure the rock.
Both teams have good punters, but Alabama has something on special teams that Auburn does not – a reputation of punishing kick returners with brutal hits. What better week, what better game, what better team for Alabama's special teams to lay in a hit heard around the world other than the Iron Bowl?
This article originally appeared on