Baker Mayfield Irked by Comments From ESPN's Jonathan Vilma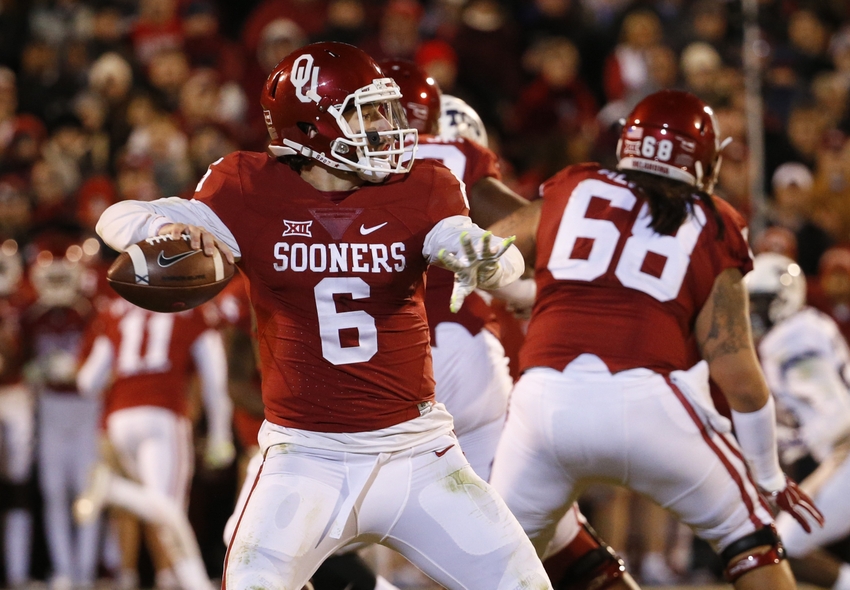 As if Oklahoma quarterback Baker Mayfield needed any extra motivation for the 2016 season opener on Saturday, he got some this past week in the critical words of ESPN's Jonathan Vilma.
It's not unusual for a team to use disparaging remarks from a coach or the players of an opposing team as locker-room talk and as a motivational tool in preparation for a forthcoming game.
It's also not unusual for members of the media to express opposing views about an upcoming game, if for no other reason than to spark controversy and fuel a debate.
Perhaps that is what Vilma had in mind when, on a college-football preview show last weekend, he offered a biting comparison of Houston quarterback Greg Ward Jr., who Oklahoma will go up against its season opener on Saturday, and Ward's Sooner counterpart Mayfield.
Vilma, a former college player at Miami (Fla.) who went on to play for 10 seasons in the NFL (2004-2013), which apparently qualifies him as a college football expert, had this to say about the two quarterbacks, as reported by Tulsa World sports writer Guerin Emig:
You look at Greg Ward compared to Baker Mayfield, to me, it's not even close. Greg Ward is a better quarterback. he's more athletic. He's more accurate. he doesn't push the issue."
Apparently, "push the issue" is exactly what Vilma intended to do and, guess what? he succeeded.
As you might imagine, it did not take long for Vilma's comments to be brought to the attention of Mayfield.
The Oklahoma quarterback acknowledged to Emig and other reporters after Tuesday's practice that he discovered Vilma's comments on social media.
Mayfield prefers his actions and accomplishments on the field serve as his response, but he did have this to say on the issue:
"I respect Jonathan Vilma's game, but Saturday at 11 we'll find out," Mayfield said.
Mayfield has been defying the odds throughout his college career. He was a walk-on starter at quarterback as a freshman at Texas Tech. And he walked on at Oklahoma after transferring from Tech after the 2013 season.
In his first season as the Sooner starting QB a year ago, all Mayfield did was throw for 3,700 yards and 36 touchdowns with only seven interceptions. He was fourth in the country in passing efficiency and finished fourth in the 2015 Heisman Trophy voting.
And Vilma says the OU signal caller "isn't even close" to Houston's Ward. Like Mayfield says, I guess we'll find out on Saturday.
More from Stormin in Norman
This article originally appeared on