Baker Mayfield, Dede Westbrook Finalists for Three Major National Awards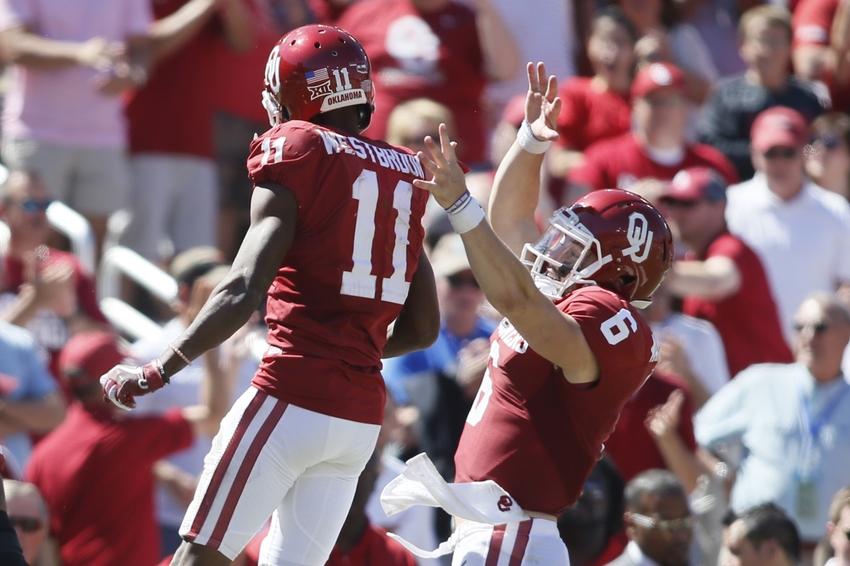 Oklahoma's Baker Mayfield and Dede Westbrook have been putting up big numbers all season in football season, and on Monday they were rewarded, being named finalists for three major national awards.
Mayfield is a finalist for both the Maxwell Award and for the Davey O'Brien National Quarterback Award. Westbrook is one of three finalists for the Biletnikoff Award.
The Maxwell Award is presented annually by the Maxwell Football Club and goes to the individual deemed the most outstanding player in college football. The Davey O'Brien Award is sponsored by the Davey O'Brien Foundation and recognizes the most outstanding quarterback at the college level.
The Tallahassee Quarterback Club Foundation is behind the Biletnikoff Award, honoring college football's most outstanding receiver.
Mayfield was a finalist for the Davey O'Brien Award a year ago, when he completed 68 percent of his passes, threw for 3,700 yards and 36 touchdowns.
This season, through 11 games, the Oklahoma redshirt-junior quarterback has completed 72 percent of his pass attempts for 3,381 yards and 35 touchdowns. Mayfield's pass efficiency rating of 194.7 leads the nation and would be an NCAA record if the season ended today. He is second in the country in yards per completion (10.9), tied for second with 19 completions for 40 or more yards and third in points responsible for (22.9 per game).
Nine times out of 11 games this season Mayfield has accounted for four or more touchdowns.
Westbrook, a senior, leads all Power Five receivers this season with 1,354 receiving yards and receiving yards per game (123.1).
In his first three games this season, the Big 12's leading receiver was only averaging 51 receiving yards per game, but he was also nursing a hamstring injury. He was not pronounced completely healthy until Oklahoma's fourth game against TCU. Since then, he has caught 53 passes for 1,200 yards and 15 touchdowns. The 15 touchdown catches tie a single-season record at OU.
Only seven teams in the country have more receptions of 60 or more yards than Westbrook's five. Eleven of his 15 touchdown receptions this season have been for 40 or more yards. The previous Oklahoma season record was five.
Mayfield and Westbrook will both be present in Atlanta on Dec. 8, when the winners will be announced for all three awards during the "Home Depot College Football Awards" show broadcast by ESPN.
More from Stormin in Norman
This article originally appeared on