Baker Mayfield, Dede Westbrook Are Walter Camp Semifinalists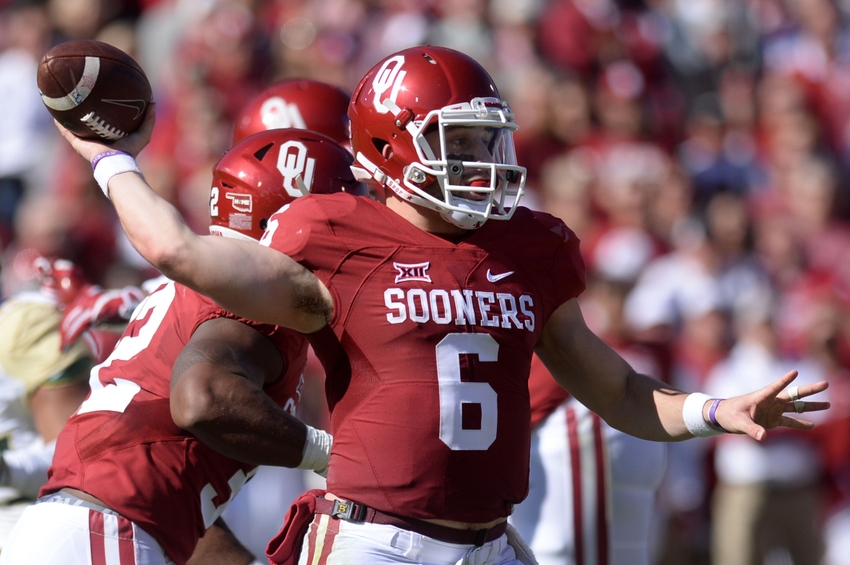 If things continue as they are, Oklahoma's dynamic duo of Baker Mayfield and Dede Westbrook are going to get plenty of national award attention at season's end.
The Sooner pair were named two of 15 semifinalists for the Walter Camp Trophy, which is presented every season to college football's most outstanding player. The winner of the award must exemplify the qualities of self-discipline, unselfish team play, desire to excel, mature judgment and respect for leadership.
This is one of several national honors that both Mayfield and Westbrook are still in the running for as the 2016 college season winds down. Both players are also semifinalists for the Maxwell Award, honoring the best player in college football.
In addition, Mayfield is a finalist for the Burlsworth Trophy, which honors the best walk-on player in the college ranks, and the Johnny Unitas Golden Arm Award. Westbrook is a finalist for the Hornung Award, recognizing the best all-purpose player in college football, and a semifinalist for the Biletnikoff Award, which goes annually to the best college receiver.
Mayfield and Westbrook are both having outstanding 2016 seasons.
Mayfield has completed 72 percent of his passes and ranks No. 1 nationally in passing efficiency (195.2) and yards per pass attempt (10.9). The redshirt-junior quarterback has 33 touchdowns, fifth most among FBS (Football Bowl Subdivision) quarterbacks.
Fourteen of Mayfield's 33 TD passes have been reeled in by Westbrook, who leads all players from Power Five conferences with 125.4 receiving yards per game. Ten of his 14 touchdown catches have been 40 yards or longer. He is one shy of tying the OU record for touchdown catches in a single season. Over the last seven games, Westbrook has 51 receptions totaling 1,100 yards.
Mayfield is one of eight quarterbacks among the 15 semifinalists for the Walter Camp Player of the Year Award. Westbrook is the only wide receiver on the list.
Oklahoma, Alabama and Ohio State each have two players among the 15 semifinalists. Texas running back D'Onta Foreman is the only other Big 12 player who is still in the running for the Walter Camp Trophy.
More from Stormin in Norman
This article originally appeared on