Baker Mayfield a Semifinalist for 2016 Burlsworth Trophy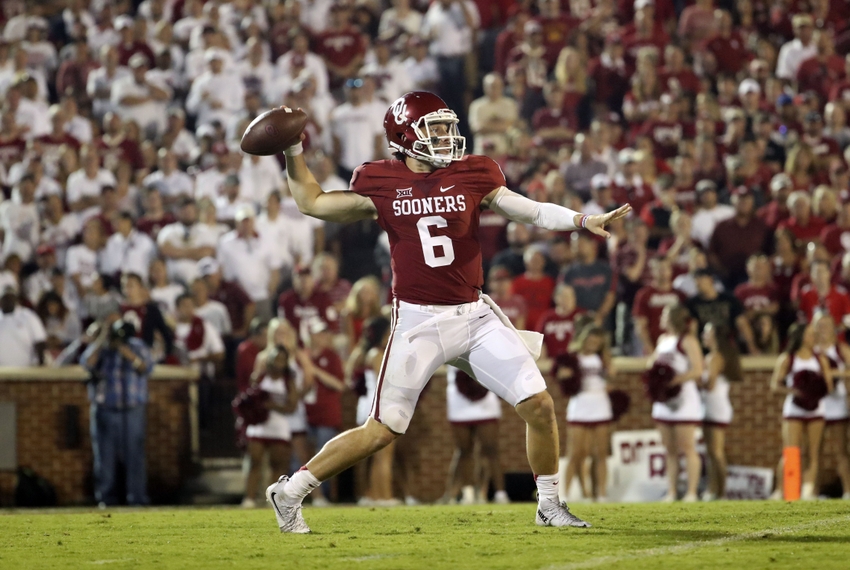 Oklahoma quarterback Baker Mayfield is a semifinalist in his bid to become a repeat winner in 2016 of the Burlsworth Trophy, which recognizes college football's most outstanding player who began his career as a walk-on.
Mayfield is having another outstanding year in his second season as the Sooners' starting quarterback. His numbers through nine games this season are actually ahead of last year, when he not only won the Burlsworth Trophy but also was fourth in the Heisman Trophy voting and was named Big 12 Offensive Player of the Year.
The redshirt junior has completed 71 percent of his passes this season for 2,912 yards, including 31 touchdown passes. He is No. 1 in the nation in yards per pass attempt (10.8), second in passing efficiency (194.8; the NCAA single-season record in 191.8) and third in touchdowns and completion percentage.
Mayfield's path to Oklahoma has been well documented. He grew up in the Austin, Texas, area, where he was somewhat of a turncoat in terms of the college program he followed and rooted for as a youth. He was an Oklahoma fan growing up, but ended up attending Texas Tech, where he walked on and started seven games at quarterback as a freshman in 2013.
Despite being named Big 12 Offensive Freshman of the Year after his freshman season at Texas Tech, Mayfield became disenchanted with the direction of the program and elected to leave Texas Tech over what he termed communication issues with head coach Kliff Kingsbury and members of the Red Raiders' coaching staff.
At the end of 2013, Mayfield announced that he was transferring to Oklahoma, where he also walked on.
After sitting out the 2014 season because of the Big 12 transfer rule, he beat out Trevor Knight in the Sooners' 2015 fall training camp for the OU starting quarterback job, and the rest, as they say, is history.
This season, in a game at Texas Tech against his former team, Mayfield set OU single-game school records with 563 yards of total offense (545 passing and 19 rushing) and seven touchdown passes in a 66-59 Oklahoma victory.
The Burlsworth Trophy is named after Brandon Burlsworth, who walked on at the University of Arkansas as an offensive lineman in the late 1990s. He became a three-year starter, was named an All-American in 1998 and was selected 63rd overall by the Indianapolis Colts in the 1999 NFL Draft.
More from Stormin in Norman
This article originally appeared on