B10 Predictions: Can Iowa Hawkeyes Hand Wisconsin 3rd Straight Loss?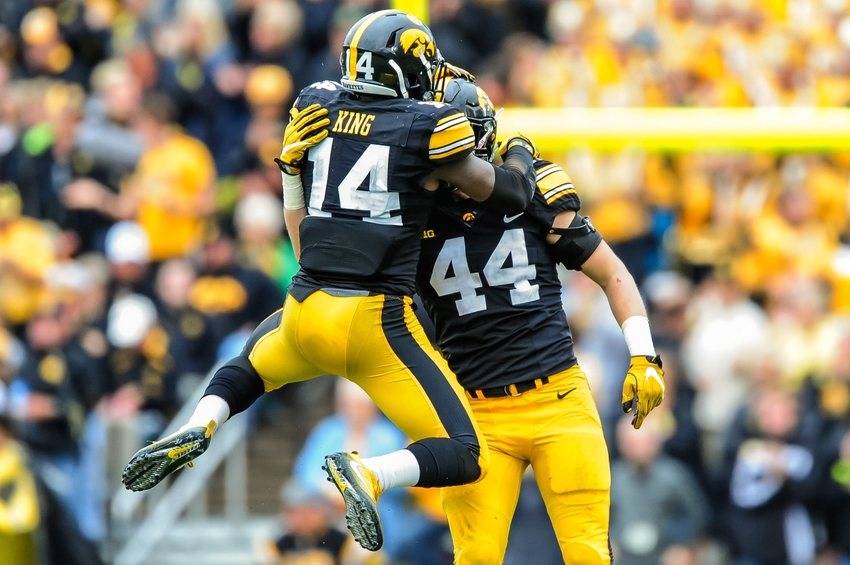 Predicting the winner of every Big Ten game in week eight
The Iowa Hawkeyes will return home and host the tenth ranked Wisconsin Badgers this week. A year after beating Wisconsin 10-6 in Camp Randall, Iowa looks to avoid their third consecutive home loss to arguably the best team in the Big Ten West. The result of this game will have a huge impact on the division, but it's just one of seven solid games in the Big Ten this week.
All 14 teams in the conference are active this week. Plus, two of the four ranked teams (Wisconsin and Ohio State) are on the road looking to avoid an upset. The Big Ten East might be a two team race, although the West is still wide open for anyone's taking, which makes every game important.
Also, while there are no matchups between ranked teams in the conference this week, four of the seven games feature two teams with at least a .500 record. It will also be the first game in the post-Darrell Hazell era for Purdue, as well as Michigan being back in action after a bye week.
The Big Ten is arguably the strongest conference in the nation this year, making it no surprise that there's a couple of good games every week. A week after an exciting overtime win for Ohio State in Camp Randall over Wisconsin, the Big Ten hopes there will be those types of fireworks this week, as well.
Rutgers Scarlet Knights @ Minnesota Golden Gophers (-17)
Minnesota and Rutgers have combined to go just 1-6 in Big Ten play this year. It's evident that both teams have struggled in conference play, although Rutgers is on one of the worst four game stretches of any team in the nation this year. Teams are outscoring Rutgers 174-14 during four conference losses.
On the other hand, Minnesota is coming off an impressive 31-10 win over Maryland, however have seemingly fallen back to mediocrity after their 3-0 start to the season.
Iowa Football: Three Reasons the Hawkeyes Will Upset Wisconsin
Conor Rhoda will be under center for the Gophers again this week with Mitch Leidner nursing a concussion. Rhoda only completed 7-of-15 passes for 82 yards and a touchdown, although he didn't turn the ball over and managed the game, which is all the Gophers need from him.
The Gophers want to continue to pound the ball with Rodney Smith and Shannon Brooks. With or without Leidner, teams have been able to shut down Minnesota's offense by containing their dynamic duo in the backfield. That being said, Rutgers is giving up 5.9 yards per carry and have allowed at least 150 rushing yards in six of their seven games.
Smith and Brooks combined to rush for 230 yards and two scores a week ago, therefore they should enter this game with confidence.
Rutgers will start Giovanni Rescigno at quarterback for the first time over Chris Laviano. Laviano is completing just 48.3 percent of his passes this season, and Rutgers desperately needs to find any kind of passing game to complement Robert Martin, who is averaging 5.3 yards per carry.
Minnesota gained a little momentum last week and that should carry over to this week at home. The Gophers aren't a great team, but Rutgers is really bad. Unless Rescigno and Martin spark Rutgers' offense, Minnesota should win easily, even with a backup quarterback.
Prediction: Minnesota 38 Rutgers 14
Indiana Hoosiers @ Northwestern Wildcats (-2)
Both teams desperately need a win to make their road to bowl eligibility easier. Indiana and Northwestern are two of the most underrated teams in the Big Ten this year. Even though both teams are 3-3, Indiana is coming off three straight games against ranked teams and Northwestern is playing their best football of 2016.
Indiana came back against Nebraska a week ago after starting the game down 17-0. Their defense held Tommy Armstrong Jr in check and controlled Nebraska's run game, holding them to 3.4 yards per carry. They'll have another tough task this week, though, as Northwestern is playing their best football with Clayton Thorson at quarterback.
The Wildcats have scored 92 points in their past two games. Thorson has thrown six touchdowns to one interception and Justin Jackson has 359 rushing yards. Sure, their defense gave up 71 points in two games, but Northwestern finally has life on offense after lacking it for the first four games.
Not to mention star wide receiver Austin Carr leads the Big Ten in receptions, receiving yards and receiving touchdowns. Forcing Thorson to throw to other targets will put more pressure on the Northwestern offense, but no team has figured out how to stop Carr.
As well as Northwestern has looked as of late, Indiana isn't a bad team, even if they rank outside the top-50 in both points per game and points allowed per game. Devine Redding is averaging 4.7 yards per carry but Richard Lagow has thrown nine interceptions. Indiana can't turn the ball over this week if they want to win, unlike last week when Lagow threw an interception on their last drive.
This is the Northwestern team everyone expected to see at the start of the year. Thorson isn't turning the ball over and Indiana only ranks 84th in the nation in points per game, therefore Northwestern's defense has a chance to get back on track. Indiana is good, but Northwestern is better.
Prediction: Northwestern 34 Indiana 24
Illinois Fighting Illini @ 3 Michigan Wolverines (-36)
Kudos to Illinois for bouncing back from a loss to Purdue at home and ending a four game losing streak. Although, after facing Purdue and Rutgers in back-to-back weeks, traveling to Ann Arbor to take on Michigan will quickly be a wake up call.
Despite being on a bye week, Michigan moved to third in the AP Poll. Even if they haven't had the toughest schedule, the Wolverines have still dominated college football. Only one team has topped 20 points against them and they've scored at least 45 points in five of six games.
Jim Harbaugh is one of the best coaches in the nation and Jabrill Peppers, Jake Butt and De'Veon Smith are just a couple of many studs on Michigan's roster. Their games might not be that close, but they are still one of the most fun teams to watch. It's clear how well-coached and talented they are, and Michigan never takes a play off.
Want your voice heard? Join the Dear Old Gold team!
On the other hand, Illinois ranks outside the top-60 in points per game and points allowed per game. Also, there is no certainty of who will start at quarterback for Illinois. Chayce Crouch seems like the likely option with Wes Lunt still nursing a back injury.
After torching Purdue, Crouch was underwhelming during his first start of the season. He completed 6-of-14 passes for 92 yards, throwing a touchdown and interception, while also only running for 25 yards. The Illini want to pound the ball, although against a defense allowing 2.9 yards per carry and under 100 rushing yards per game, Crouch will have to make quick decisions in the passing game.
Illinois has been up and down this year and stuck around against North Carolina and Nebraska, but don't forget that this team lost to Purdue. Michigan has a chance to win the national championship this year, and losing to Illinois at home is unrealistic.
Prediction: Michigan 52 Illinois 3
Purdue Boilermakers @ 8 Nebraska Cornhuskers (-24)
Purdue fired head coach Darrell Hazell after a 49-35 loss to Iowa a week ago. While Hazell has failed to get Purdue off the ground, the Boilermakers won't have much better luck this week against Nebraska.
Jordan Westerkamp is questionable to play for the Cornhuskers, but they might not need him. With Devine Ozigbo back to complement Terrell Newby in the backfield, the ground game is back at full strength and should take pressure off of Tommy Armstrong Jr.
Nebraska only averaged 3.4 yards per carry against Indiana, their second lowest mark of the season. Therefore, they relied on Armstrong's arm and he threw two interceptions, reverting back to how he played in 2015 when he threw 15 interceptions. It's evident that their offense revolves around the run, and they'll look to get back to that this week.
Unless Purdue finds a way to fix their terrible run defense, Nebraska will win easily. The Boilermakers are giving up 5.9 yards per carry and each of their past three opponents have averaged at least 6.8 yards per rush. Not to mention that they've given up over 300 rushing yards in three straight weeks.
Purdue wasn't afraid to take chances downfield against Iowa and it kept them in the game. That being said, the Hawkeyes dominated them for the three quarters the starters played and Purdue never established a ground game. Counting on David Blough to have another five touchdown game is never a safe bet, and Nebraska only allows 4.5 yards per carry.
Replacing a head coach in the middle of the season is never easy for a struggling team. Maybe the Boilermakers will play with more passion after a big change. Either way, Lincoln, Nebraska is one of the toughest places to play. The Cornhuskers will continue their undefeated season.
Prediction: Nebraska 34 Purdue 17
Michigan State Spartans (-2) @ Maryland Terrapins
We're at a point where everyone needs to admit that Michigan State is simply not a good football team this year. With Michigan and Ohio State left on their schedule, a loss to Maryland this week would essentially shut the door on making a bowl game, just one year after being in the College Football Playoff.
Iowa Football: Three Reasons the Hawkeyes Will Upset Wisconsin
The Spartans started quarterback Brian Lewerke but eventually went back to Tyler O'Connor who threw for 281 yards and three touchdowns a week ago. Although they abandoned the run in an odd shootout against Northwestern and eventually fell 54-40. Scoring more than 25 points for just the second time this season is a good sign for the Spartans, but giving up 54 points to a defensive-minded team raises even more questions.
This week they have a chance to get their season back on track with a win over Maryland. It's evident that the Terrapins benefited from a weak non-conference schedule rather than actually being a 4-0 team.
They have given up 30-plus points in back-to-back weeks and have failed to score more than 15 points in both Big Ten games. Maryland needs quarterback Perry Hills to get healthy for them to get their season back on track, though.
Backup quarterback Tyrell Pigrome threw two interceptions and completed just 48.6 percent last week against Maryland. With a running game that has gone stagnant over recent weeks, the Terrapins desperately need their senior quarterback's arm to revive their offense.
Despite being on the road, Michigan State is still favored by two. It seems like it's because of the name more than anything. With Hills unlikely to play, it's hard to imagine the Terrapins pulling out a win at home. Their defense still ranks 16th in points allowed per game, although they need to be much better than the 39.5 points per game they've allowed in conference play.
Prediction: Michigan State 24 Maryland 17
2 Ohio State Buckeyes (-19.5) @ Penn State Nittany Lions
It's hard to get a grasp on how good Penn State is. On one hand, Michigan blew them out 49-10, but the Nittany Lions have gone 4-1 in their other games with their lone loss coming by three points to Pittsburgh. The fact of the matter is Saquon Barkley and Trace McSorley aren't enough to make up for an average defense.
Penn State ranks just 77th in points allowed per game. Also, they give up 4.8 yards per carry and teams complete 62.1 percent of passes against them. Those types of numbers will likely equate to a monster game for Heisman candidate J.T. Barrett after an average game a week ago.
Barrett has accounted for 22 total touchdowns and 1,207 passing yards while completing 63.2 percent of passes. Sure, he struggled against Wisconsin in the first half, however the Badgers arguably own the best defense in the nation and Barrett still cracked it in the second half.
No team has been able to stop Barrett in his career, and it's hard to believe a team who allowed Temple to score 27 points has the answer to stop one of the best quarterbacks in the nation.
Besides, Mike Weber and Curtis Samuel are each averaging at least 6.5 yards per carry, and Noah Brown is one of the best red zone targets in the conference with six touchdown receptions. Ohio State is a high-powered machine on both sides of the ball, and they'll look to bounce back this week and dominate the whole game.
As good as Barkley is, he struggles when teams hone in on stopping him. He's a smaller back who needs space to work, and that's hard to come by against Ohio State. It's hard to score against the Buckeyes but it's also hard to beat them in a shootout. Penn State doesn't have the players for either scenario, and Ohio State should dominate early.
Prediction: Ohio State 45 Penn State 20
10 Wisconsin Badgers (-3.5) @ Iowa Hawkeyes
Wisconsin enters the game on a two game losing streak (both to top-5 teams) and Iowa enters the game on a two game home losing streak. Something has to give.
It won't be easy, but Iowa has a chance to upset the Badgers. Sure, their run game has struggled against top defenses this season, but they've also been able to break a long run in every game. Penalties have brought a couple of potential touchdowns back, though. Iowa has a tendency of getting a chop block penalty called on them on big runs, and that can't happen against Wisconsin.
Having Boone Myers, Cole Croston and George Kittle healthy would be very beneficial, but upsetting the Badgers will take more than just them. The Hawkeyes can't waste big plays or great field position.
Desmond King has been a great returner this season, although, until last week, Iowa had a hard time capitalizing on it. Field position is very important in this game where not a lot of points are expected to be scored. Iowa will have a hard time scoring on a defense giving up just 15.2 points per game, therefore they can't have potential touchdowns called back and need to score when getting the ball near midfield.
Defensively, it's all about stopping the run. Corey Clement hasn't had a stellar senior season, however he is still averaging 4.5 yards per carry and has five rushing touchdowns. Also, coming off a bye week against Ohio State last week, Clement had his best game of the year, averaging 6.6 yards per carry.
When it comes down to it, Iowa can't have a bend but don't break defense because Clement will eventually break through it. On offense, Iowa needs to block well and capitalize on explosive plays because their running game and Jerminic Smith are prone to break at least a couple.
The Hawkeyes enter the game as underdogs despite being at home, which should add fuel to fire. It will be closer than most people think, that's for sure.
Prediction: Wisconsin 17 Iowa 6
This article originally appeared on