Austin Allen Back At Practice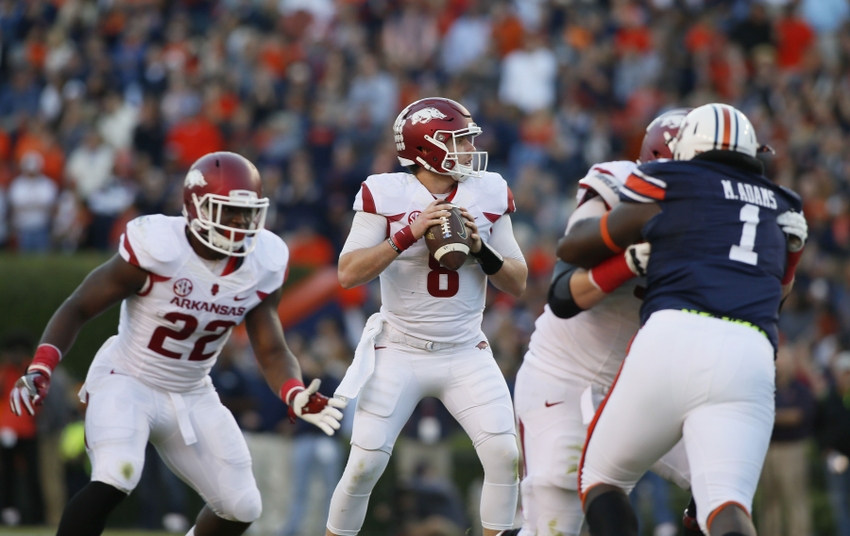 Arkansas could be dodging THE bullet as Austin Allen, who didn't practice last week, has returned to the practice field.
Last year, we at Razorbackers were writing articles entitled "Is Arkansas cursed?" when it seemed every game, the Hogs took a major injury. Up until Auburn, it seemed the Arkansas had shaken off the curse until Austin Allen was in a medical tent on the sideline.
Last Wednesday, Bielema, and Enos talked about a backup plan if Allen couldn't play with Story or Kelley. That plan could be on hold, though. On Monday Bielema announced Austin had returned to practice on Sunday and went the whole day with the ones.
"Sunday after the game we got some good news that the amount of damage was small compared to what we thought  could be possibly coming out of the game at Auburn. So that was good news. I don't think anybody in the country could work as hard at getting back as quick as possible than Austin. 'How are you doing?' 'Great!' 'What are you doing?' 'I'm doing great!'. He just refuses to take any negativity which I think in turn helps him out." -Head Coach Bret Bielema
The last thing the Hogs needed was to lose Austin, who had suffered a knee injury in the game against Auburn. Hopefully, this fuels the offensive line to do a better job at protecting their leader on the field. If that doesn't motivate them to step up, I don't think any coach can. Woo Pig!
More from Razorbackers
This article originally appeared on