Auburn vs. LSU: Five Auburn Players to Watch for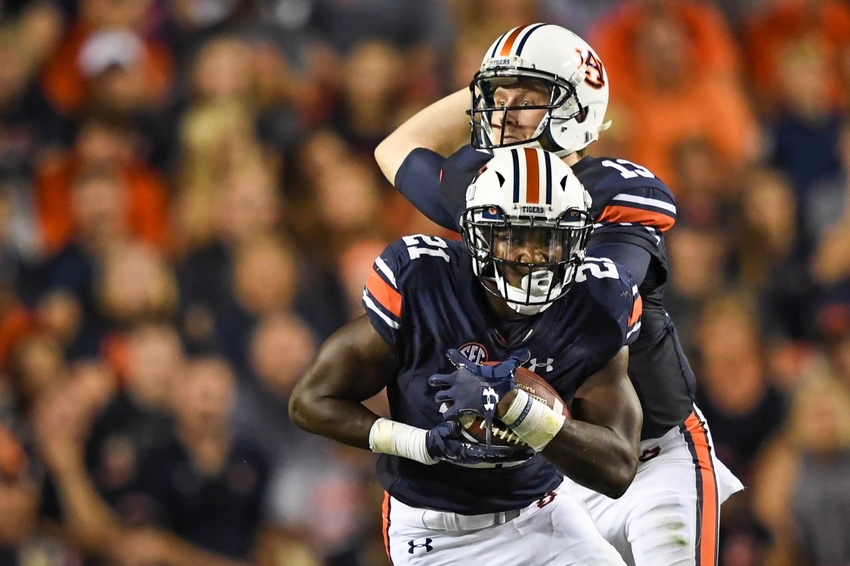 Here is a listing of five players who look to have an impact against LSU this week.
Bitter would not begin to describe the taste of the loss against Texas A&M.
In no way is there any doubt that Texas A&M is a good, and often times great, football team. Yet at times it appeared a victory was being handed to the Auburn Tigers, who failed to take advantage of scoring opportunities.
Despite allowing 478 total yards to the Aggies, the pass rush for Auburn was solid for the most part. If the defense had success throwing down quarterback Trevor Knight at any point, then maybe the outcome would have been different.
With the bayou menace coming to town this weekend, all eyes are on the defense to stop the rushing attack lead by Heisman candidate Leonard Fournette. Fournette's highlight reel abilities alongside power are unlike any other, and the showing against Texas A&M and their 231 rushing yards as a team are anything but an omen.
Auburn will need anything they can get to halt the rushing assault, and they will need to take every scoring opportunity they can scrape away from LSU's poor passing game.
Here are five players to look for in the match-up against LSU:
Kamryn Pettway
The one-two punch for Auburn at running back is strong. It almost always has been. Consistency at the running back position is anything but questionable for Auburn, and Pettway has erupted on the scene.
Pettway has 35 carries on the season for 275 rushing yards, which is 21 fewer attempts than Kerryon Johnson's 56 for 278. With Pettway getting the start against Texas A&M he rushed for 123 yards on 20 carries for an average of 6.2. That means a first down every two carries if you want to think statistically, not realistically.
More than half of the snaps on offense should be going to Pettway. Failure to capitalize through the air must be complemented with the success on the ground. If there's anything that Gus Malzahn should be doing against LSU, it's allowing the players he knows how to work with get the snaps. Pettway is one of those players.
The Quarterback Position
Originally this was written entirely for Sean White, who went 18 for 27 on his passing attempts for 123 yards against Texas A&M, but John Franklin III ran the offense properly. Not correctly, but properly.
Sean White was built for a pro-style offense – not exactly what Gus Malzahn has been cooking up. Not to discredit White's performance, he just does not fit with the Auburn offense. I would have compared him to Chris Todd at the start of the season, but the collapse of play calling has him falling down the charts.
John Franklin III has not showcased a strikingly impressive ability to throw the ball down the field, which in turn would stunt the offense to relying heavily on short passing, screens or something involving the read option. White does not have the mobility of Franklin, yet does have the arm strength and accuracy he so desperately needs.
What is needed for Auburn is a quarterback that Malzahn is capable of molding himself around, and Franklin is that mold. Towards the end of the game against Texas A&M, Franklin was placed in replacement for White, and drove down the field – albeit entirely on the ground – for a score.
Against LSU, Auburn will need to maximize opportunity and minimize mistakes. Whoever is at the quarterback decision, whether it's White or Franklin, will be key for a win.
Montravius Adams
Bitterness and a taste of salt after another disappointing loss was in no fault to the defense. The offense had an abundance of chances to score and continuously left all hope of victory to the men on defense, who showed just how fatigued they were after allowing an 89-yard rush in the fourth quarter.
Montravius Adams performed well in the loss. He didn't shine, and he certainly did not set himself apart from the rest of the crowd. He did, however, achieve a sack on Trevor Knight. Knight maneuvered his away around the surrounding Auburn defensive line and took away several stops for the Tigers. Adams had one sack, and one total tackle.
On a defense with seemingly no bright stars, with Carl Lawson not performing to the spotlight presented to him at the start of the season. Lawson is not alone, with newcomer T.J. Neal and former number one overall recruit Byron Cowart fading away from consciousness.
Adams will continue to be the big man on the defensive line against LSU, and will play a pivotal role against the rushing attack.
Kerryon Johnson
Kerryon who?
Naturally Johnson performed at his consistent basis, rushing 15 times for a total of 60 yards and a score. This was overshadowed by the performance of Kamyrn Pettway, who has seemingly outperformed Johnson the past two weeks to be just four yards from leading the team in rushing – with less attempts.
Johnson is the Onterio McCalebb of year's past, which means he is the perfect weapon for Gus Malzahn no matter the situation. Yet, with a collapsing quarterback position his role has been diminished and rightfully awkward. Direct snaps and poor reads has left the athletic Johnson outside of the rushing play calls.
Though even though his number is being called less, Johnson will continue to be a pillar of the Auburn offense. He will be until the day he leaves the Plains. Against LSU, Johnson will look to remind people just how much he means to this team and how much damage he is capable of.
Tony Stevens
Highlights through the air have been hard to come by, but unless you're Kyle Davis there isn't much mention of any prolific play at the wide receiver position. Tony Stevens leads the team in receiving yards with 13 receptions for 177 yards and two touchdowns. Against Texas A&M he caught eight for 86 yards to be the only star in a disappointing aerial game.
If Sean White is going to be the quarterback with the most minutes against LSU, look for either Tony Stevens or Marcus Davis to be difference makers.
As Auburn looks to get back on track and distract themselves away from all the doubt, they will need to shine bright against a questionable LSU football team.
More from Fly War Eagle
This article originally appeared on