Auburn's Path to College Football Playoff Becomes Clear and Murky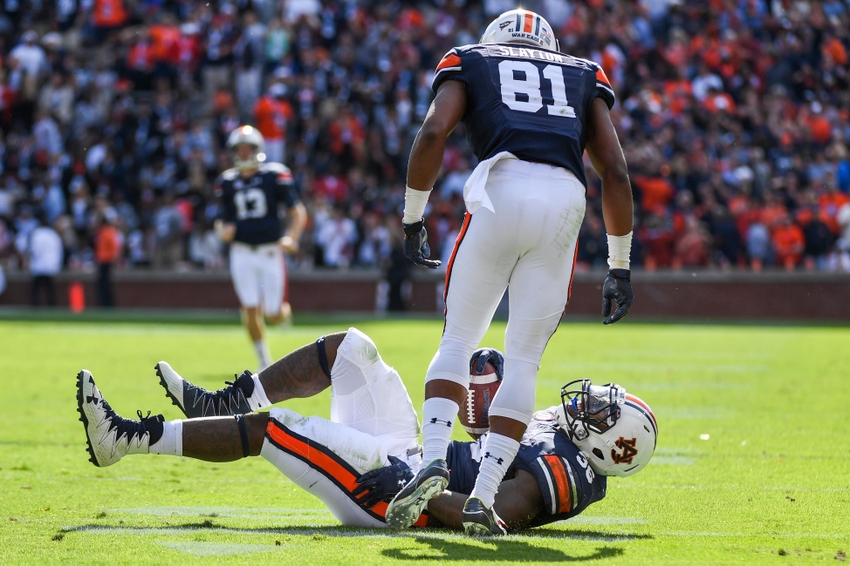 After a hard-fought win against Vanderbilt on Saturday where several keys players got hurt, coupled with the Texas A&M loss to Mississippi State, Auburn's College Football Playoff chances become clear and murky at the same time.
While the Texas A&M loss certainly makes Auburn's path to the SEC Championship, and possibly College Football Playoff, a lot clearer, the injuries to Sean White, Kamryn Pettway and Tre' Williams make things more complicated.
The task is simple now – Auburn football controls their own destiny. If they win the rest of their regular season games they'll be in the SEC Championship. If they win the SEC there is a good chance they'll be in the College Football Playoff.
It's unlikely the College Football Playoff committee will hold the SEC champion out of the playoffs, I just don't see that happening. But we've been left out before (2004 still hurts).
Before we even get to that discussion, there is the matter of injury concerns that have suddenly popped up for Auburn.
First of all, I'll admit I had no idea that Sean White was suffering any sort of injury. Apparently he sat out of practice all last week, and then it was announced just before the Vanderbilt game that John Franklin III would start at quarterback.
Pure speculation, but I'm guessing that Sean White was a little tired, maybe a little banged up, but nothing serious, and the coaching staff thought they could give him a week off before Georgia.
But when Vanderbilt proved to be a tougher test than expected, they were forced to throw Sean White out there. I didn't see any ill effects from White, which leads me to believe the injury wasn't that serious in the first place.
Still, we need him to be healthy and productive to beat Georgia this weekend, and then he can rest against Alabama A&M.
A huge loss to the defense was linebacker Tre' Williams. He's been the best linebacker for Auburn all season, and you could tell a difference up front with him out of the lineup, especially when Deshaun Davis left the game.
It appears to be an ankle injury for Williams, but you hope he's had some time to rest and get ready for Georgia. Vanderbilt ran the ball pretty well on us in the first half, and Georgia can do the same if Williams and Davis aren't healthy and effective.
The big blow in the Vanderbilt game came when Kamryn Pettway broke free for what should have been a game-ending touchdown, but he pulled up hurt. Still not certain what the injury is, but it didn't look good.
If it's a hamstring then I think he's able to play the rest of the season, but it will still bother him. If it's not a hamstring, then I'm scared to know.
Either way, it sounds like the big guy could either be out, or not as effective the next few weeks, and that is a huge blow to Auburn.
Let's not forget the fact that Kerryon Johnson has been dealing with an injury for several weeks now, and has not looked nearly the same since coming back.
This team has pretty much avoided injuries all season, but it's starting to take a toll on them now. You begin to wonder why we didn't dial back Pettway's carries in a few of those game where we had the game in hand?
So the picture becomes clearer on what Auburn has to do in order to win the SEC Championship and possibly play in the College Football Playoff, but how we get there is a bit convoluted with some key injuries.
War Eagle.
This article originally appeared on