Auburn's Gus Bus All Psychedelic Smoke, No Fire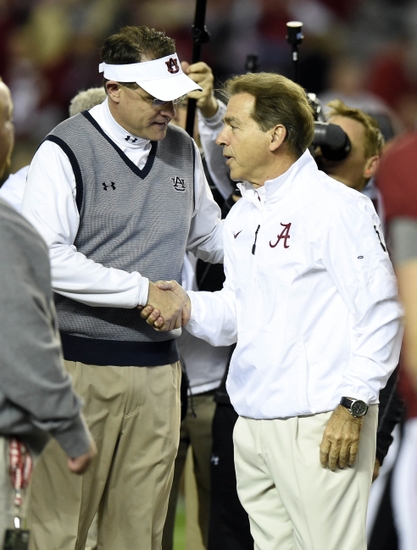 The Gus Bus makes me think of 1960s summer of love and hippie buses driving around America going to concerts and hanging out.
When I think of the Gus Bus at Auburn, the first thing that comes to mind is psychedelics and hallucinogens. The Gus Bus makes me think of 1960s summer of love and hippie buses driving around America going to concerts and hanging out.
That is what Gustavo Malzahn has been doing since 2005, when the Right Reverend Houston Nutt brought a guy who looks like a aerobics instructor at a all women's fitness center into the SEC and college football.
ICYMI: Tide opens as 18.5-point favorite in Iron Bowl
The Gus Bus is currently painted tie-dyed orange and blue, complete with a Cheech & Chong nice dreams-style tiger bobblehead on the roof. When the Gus Bus pulls up and the doors open, orange and blue smoke billows out. Do not touch, take, or sit anywhere in the Gus Bus – really it's not safe to even breathe the air because rumor has it everything as been sprayed and laced with psychedelics!
Live Feed

college football
This is the only way to explain the madness that is Auburn football. Just like hallucinogens, you have your ups and your downs – and for the last several years Auburn has been down. But somehow ol' Gus is still there steering the wheel. How I have no idea. Like I said, heavy drinking and drugs are the only way to explain how the Auburn fanbase and alumni have kept this clown around.
Someone should tell Gus that chewing gum like he does is really bad on your jaws. Perhaps a pacifier during games would be better suited for him. That wild and crazy Houston Nutt was the first one to spot the "genius" in Gus. Then again, Nutt really wanted Gus Bus QB Mitch Mustain – and they where a package deal.
By the time Nutt was on the verge of getting canned, the Gus Bus was rolling into Tulsa with his PlayStation offense to beat up on a bunch of cupcakes for a couple of years with a hyperactive offense.
The Auburn way is to do everything opposite of what Alabama is doing. That is just what they do. Alabama wears crimson, Auburn wears orange. Alabama recruits prestigious premier talent, Auburn scouts the local juvenile centers and junior college rejects like Cam Newton. Alabama has a pro-style offense, so naturally Auburn has a spread offense. That's just what they do.
So first-year coach Gene Chizik made a call to Tulsa and even threw in the gas money, so the Gus bus was headed down south. And the guy has been there practically ever since with his goofy offense.
In 2016, the Gus Bus has been burning oil – puttering along so much so that the fanbase and alums finally were about to put the ol' Gus Bus out to pasture in the LSU-Auburn "U-Haul" game. But somehow, via poor clock management, Gustavo was saved by the buzzer.
Auburn has been flying high again since that LSU game, but like all highs you come down to reality. And reality is that Auburn is next on Alabama's schedule. The Gus Bus has to load up and come into Titletown to play a red-hot, No. 1 Crimson Tide team.
Break out your gum Gustavo, Lord Saban's Crimson Tide wants a piece.
More from Bama Hammer
This article originally appeared on