Auburn Football vs. ULM: Tigers Dominate Another Sun Belt Team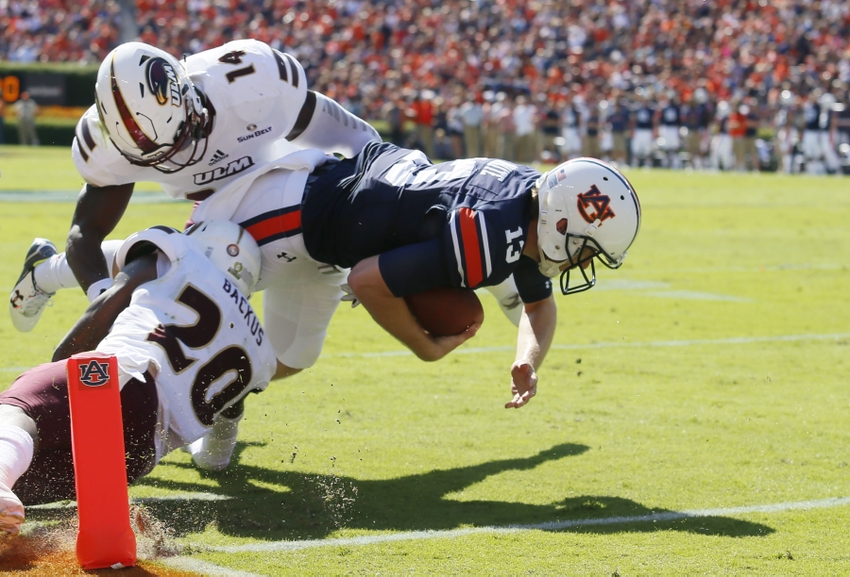 The Auburn football game continued its dominance over Sun Belt opponents this year with a 58-7 pounding over Louisiana Monroe Saturday afternoon.
Just like against Arkansas State earlier this year, Auburn football took care of Sun Belt foe Louisiana Monroe at Jordan-Hare Stadium with a 59-7 win.
The Tigers pick up their third win of the season and second win in a row.
We knew that if Auburn played the way they're capable this would be an easy win, but it's glad to see them stay focused and win a game like this the way they should.
They set the tone early with a three-and-out on defense and then a touchdown on their first drive of the game.
From there you knew Auburn was focused and in control of this game.
I thought Kerryon Johnson would have a huge game as Louisiana Monroe has struggled to stop the run all season.
He ended up running for 146 yards on 24 carries with 2 touchdowns.
Kamryn Pettway was abarantly banged up so the coaches held him out this work or else he would have ran for 100 yards too.
As a result Kam Martin got some extra playing time running the ball 10 times for 41 yards. Malik Miller got nine carries for 45 yards, but left early due to an ankle injury.
John Franklin III came into the game late in the third quarter and ran for 82 yards on just 2 carries with a touchdown.
Sean White got some really good practice in this game throwing for 239 yards and 2 touchdowns on 14-of-17 passing.
JF3 only threw one pass, but it was a beautiful one on a 39-yard touchdown pass to Nate Craig-Myers.
The offense put up 688 total yards, which is what I would expect us to do against ULM.
Defensively we gave up just 251 yards.
I really wanted a shutout, but ULM managed to get a touchdown just before the end of the first half.
All-in-all, Auburn did exactly what you want – and expect – them to do in a game like this.
Everyone got some good practice, now let's get prepared for this SEC run.
War Eagle !
This article originally appeared on