Auburn Football vs. Georgia: Matchup and Prediction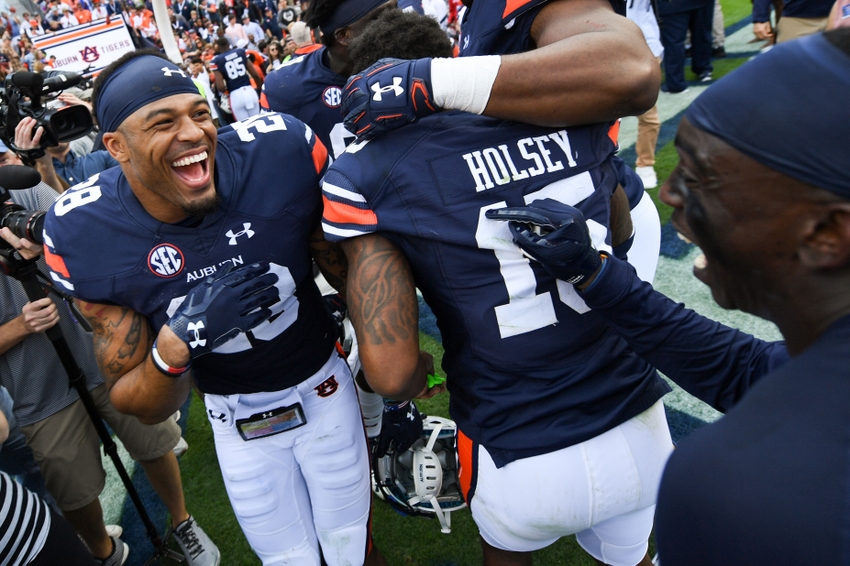 Here we take a look at the matchup between Auburn football and the Georgia Bulldogs this weekend and give our prediction.
Auburn football will limp into Athens this weekend for a big rivalry game in the SEC.
The Tigers are on six game winning streak and control their own destiny in the SEC West.
They can't afford a loss to their rivals this weekend, or else they'll pretty much be eliminated from the SEC race.
However, a win sets up a monster game in Tuscaloosa in a couple of weeks.
Georgia has certainly struggled this season with a new head coach, Kirby Smart, and a new quarterback, freshman Jacob Eason, but you know they'll be hungry for a win at home against Auburn.
They survived a potential loss from Kentucky last weekend that calmed down the Bulldog faithful a big. If they can beat Auburn this weekend, the early season struggles will be forgotten.
We entered this year thinking Georgia would dominate on the ground with Nick Chubb and Sony Michel, but that hasn't happened.
Still, the Auburn defense will need to make sure they stop the run first and force Jacob Eason to beat them through the air.
That will put the pressure on Auburn's secondary, which is suddenly looking very solid on the outside with Carlton Davis and Joshua Holsey. Both could receive All SEC honors.
Georgia's offense has been inconsistent all year, and most of that is because Eason has been inconsistent. I've seen him make some incredible passes this year, and I've seen him play like a freshman a lot this year.
It will be Auburn's job to make him uncomfortable in the pocket, and hopefully force him to be inconsistent.
If Tre' Williams is healthy, I think Auburn's front seven can stop the run and make Eason beat them with his arm.
For Auburn on offense, I think we need Sean White to have a big game.
Georgia is not terrible at stopping the run, but you can definitely pass on them.
You know the Bulldogs will load up the box to stop the run, and I really doubt Kamryn Pettway plays in this game – or plays healthy.
That puts a lot of pressure on Kerryon Johnson to carry the load, and he's dealing with an injury himself.
Sean White is also dealing with an injury, but I think he'll be ready to go in this one, as will his favorite target, Tony Stevens.
Those two will need to have a huge game if Auburn is going to win.
The key for Auburn on offense will be to establish the passing game early, get a lead, and then pound away on the ground.
Prediction:
Auburn – 31
Georgia – 20
This article originally appeared on