Auburn Football vs. Georgia: Five Auburn Players to Watch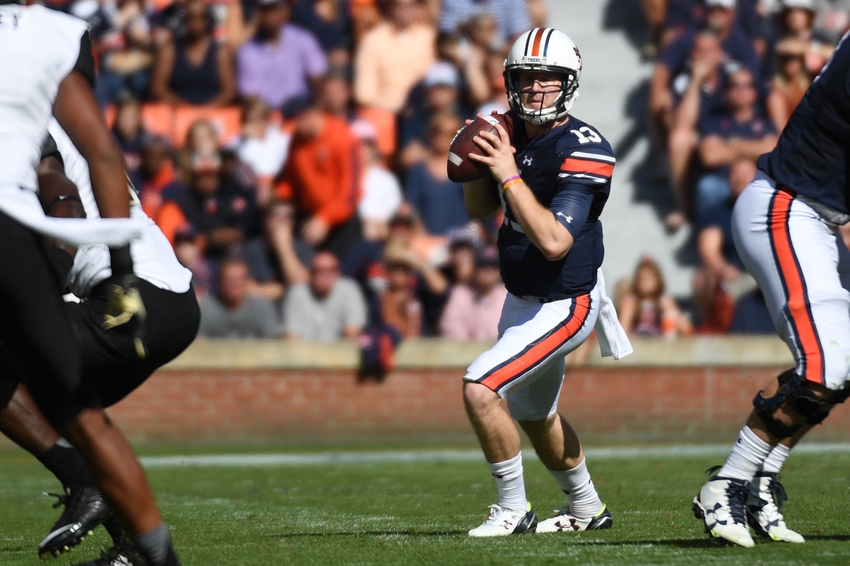 Here we take a look at five Auburn football players to watch for as the team takes on Georgia this Saturday.
Taking time to watch the Vanderbilt game, there are some things that stood out more than Auburn's struggles.
Auburn had less than 10 yards of passing going into halftime, and this was a product of John Franklin III starting at quarterback. To everyone who still has a glimpse of vehement desire to have him running the offense, now is the time to lose it. The quarterback of Auburn's future had taken the helm for the eight previous games, doing so in the second half with furious anger and great vengeance, and has shown little to no evidence of requiring a replacement.
During the first quarter, linebacker Deshaun Davis was ejected following a targeting penalty after hitting Vanderbilt wide receiver Kalija Lipscomb. After subsequent review for ejection, Davis was kicked out for hitting the wide receiver with the crown of his head straight into Libscomb's chest. Despite being a relatively late hit — although, with some attached bias, it was reasonable — it was the crown of his head that saw him leave the game.
Targeting calls are more relevant to protecting those who are hit, yet Davis' strike on Libscomb would seemingly deal more damage to himself. Regardless of the use of his helmet, the hit was as clean as it gets. It just happened to look dirty.
Bias aside, it was pretty evident that Auburn was looking forward to taking on Georgia.
Here are five players to watch for as the Tigers take a trip to Athens, Georgia:
Sean White
Sean White came out in the second half with a chip on his shoulder. Getting his offense rolling to a touchdown on his first drive after sitting out the first half, White was a man on a mission against Vanderbilt. White completed 10 of his 13 pass attempts for 106 yards and a touchdown to Darius Slayton, he now sits at a 69.1 completion percentage.
That is beyond impressive or expected.
There will be no more quarterback controversy, and there will be no more question to what White is capable of. He is the future, and he has success ahead of him. With a struggling Georgia up next, watch for White to continue to produce for his offense at a high level.
Carl Lawson
The air was sucked out of Jordan-Hare with Vanderbilt slowly creeping back to take another lead after a perfectly blocked field goal. Absorbed in mixed outrage, the defense took the field without anyone seemingly taking notice. Carl Lawson took over and sacked quarterback Kyle Shurmur to make it third down and 18 to go. Lawson took the tie for the SEC's lead in sacks at nine, and no one noticed as Vanderbilt came close to pulling off the miracle.
Shurmur's incomplete passes were not a product of the Auburn defense, rather certain wide receivers' inability to catch the ball as it hit their chest. The defense looked slow and uninspired, so Lawson's effort was a breath of fresh air to the Auburn crowd. Look for Lawson to take sole possession of the sack lead in a wonderful matchup against the Bulldog offensive line.
Kerryon Johnson
Thanks to John Franklin III starting without anyone knowing until the game kicked off, who really knows if Kerryon Johnson will be starting.
Odds are, Johnson will be taking the lead in the backfield so Kamryn Pettway can be evaluated and build up his strength to take more snaps. Who better to back up Auburn's 1,000-yard rusher than Johnson, who still leads Auburn in rushing touchdowns with nine. Lacking in size in comparison to Pettway, Johnson makes up for in speed and agility. Look for Johnson to get back to the way things used to be against the Bulldogs.
Joshua Holsey
Joshua Holsey has been a relative unknown to anyone outside the 87,451 of Jordan Hare, but he makes his presence known when it is most needed.
Holsey intercepted a pass against Clemson quarterback Deshaun Watson, resulting in a sigh of relief and a dent in a Heisman campaign. Not only has he stepped up when Auburn needs him most, Holsey does it with the game on the line. With his production on defense against prolific quarterbacks, Holsey gets the job done. Georgia showcasing one of the better quarterbacks in the SEC — who has struggled up to this point with his buddy Mark Richt out of the picture — Holsey will have plenty of opportunities to keep the bad Bulldog season rolling.
Tony Stevens
Tony Stevens will continue to be a presence on these weekly lists simply because he gets it done at a consistent basis, something that I have written about time and time again. Auburn's leading receiver both in yardage and touchdowns, Stevens is the target that White thrives with. The forecast for Georgia most likely involving fewer snaps than on average, Stevens will still get plenty of opportunities to get the ball.
Here's to Daniel Carlson taking the Auburn lead with 61 career field goals, and the late great Jack Simms.
War Eagle!
This article originally appeared on