Auburn Football vs. Arkansas: Defense Dominates in Huge Win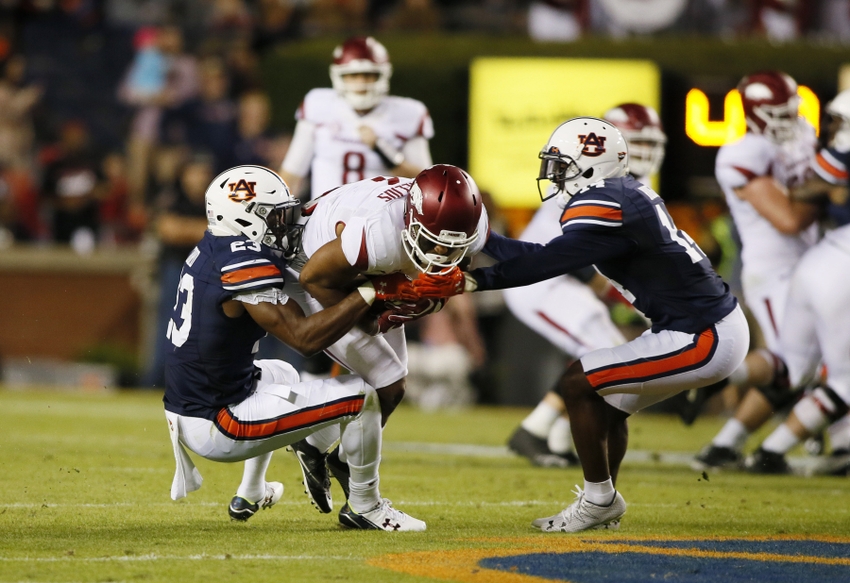 It was an impressive performance all around for Auburn football Saturday, but the defense especially played well against Arkansas.
Auburn football played their second straight complete game by dominating Arkansas on offense and defense at Jordan-Hare Stadium Saturday night with a 56-3 win.
It's not that surprising to see that Auburn ran all over Arkansas as the Razorbacks have been terrible stopping the run all season.
What was most impressive to me about the huge win Saturday night was the play of the defense.
I guess I shouldn't have been that surprised considering the Auburn defense has been dominant all year, but this was their best performance yet.
They set the tone from the very beginning by getting to Austin Allen. I didn't think our defensive line could get to him along, but Carl Lawson and Marlon Davidson proved to be enough.
They were constantly in the backfield harassing Austin Allen and bringing him down.
The defense did a good job of shutting down their run game early, and Arkansas had to abandon it once Auburn took a big lead.
I really can't say enough how impressed I was with the defense in this game. They played 10 times better then I think anyone expected.
As for the offense, hello Stanton Truitt and Eli Stove. Those two showed an explosiveness in the run game that we haven't seen before this season.
They combined for 11 carries for 172 and three touchdowns. Truitt also had a touchdown catch for 45 yards, while Stove had one catch for 12 yards.
While it wasn't surprising, it was still impressive to see Kamryn Pettway rush for 192 yards and 2 touchdowns on 27 carries.
With Kerryon Johnson still sidelined – he could have played, but wasn't really needed – the big running back ran all over Arkansas.
I know the Razorbacks are terrible against the run, but Pettway made them look foolish out there running through and by would be tacklers.
The one flaw for Auburn in this game was passing. I didn't think Sean White looked extremely sharp, but fortunately he wasn't really needed.
I would have liked to have seen him get into some kind of rhythm throwing the football. Eventually we're going to need him to win a game.
However, Sean White was very effective running the football, which was nice to see.
The defense held Arkansas to just three points and 215 total yards, while the Auburn offense scored 56 points and had 633 total yards – 544 on the ground!
The Tigers now have two straight impressive wins in the SEC and remain in the race for the west. They're next test will be on the road against Ole Miss next weekend.
If this team continues to play like this on both sides of the football, it's going to be a very fun season on the Plains.
War Eagle!
This article originally appeared on