Auburn Football: Team Awards after First Third of Season
Here we give out our team awards for Auburn football through the first third of the season. We'll go offensive and defensive MVPs, freshman of the year, breakout player as well as most disappointing.
It's hard to believe that we're already a third of the way through the Auburn football season.
We knew going into the season that Auburn had one of the most difficult schedules in all of the country. Despite all of that Auburn is 2-2 through their first four games and remain alive in the SEC with just one loss.
We've seen a lot of incredible plays from Auburn through the first four weeks, most of them coming against Arkansas State.
A lot of the players who we knew that would be good coming into the season have proved as valuable, while others have emerged onto the scene.
These have been four difficult games for Auburn, but I like what I've seen from our guys.
Even though we are just four games into the season, we'd like to give out our early team awards for the season.
There is obviously a lot that can change over the final two-thirds of the season, but I'd like to take a step back see who has impressed through four weeks, and even who has disappointed.
Here are Team Awards through the first third of the Auburn football season.
Offensive MVP – Kerryon Johnson
I don't think many will be shocked to see that Kerryon Johnson is the Offensive MVP of this team through four weeks.
After the top three running backs departed in the offseason, you knew the offense was going to be run through Kerryon Johnson.
He has been even better than I expected rushing for 371 yards on 78 carries for an average of 4.8 yards per carry.
He's also scored 4 rushing touchdowns, which means he has account for four of Auburn's nine total offensive touchdowns through one third of the season.
He's averaging 92.8 yards per game with just one 100-yard game.
As a receiver Kerryon Johnson has caught 8 passes for 70 yards with a long of 36 yards.
He also had the highlight of the year with this touchdown run against Arkansas State.
He's clearly the most explosive player on this Auburn offense, and he's been the most fun to watch.
Now that Kamryn Pettway has emerged as a solid number two running back, I think it allows Johnson to get some rest and be more effective. It also allows him to become more involved in the passing game, where I think he is lethal.
It's been a great first third of the season for Kerryon Johnson, and I can't wait to see what he does the rest of the way. A couple of big games in wins for Auburn, and Johnson could start getting some Heisman recognition.
Honorable Mention:
Kamryn Pettway: 336 rushing yards on 52 carries, 6.5 yards per carry, 1 touchdown
Tony Stevens: 17 catches, 235 yards, 2 touchdowns
Defensive MVP – Johnathan Ford
Just as it's not surprising to see Kerryon Johnson as the team's offensive MVP, it's not surprising to see safety Johnathan Ford as the team's defensive MVP.
The senior defensive back leads the team through four games with 28 tackles and 3.5 tackles for a loss.
He's second on the team with 17 solo tackles, and he seems to always been around the football on defense.
He also has two pass break-ups and one quarterback hurry.
Ford is just a do-it-all kind of guy in this defense. He's experience and ability in this defense is irreplaceable.
At 6-foot-, 204 pounds he has the ability to cover a team's top receiver on the outside.
What is most impressive about Ford though is his ability to tackle in open space. When Auburn defensive backs have really struggled to tackle over the past two-plus years, Ford has been the one guy you can count on.
To me he's the best player on this defense, and by far the most important player.
Tray Matthews has also had a nice year in the secondary as he's second on the team in tackles with 25.
Honorable Mention:
Tray Matthews – 25 tackles, 0.5 tackles for a loss, 2 pass break-ups
Montravius Adams – 13 tackles, 3 tackles for a loss, 1. 5 sacks and 6 quarterback hurries
Carl Lawson – 9 tackles, 3 tackles for a loss, 3 sacks and 8 quarterback hurries
Freshman of the Year – Marlon Davidson
There were some good candidates for Freshman of the Year, but I think the obvious choice is defensive end Marlon Davidson.
I love watching this kid play every time he's on the field, and it's hard to imagine he's a true freshman with his 6-foot-3, 273 pound frame.
He's quick enough to get around the edge to hurry the quarterback, he's strong enough to bull rush an offensive tackle, and he's fast enough to catch running backs from behind on the outside.
This freshman is capable of playing all three downs, and has proven why he won the starting job to begin the season.
Through four games he has 10 tackles, 2 tackles for a loss, 1.5 sacks and 1 quarterback hurry.
To me the stats don't even describe how good Marlon Davidson has been this season. I knew he'd have a major impact, but he's been vital to the success of the defensive line.
And I think he's just getting warmed up. As he gets more games under his belt he'll become more comfortable with the speed of the college game.
I think Marlon Davidson has had an incredible start to the season, but I think he has an even better final two-thirds of the season.
Honorable Mention:
Kyle Davis: 5 catches, 120 yards, 24 yard average
Darius Slayton: 4 catches, 91 yards, 22.8 yard average
Javaris Davis: 8 tackles, 2 pass break-ups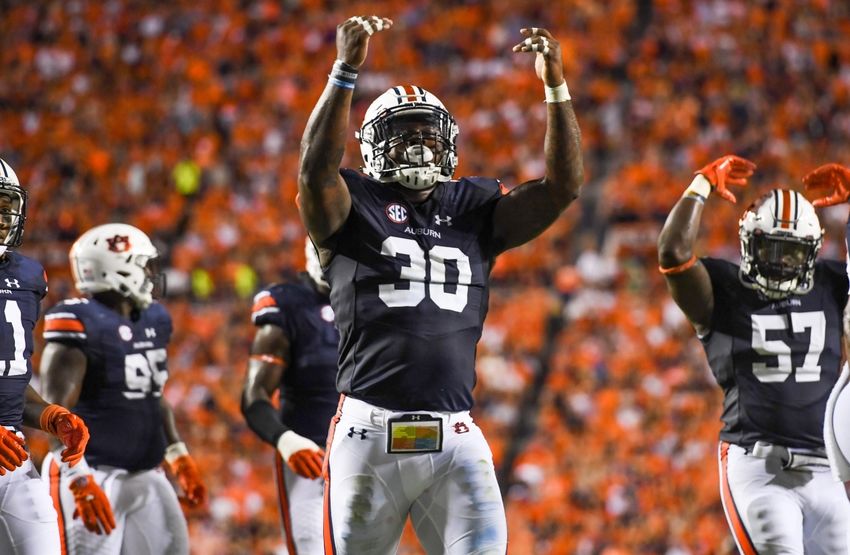 Breakout Player – Tre' Williams
Coming into this season the linebacker position was the biggest question mark of all units on the Auburn football team.
We weren't sure exactly who would emerge at the position, but many thought it would be junior Tre' Williams.
He's proven those people right as he has quickly become the leader of the linebacker unit, and a real rising star.
Through the first four games of the season he has 19 tackles – good for third most on the team – to go along with 1.5 tackles for a loss, 1 sack and 3 quarterback hurries.
That's really just with three and one-third of a game as we was kicked out of the LSU game in the first hit for a bogus targeting call.
He never would have been thrown out of the game had the quarterback not gotten a cut on his head.
Anyway, you can't deny the kind of impact that Tre' Williams has had on this Auburn defense. We knew the defensive line and secondary would be strong, but we needed someone at linebacker to step up and complete this defense.
Tre' Williams has proven that he can be that leader in the middle of the Auburn defense.
It's been the beginning of a breakout for Tre' Williams, and I can't wait to see how much better he gets the rest of the season.
Honorable Mention:
Darrell Williams: 19 tackles, 0.5 tackles for a loss, 2 quarterback hurries and 1 forced fumble
Joshua Holsey: 14 tackles, 1 interception and 2 pass break-ups
Kamryn Pettway: 336 rushing yards on 52 carries, 6.5 yards per carry, 1 touchdown
Tony Stevens: 17 catches, 235 yards, 2 touchdowns
Most Disappointing – T.J. Neal
As mentioned before, coming into this season we had no idea what the linebacker position was going to look like. It was by far the most inexperienced unit on the Auburn football team.
However, incoming senior transfer T.J. Neal was thought to be able to come right in and add some much needed experience to a young group.
He had 109 tackles for Illinois in 2015, which was more tackles than all the other linebackers on Auburn's team combined before the season started.
Many thought he would make the transition over to the SEC, pick up 100 tackles again and improve is stock for the NFL Draft.
I was shocked when the first depth chart was released to see that not only was T.J. Neal not at middle linebacker, but he wasn't even the clear starter at strong-side linebacker.
Then after the Clemson game in which he got very little playing-time, he went on rant on Twitter, leading him to be suspended for the Arkansas State game.
Now four games into the season, T.J. Neal is basically an afterthought in this Auburn defense with just 1 tackle to his credit.
There is still a chance that Neal could have a major impact on this defense the rest of the way, especially if a starter gets hurt, but there is no denying that he's been a major disappointment for this team after transferring over from Illinois.
Honorable Mention:
Marcus Davis: 13 catches, 100 yards, 7.7 yard average, 0 touchdowns
Byron Cowart: 2 tackles and 1 forced fumble
Team MVP – Daniel Carlson
It seems a little cheesy naming the kicker the team's MVP through four games, but can you really deny the fact that he's been Auburn's most valuable player?
Without Daniel Carlson we would be 1-3 right now with people ready to give up on this season.
He single-handedly won that LSU game with us. No one else in the country is going 6-for-6 in field goal attempts with a 51-yard blast included.
Through the first four games of the season he has been automatic on field goals going 12-for-12 with a long of 53. He's also hit one between 40-49 yards, five between 30-39, 3 between 20-29 and one under 20 yards.
He leads the team in scoring by a wide margin with 50 points. Kerryon Johnson is the closest to him with 24 points.
Not only is he money with field goal attempts, it's virtually impossible to return a kick against him. Eighteen of his 19 kickoff attempts this season have gone for a touchback.
That is amazing!
First of all, that keeps team from earning good field position, but it also keeps our guys from injury as kickoffs generally bring violent collisions. I can't tell you how important it is to have a kicker like Daniel Carlson.
Plus, he's created to of the biggest highlights of the year for Auburn with his fake field goal for a touchdown and his kickoff that nailed a poor girl in the face – see video below.
When you really think about, there isn't any player on this team more valuable than Daniel Carlson.
I don't know how he can do better the rest of the year as he's been nearly perfect, but I guarantee you he wins us at least one more game.
War Eagle!
This article originally appeared on