Auburn Football Stumbles against Rival Georgia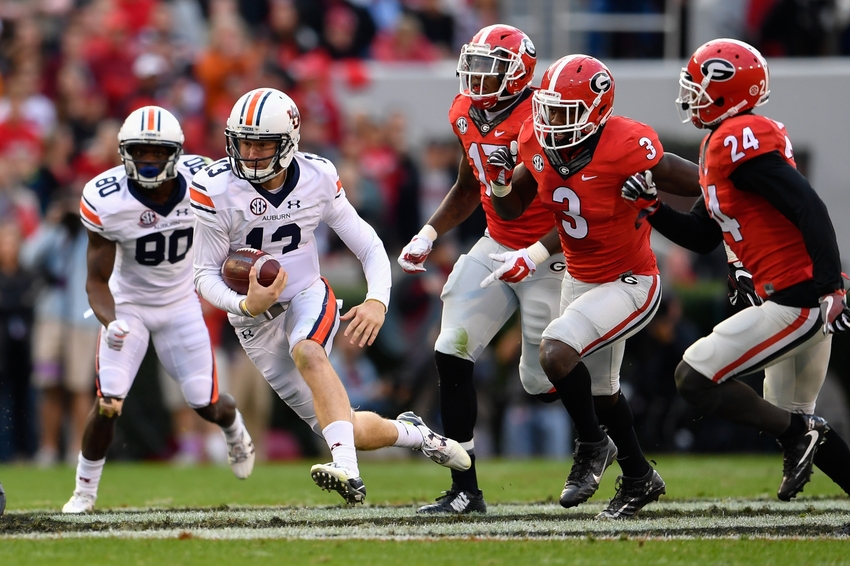 All of the injuries caught up with Auburn football Saturday night as they're dreams of reaching the SEC Championship died in Athens.
This was not the Auburn football team we've been accustomed to seeing the past six games.
The offense was terrible to watch, just like the first three games.
Georgia sold out to stop the run, as you knew they would, but Sean White couldn't make that big pass.
However, not all the blame should be put in White. His receivers dropped a lot of catchable footballs, and Georgia kept getting a free rusher up the middle that for some reason we could never pick up.
White was not very good in this game though – maybe the shoulder is still bothering him – and the pick-six he threw was devastating and the deciding factor in this game.
The Tigers did not pick up a single first down in the second half, and Georgia does not have a good defense.
The Auburn defense did all you can ask of them. However, they did struggle stopping the run, but they only gave up six points.
You can blame the injuries all you want, and that certainly played a factor in this game as both our starting cornerbacks were banged up, but this was simply a terrible performance by Auburn.
The reasons Auburn lost this game are because we played scared on offense, our receivers couldn't catch, and our quarterback couldn't throw.
Our SEC Championship hopes are over, and you have to wonder how this team will rebound.
They should get some confidence back against Alabama A&M, but they don't have a shot against the Crimson Tide if they play like this again.
Gus Malzahn will have to do a really good caching job to get these guys prepared to try and ruin Alabama's perfect season in a couple of weeks.
This might be one of the more frustrating losses in recent history.
This article originally appeared on