Auburn Football Recruiting: Three Visitors Auburn Must Wow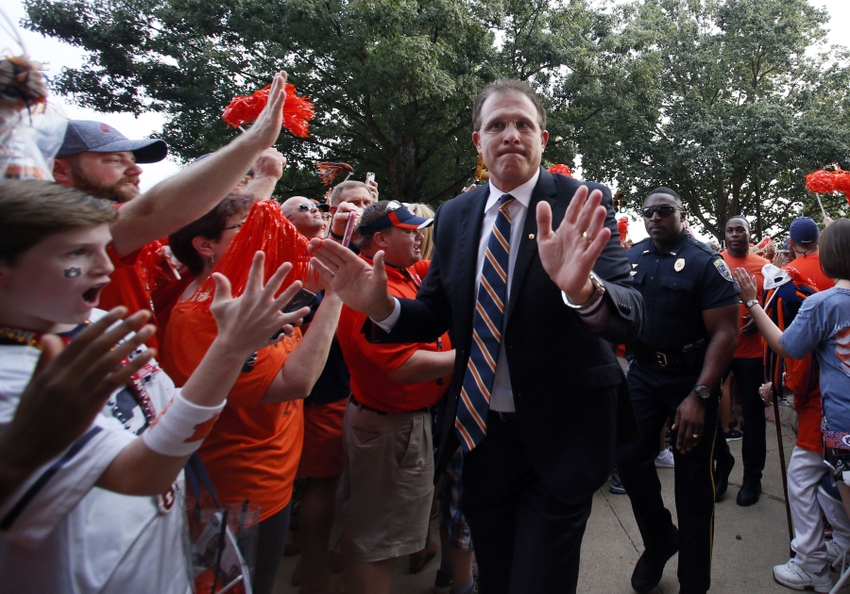 With 14 current commitments, the Auburn football recruiting staff has — even with the slow start — put together a strong foundation upon which to continue building the 2017 recruiting class.
It should come as no surprise that Saturday night's SEC showdown between the Tigers and Texas A&M Aggies will draw a host of elite prospects.
Today, we look at three high-profile players who are making the trek to The Plains that Auburn must impress — and impress now — to position themselves as legitimate contenders for their services.
Alex Leatherwood — No. 7 overall/No. 4 offensive tackle (247Sports)
To be clear: Alex Leatherwood seems very, very solid in his commitment to Alabama at this time.
That said, any time you can get a 5-star prospect on campus, you're happy about it, and there's no question that's the case with the Auburn coaching staff and offensive line coach Herb Hand in particular.
Leatherwood's teammate at Navarre High in Florida is Nick Brahms, one of the Tigers' most committed prospects, who he has visited Auburn with in the past.
Unfortunately, at this time, that's about the only thing working in Auburn's favor.
If there is a team that could swipe Leatherwood from the Crimson Tide, it may be Texas — his mother lives in the state, and Leatherwood seems high on Longhorn head coach Charlie Strong.
You never know what can happen with a strong visit, though, and Auburn will look to put on a show against the Aggies.
Should Leatherwood end up elsewhere on Signing Day — which is quite likely — the Tigers will be fine. As you can see below, Hand is building one of the nation's finest offensive line classes.
Offensive Commitments — Class of 2017

Commit

State

Rank*

OT Calvin Ashley
Fla.
22
OG Nick Brahms
Fla.
68
RB Devan Barrett
Fla.
74
OT Austin Troxell
Ala.
95
ATH Tray Bishop
Ga.
98
RB Alaric Williams
Ala.
122
RB Octavius Matthews
Ala.
3-Star
K Anders Carlson
Colo.
—
LS Bill Taylor
Ala.
—
*Highest Among 247Sports, ESPN, Rivals, and Scout
Deangelo Gibbs — No. 10 overall/No. 2 athlete (ESPN)
Georgia appears to be the strong favorite — as of today — to ultimately land the signature of Deangelo Gibbs, with Tennessee running second.
But just like in the case of Leatherwood, you want every elite talent on campus, regardless of the odds.
Before the season, Gibbs said he wanted to see an improved Auburn team on the field this season.
Defensive backs coach Wesley McGriff has recruited Gibbs hard, and Gibbs expressed an interested in seeing how McGriff could piece together the talent he has in the secondary with the schemes he wants to run.
What better opportunity for Gibbs to see exactly that — and for Auburn to impress him — than in-person against the wide-open passing attack of Texas A&M?
Defensive Commitments — Class of 2017

Commit

State

Rank*

LB Tadarian Moultry
Ala.
91
CB Malcolm Askew
Ala.
120
LB Chandler Wooten
Ga.
230
S Carlito Gonzalez
Ga.
4-Star
S Jordyn Peters
Ala.
3-Star
*Highest Among 247Sports, ESPN, Rivals, and Scout
Markaviest Bryant — No. 91 overall/No. 10 defensive end (ESPN)
Similar to Gibbs, Markaviest Bryant, coming into the year, stated that Auburn could do themselves a huge favor in his recruitment by improving on last season.
Also like Gibbs, the in-state Georgia Bulldogs appear to be the no-doubt team-to-beat — but even more-so. Bryant came close to committing to them in July.
With a likely decision coming in October, time is running out for Auburn to vault up Bryant's leader board.
What would it take?
A great visit, for one, which goes without saying. But if Auburn's defensive line can play against Texas A&M like it has so far this season and stifle the Aggie run game . . . or offense as a whole?
Well, that may still not be enough, but it certainly wouldn't hurt.
And never count out Rodney Garner.
This article originally appeared on