Auburn Football Recruiting: Seismic Stidham Recruitment In Homestretch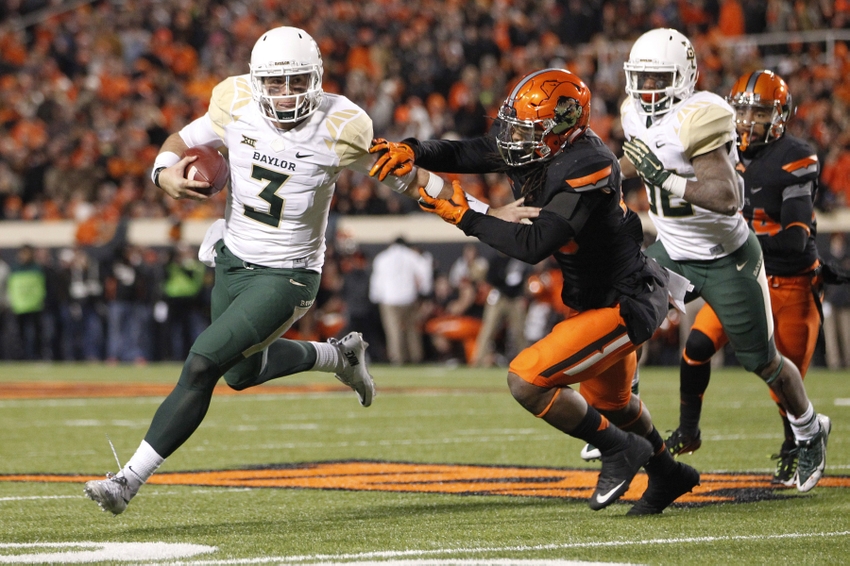 As FlyWarEagle has written previously, the recruitment of Jarrett Stidham has long been something to watch, and now it's nearing its final days — and it will be a dramatic finish.
That finish — likely to be of the photo variety — will factor heavily into the success of the 2017 football seasons of two schools: Auburn and Texas A&M.
In late June, the Aggies beat the Tigers for top quarterback recruit Kellen Mond (No. 58/ESPN), but that victory may ultimately be what deals A&M a loss in the Stidham sweepstakes and tilts the scales toward The Plains for the Baylor transfer gunslinger.
As has always been the case, A&M has to be exceedingly cautious here and is treading some dangerous water — they don't want to upset Mond with their chase of Stidham, as the backlash could not only potentially cost them Mond but a bevvy of his highly rated friends also on the Aggie commit list.
It is a matter of some conjecture, but it has felt all along that Kevin Sumlin was biding his time, allowing Mond to become more and more entrenched in the A&M stable of recruits, before ultimately pulling the trigger on a full-fledged recruitment of Stidham — with the hope that Mond would, by then, have grown too attached to the Aggies to back away from his pledge.
Sumlin is now on borrowed time, though, as Stidham will decide sometime roughly in the next two weeks. The A&M head coach's window to make a move is running short.
While other schools — like Florida and LSU — would like to make a run at Stidham and have opened the door, for those programs, it appears to be too little, too late.
This is very much between Auburn and Texas A&M, and one school is going to get an immediate jolt to their 2017 potential with his signing.
As a true freshman for the Bears, Stidham played in 10 games, completing nearly 69 percent of his passes for 1,265 yards on just 109 attempts. He posted 12 touchdown passes against just 2 interceptions and added two more scores via the run.
In late July, Stidham decided to look for another school in the wake of the Art Briles fall-out, and showed up at an Auburn practice almost immediately, on August 3, sticking close to Gus Malzahn.
Stidham was on the Auburn campus against on Tuesday.
Auburn, AL.📍

— Jarrett Stidham (@Jarrett_Stidham) November 29, 2016
He spent the day and night with Malzahn, offensive coordinator Rhett Lashlee, some of the Tigers' young receivers, and, himself a former-Baylor-Bear-turned-Auburn-Tiger, running back Kameron Martin.
Stidham was the class of 2015's No. 13 overall recruit and No. 1 dual-threat quarterback per 247Sports.
This article originally appeared on