Auburn Football Recruiting: Moultry, Stidham, Class Updates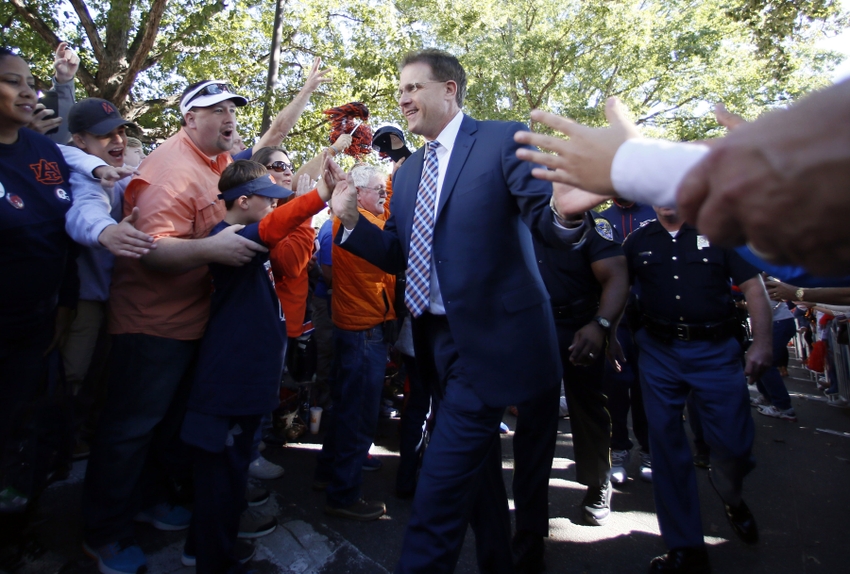 Here we take a look at Auburn football recruiting, including updates on Tadarian Moultry, Jarrett Stidham and more as the regular season draws to a close.
Way back in May, when consensus 4-star prospect Tadarian "T.D." Moultry (No. 49/247Sports) out of Jackson-Olin in Birmingham, Ala., pledged to the Tigers over over Alabama, Georgia, Ole Miss, and more, he ended a near-nine-month drought on the recruiting trail for Auburn.
Auburn fans knew their team had just gotten a verbal from a very good linebacker prospect, but they may not have known exactly how good.
The nominee list for the most prestigious individual award in high school football – U.S. Army Player of the Year. #ArmyBowl pic.twitter.com/od1ZmOdjgA

— #ArmyBowl (@ArmyAllAmerican) November 15, 2016
Yesterday, Moultry was officially named as one of just 16 nominees for U.S. Army Player of the Year.
---
The recruitment of Baylor transfer Jarrett Stidham is far from over and, for the Tigers, has taken an unfortunate — but not surprising — turn.
Months ago, when Stidham's transfer first occurred, the Texas A&M coaching staff went out of their way to assure Kellen Mond, their top quarterback commit, who pledged to the Aggies over Auburn, that they wouldn't recruit Stidham.
That now appears to have been the classic slow-play, as they bided their time, allowing Mond to get more attached to the Aggie program, players, and fellow commitments, all the while likely knowing they were always going to go all-in for Stidham as his decision approached.
The Aggies are probably the current favorite to ultimately land Stidham, which would be a huge blow to the potential Auburn talent-level at quarterback for 2017.
Still, Stidham will return to The Plains next month before making his decision.
---
Looking at the current standing of Auburn's 2017 recruiting class, on the offensive side of the ball, it appears to be quite well-rounded, bolstered by one of the top offensive line hauls in the entire country, consisting of three (essentially) top-100 players:
 Offensive Commitments — Class of 2017

 Commit

 State

 Rank*

 OT Calvin Ashley
 D.C.
 22
 OG Nick Brahms
 Fla.
 69
 RB Devan Barrett
 Fla.
 74
 ATH Tray Bishop
 Ga.
 98
 OT Austin Troxell
 Ala.
 102
 RB Alaric Williams
 Ala.
 124
 RB Octavius Matthews
 Ala.
 3-Star
 K Anders Carlson
 Colo.
 —
 LS Bill Taylor
 Ala.
 —
 *Highest Among 247Sports, ESPN, Rivals, and Scout
While Auburn would like to — and will — add a pair of quality receivers, it isn't a desperate need due to the tremendous haul last year of Nate Craig-Myers (No. 35/Rivals), Kyle Davis (No. 54/ESPN), Eli Stove (No. 56/Rivals), and Marquis McClain.
Defensively, the line is in direct contrast, needing a strong finish as, despite the monster group put together last cycle — Derrick Brown (No. 6/247Sports), Antwuan Jackson (No. 20/ESPN), Marlon Davidson (No. 25/Rivals), Nick Coe (No. 55/247Sports), and transfer Paul James III — you never want to go light on the defensive front.
Linebacker, however, is an obvious strength:
 Defensive Commitments — Class of 2017

 Commit

State

Rank*

 LB Tadarian Moultry
 Ala.
 49
 LB Kenney Britt
 Ala.
 117
 CB Malcolm Askew
 Ala.
 119
 LB Chandler Wooten
 Ga.
 231
 S Carlito Gonzalez
 Ga.
 4-Star
 S Jordyn Peters
 Ala.
 3-Star
 *Highest Among 247Sports, ESPN, Rivals, and Scout
All-in-all, it looks like Auburn is destined to sign another strong recruiting class — a staple of the Gus Malzahn era.
This article originally appeared on