Auburn Football Let's One Get Away Against Texas A&M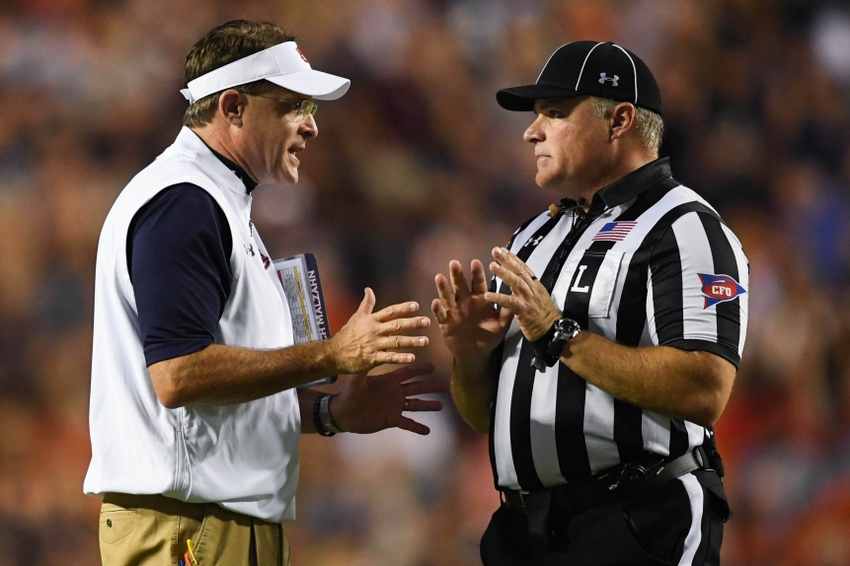 Things looked great for Auburn football early as Sean White led the team down the field for seven points on their second drive.
Kamryn Pettway was having a lot of success running the football, tearing right through the Texas A&M defense.
Then all of sudden Gus Malzahn went away from everything that was working and went back to his Clemson play-calling. Pettway only got two carries in the third quarter.
Instead of running plays that move the ball north and south, Malzahn started calling screens and toss plays that keep the ball behind the line of scrimmage.
I'm not saying I know everything, but I did say in our pre-game coverage that those plays won't work with the speed on Texas A&M's defensive line.
Sure enough, Texas A&M sniffed out every single one of those plays and tackled Auburn behind the line of scrimmage. As a result, Sean White kept getting stuck with third-and-long situations.
This is exactly the type of play-calling that infuriated Auburn fans in the Clemson game. All of these plays behind the line of scrimmage take too much time. Fast defenses like Texas A&M are not going to be fooled by those plays.
Our offense can't constantly covert on third-and-longs.
Gus Malzahn is not completely to blame, Sean White didn't have his best game. After the good start, he got a little erratic throwing the football.
He started missing open receivers, and just didn't seem to have the confidence he had against Arkansas State.
It was still just a two-score game with 10 minutes left in the fourth quarter, but Gus Malzahn decided to switch things up with John Franklin III at quarterback. He did a good job handing the ball off to Kamryn Pettway, but the drive stalled near the redzone as they had to go for it on fourth down.
Defensively, the team did not tackle as well as they did in the first two games. Texas A&M got a lot of yards after contact because Auburn couldn't tackle.
The defensive line got a lot of pressure on Trevor Knight, but they couldn't bring him down.
I don't know why Carlton Davis was glued to their fourth best receiver all game instead of Christian Kirk or Josh Reynolds.
The defense did hold Texas A&M to several field goals, which kept us in the game for a while. But this was more a bend-but-don't-break type defense instead of a shutdown defense.
This game was just another frustrating effort from Gus Malzahn and Auburn.
I think I could handle these games a little better if I thought we couldn't win, but these are games we can – and should – be winning.
Gus Malzahn took another step back in this game in my opinion. He tried to get too cute on offense instead of staying with what was working early.
The defense was good, but not great.
I really thought Auburn let this game get away, and that means the LSU game is a must win for Gus Malzahn and Auburn football next weekend.
War Eagle
This article originally appeared on