Auburn Football: Georgia Game Hits Hard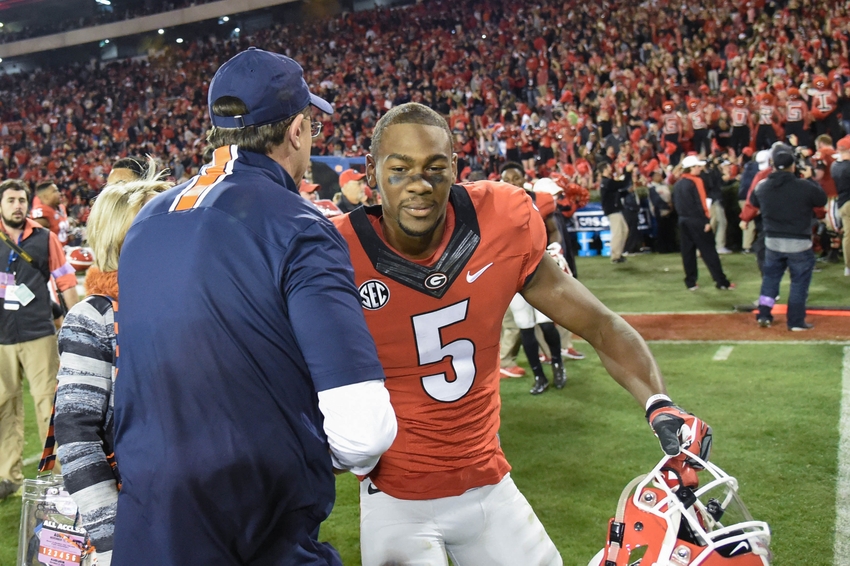 Truth be told, I always have and always will care too much about Auburn Football.
That's the reason I haven't been able to will myself to write about the actual on-field product at all since the Georgia game.
After it was over, I realized it was a breaking point for me.
To put it simply: I am off the Gus Bus.
I know, I know, believe me I know . . .
"We'll be better off without you!"
"You're not a true fan!"
"You have to support your team!"
That's where it goes wrong, though, because I do support the team. I support the team so much that if they — the players — were the reason and the only reason certain games were lost, I wouldn't be writing what I'm writing.
But they're not.
The players didn't deserve to lose to Clemson. The players didn't deserve to lose to Georgia — in either of the last two years.
Gus Malzahn lost those games when even a mediocre coaching job would have won all three.
Last year's Georgia game almost had me off the Bus.
(Truth be told, I've been halfway out the door a handful of times.)
The Georgia game, at least, was winnable and is the most given-away game by Auburn coaches I've seen in my 30 or so years as a fan. The decision to interject a hobbled [Sean] White was mystifying. The decision to leave him in for multiple series after it was obvious right away that he had nothing to offer? Inexcusable and unexplainable. And costly.
But I had to spin it in my mind as a future-positive, a learning opportunity for the head coach, to get me back in my seat. As I wrote/asked/hoped a week later:
Interjecting White into the game was, after all, done out of impatience. I never felt Auburn would lose until White was forced into action and left in for repeated series, wasting possessions and at the cost of extremely valuable field position.

Malzahn should have won that game ugly, but he couldn't. He couldn't play it out. He couldn't wait it out.

. . .

If I seem hung up on that Georgia game, it's because I am. After accepting and dealing with all of the disappointment the season had dealt up until that point, the game with the Bulldogs was at least an opportunity to salvage something — the series lead in The Deep South's Oldest Rivalry.

But it wasn't to be.

Still, if the loss to Georgia will help guide Malzahn in 2016 — should he find himself with a similar (lack of) offense — then maybe something good will come out of the lost season of 2015 after all.
Despite my optimism, this year's Georgia game only proved that Malzahn learned nothing from last season's game.
He still refuses to win ugly.
Literally the only way Auburn was going to lose to Georgia in 2015 was by wasting numerous possessions with an obviously compromised Sean White.
So what did Malzahn do? He did exactly that.
This year, the Bulldogs offense could have had 12 quarters instead of four against the Auburn defense, and they weren't going to find the end-zone.
Literally the only way Auburn was going to lose to Georgia in 2016 was by inexplicably coming out in the second half as if they were behind instead of ahead, airing it out unnecessarily — including on multiple third-and-shorts.
It didn't matter that White was injured.
It didn't matter that the passing game was out-of-sync entirely.
Malzahn continued to force the issue and was, once again, rightly smacked down by the football gods.
A pick-six and multiple doomed series later, and the season of so much promise was left no different than last year's at the end of the day: The state championship is all that's left to play for.
Never mind that running the zone-read with John Franklin III for the entirety of the second half would have almost assuredly netted a victory and, at the very least, would have accounted for some first downs — even just one would have been a marked improvement.
But Malzahn doesn't trust Franklin because he fumbled against Vanderbilt, even though he's the most explosive player on the roster and running the zone-read with him would at least force Georgia's defense to think instead of collectively yawn?
White fumbled against Georgia without even being touched and threw a pick-six. But let's keep riding him instead, I guess, to quite possibly the worst offensive half in modern Auburn Football history.
Then again, if Malzahn is insistent on now playing Franklin, even just doing with White exactly what was done in the first half would have won the game.
But no. Because Malzahn refuses to win ugly.
Yeah, I know: "Put that one behind you! The Iron Bowl is upon us!"
And I hear those of you still firmly strapped into your seats:"It's the Iron Bowl! That's a lot to play for!"
It is.
Make no mistake: I would be ecstatic for Auburn to knock off Alabama, to end their winning streak, to reclaim the state title.
And by no means am I saying it can't happen.
In fact, I do believe the Tigers have more than a puncher's chance of beating the Tide. And that's the very reason the Georgia game hits so hard.
Because if they do, you know what would happen eventually, right?
The harsh realization would dawn on you — or at least it would on me — that, had only Malzahn not completely squandered the Georgia game, Auburn would be headed to Atlanta to win an SEC Championship.
And then?
Then, they'd be headed to the College Football Playoffs.
The Sugar Bowl, as vaunted as it is, is no match for that.
I really thought Malzahn had learned after the Texas A&M cluster. I really wanted to believe it.
When he handed over play-calling to Rhett Lashlee, it was a desperation move for a man of Malzahn's pride and — some would say — arrogance.
But it was the right move — and the smart move.
It saved Auburn's season because Lashlee — unlike Malzahn — is capable of calling a formidable, logical offense with a pocket-passer like White.
But he couldn't help himself.
The Georgia game-plan, play-calls, and substitution patterns, particularly at wide receiver, screamed Malzahn — and they brought back bad memories of the Clemson and Texas A&M debacles.
And they brought back the same, sad result.
So I can't do it anymore: I can't trick myself into believing that Malzahn will learn from his mistakes.
And that's why I'm off the Gus Bus.
This time, for good.
This article originally appeared on