Auburn Football: 3 Up, 3 Down From Clemson Game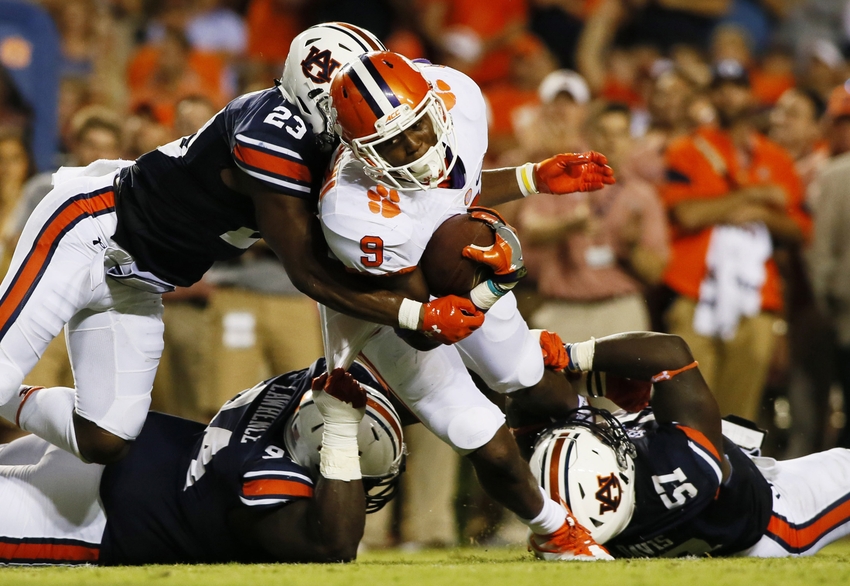 With the long holiday weekend over, we'll continue to break down the Auburn-Clemson game with our 3 up, 3 down.
Despite the frustrations of the close loss to number 2 Clemson, there were a lot of good things that came from the game Saturday night.
We'll start on a positive note with our three up.
No. 1 – The Defense
Pretty obvious choice as just about everyone agrees that the Auburn defense was outstanding against Clemson. They came in as one of the best offenses in the country after averaging 38.5 points a game in 2015 and scoring 40 points against Alabama in the National Championship game.
The rejuvenated Auburn defense held them to just 19 points, which were hard earned. They kept them just under 400 yards of total offense at 399. They bent several times, but made some big stops when they needed to.
If the defense plays like this all season Auburn football will be able to win a lot of games. This is the best offense they will face all season.
No. 2 – The Secondary
One of the biggest question marks coming into this game was the secondary. They rose to the challenge on Saturday night holding Deshaun Watson to just 248 yards through the air and one touchdown.
That lone touchdown pass took an incredible pass as Watson was running backwards and threw it to the back of the endzone where the receiver dove and caught it while landing on his back. There is nothing more the defensive back could have done on that play.
The secondary wasn't just good in coverage, they tackled too. The top four tacklers in the game all came from the secondary. Nick Ruffin led the way with 10 tackles – 7 solo tackles.
Javaris Davis struggled a bit to me, and Clemson took advantage of him early. I think the coaching waiting too long to put Carlton Davis on Mike Williams.
I thought Joshua Holsey played really good in this game though.
No. 3 – Kerryon Johnson
In a game where the offense looked horrible, I thought Kerryon Johnson was a bright spot. He proved he can handle the workload getting 23 carries – the most in his career. He took those carries for a solid 94 yards – 4.1 per carry.
He was really able to find some space to run once John Franklin III came into the game. I think that package is Auburn's best chance to run the football, but JF3 does have to pull it and run every now and then.
Johnson only had one catch for negative three yards though. He needs to get more catches out of the backfield.
No. 1 – The Offensive Play Calling
By far the most frustrating part of the game on Saturday night was the offensive play calling. As great of an offensive mind as Gus Malzahn has, he couldn't come up with a better way to try and score points with eight months to prepare?
The offensive play calling was the worst I think I've ever seen when watching Auburn football. It wasn't just the rotating of quarterbacks, which was terrible, but the plays they ran. There was nothing surprising or unique about any of them.
But whenever a quarterback had something good going, they would get pulled for no apparent reason. Jeremy Johnson made a couple of good passes early. Then he gets pulled, and when he comes back in he throws an interception.
John Franklin III is running the read-option beautifully, and then he gets pulled. Sean White showed signs of being able to move the offense, but then he would get pulled.
It was just terrible, that's all you can really say. If this is what we can expect from Gus Malzahn this year, then he can expect to be looking for a new job.
No. 2 – No Sacks
It's really hard to find anything bad to say about the defense, but they did fail to get a sack on Deshaun Watson.
However, that doesn't tell the entire story as Watson was under duress most of the game, forcing him to throw the ball sooner than he wanted.
Even though they didn't get a sack, the defense had nine hits on a very elusive quarterback.
I'm still hoping this defense can get over the 30 sack mark this year, but they didn't get out to a good start with zero against Clemson.
No 3 – No Depth at Running Back
We knew this going into the game after losing our top three running backs during the offseason, but it became obvious on Saturday night.
As much as coaches, fans in denial and the media wanted to say we were fine at running back, that's not the case.
Kerryon Johnson received 23 of the teams 41 rush attempts, which isn't horrible, but Jeremy Johnson received the second most with six and that is terrible. Stanton Truitt – a wide receiver – had four carries, which is the same amount as Chandler Cox and Sean White.
Neither Kam Pettway nor the two freshman running backs received a carry in this game, which is mind-boggling.
The play-calling was terrible, and the offense was never able to get into a rhythm. Maybe that's why the carries were so uneven, but that has to change going forward if Auburn is going to establish a running game.
This article originally appeared on