ASU Football: Zane Gonzalez Named Lou Groza Finalist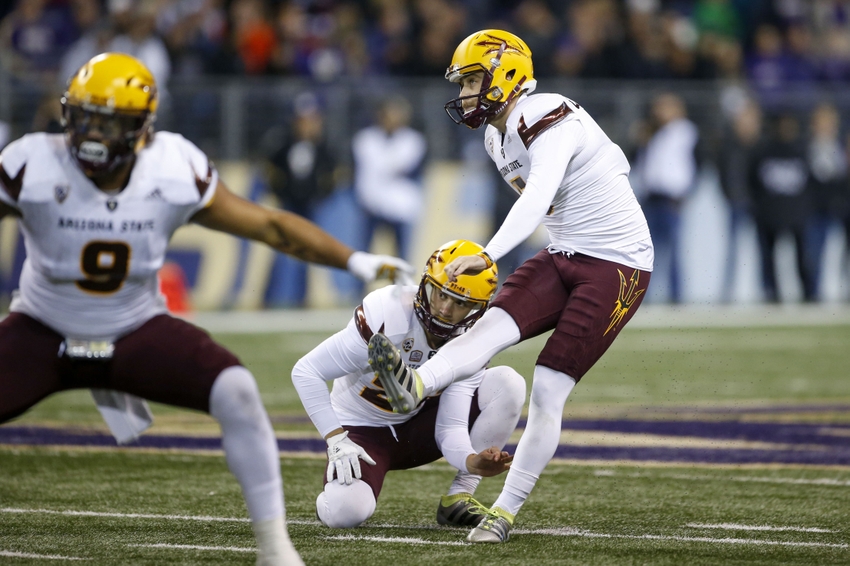 With his senior season coming to a close, place-kicker Zane Gonzalez was named a Lou Groza Award finalist.
The Lou Groza Award is a yearly award given out to the top place-kicker in the country. This year's finalists were named earlier today with asu football's Zane Gonzalez headlining the three kickers. Daniel Carlson of Auburn and Younghoe Koo of Georgia Southern were the other two finalists.
Gonzalez is the heavy favorite to win the award. He has only missed one field goal and one extra point on the entire season and has a 95.8 percent accuracy rating, the best in the country.
The other two finalists boast impressive resumes as well but what might put Gonzalez over the top is the fact that he is statistically considered the best place-kicker in NCAA history. With an achievement like that, it is hard for someone to vote against you.
Another reason why Gonzalez might win the Lou Groza Award with ease is that the fans get to have a say this year in who wins the award. The Lou Groza Award is voted on by a committee, but an additional ballot will be cast that represents who the fans vote for on lougrozaaward.com. That ballot could be the deciding vote on who walks away with the award, so every vote matters.
More from Devils in Detail
The winner of the Lou Groza Award will be announced on ESPN during their Home Depot College Football Awards Show on Thursday, Dec. 8 at 7 p.m. Eastern Time.
Regardless of who wins the award on December 8. Gonzalez has already cemented his place as one of the best Sun Devils of all time. He holds the record for most made field goals in NCAA history and he holds nearly every record in the ASU record book.
So while his senior season is coming to a close, his time as a Sun Devil will live on forever.
This article originally appeared on