ASU Football: The Drastic Decline of the Run Game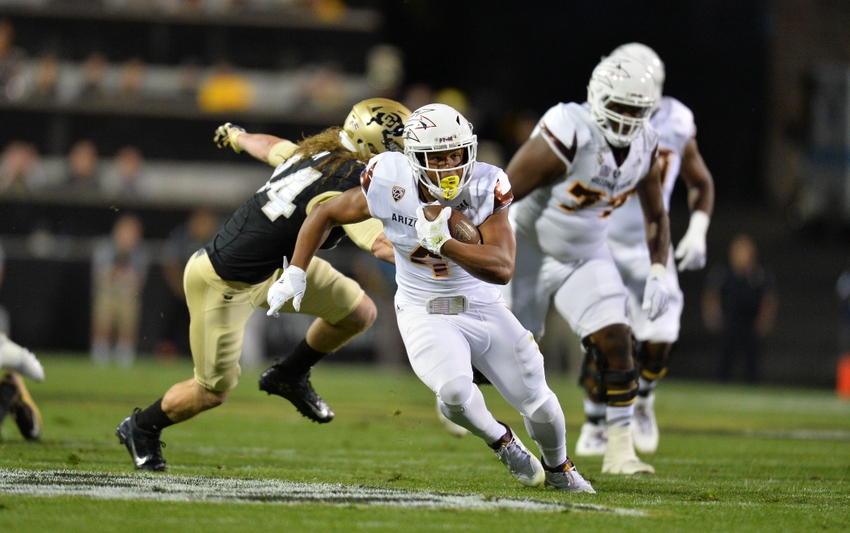 Entering the 2016 season with uncertainty in many areas,  ASU Football had one position with clarity: running back.
After two successful campaigns to start their careers, fans were optimistic that the dual backfield system of juniors Demario Richard and Kalen Ballage could carry ASU (no pun intended) during what many considered to be a rebuilding year.
Then came the sensation that was quarterback Manny Wilkins and an unexpected 4-0 start, propelling the Sun Devils to a pedestal that it hadn't been on since the team was ranked 15th in the 2015 preseason AP top-25 poll.
There were highlight hurdles and Ballage tying the NCAA record with an eight-touchdown game against Texas Tech. It appeared Richard and Ballage were poised to take another step forward.
Until Pac-12 play began.
Through three promising weeks, Richard was averaging 94 rushing yards a game at just under four yards per carry with one touchdown. Ballage was averging 85 rushing yards a contest at 6.9 yards per carry and led the nation with nine touchdowns.
More from Devils in Detail
Both players' production came to a staggering halt on Sept. 24 against Cal and neither has turned it around.
In conference, Richard is averaging 42 yards on the ground at 3.65 yards per carry and Ballage is averaging 37 yards on the ground with 3.4 yards per carry. Touchdowns haven't suffered but a majority have come from inside the red zone.
The only separation between the two is that Ballage has established himself in the receiving game the past two weeks, picking up 223 yards on 13 catches.
ASU has had to use all three of its active quarterbacks as Wilkins and Brady White have been injured, forcing head coach Todd Graham to burn the redshirt of true freshman Dillon Sterling-Cole. This has been the cause of teams stacking the box, daring a banged up or inexperienced quarterback to throw.
Offensive coordinator Chip Lindsey has had to get creative to gain yards in what are considered very standard situations. Wide receivers N'Keal Harry, Jack Smith and Jalen Harvey have all completed at least one pass in addition to both running backs.
It is even harder to run when the offensive line lacks depth.
ASU football has used several different line combinations trying to find the steadiest unit, then again finding the healthiest unit.
The Sun Devils returned just one starter in tackle Evan Goodman and have spent the better part of the season learning how much the o-line can impact a game.
The bright side to both players' struggles is that neither player is likely to try and declare for the NFL Draft in what is a very deep running back class. Graham will most likely have both players back as seniors in 2017.
For the final two (or possibly three ) games, Richard and Ballage will have to put up big numbers and open up the field for whoever is under center if the team hopes to continue its streak of making a bowl game under Graham.
This article originally appeared on