ASU Football: Sun Devils get Trampled in Colorado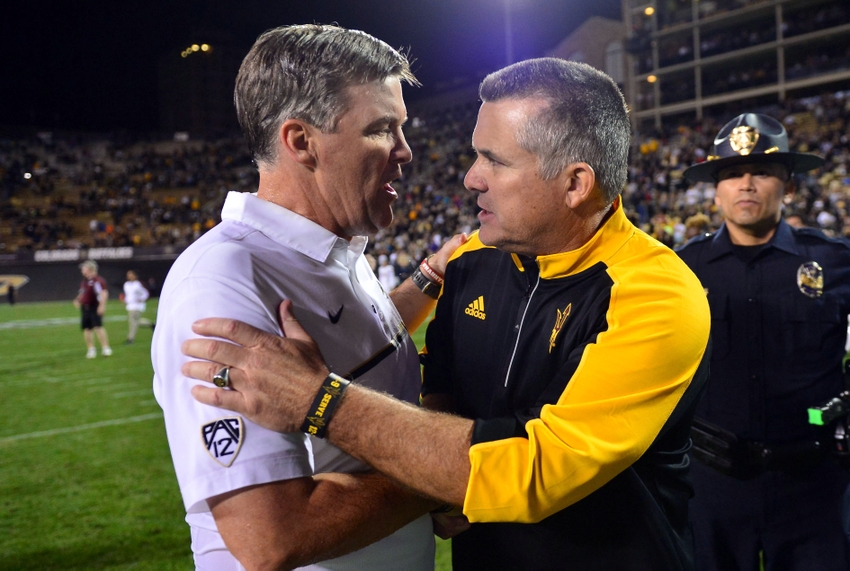 The Arizona State Sun Devils came into Boulder, Colorado looking to improve to 6-1 on the season, and to keep pace with Utah for the Pac-12 south title. They did neither of those things losing to Colorado 40-16.
After Utah earned a tough-fought victory over Oregon State earlier in the day, this was a must-win game for both ASU and Colorado in order to stay atop the Pac-12 south with Utah.
Leading up the the game all the talk was about who would be the starting quarterback for ASU come game time. The honor went to Manny Wilkins who missed the previous week's game against UCLA with an ankle injury.
Straight out of the game, it was evident to see that Wilkin's wasn't at 100%.
After the game, Wilkins insisted that he felt fine heading into the game.
"I practiced all week," Wilkins said.
Regardless of how he felt, Wilkins couldn't get anything going through the air as he ended the night with only 149 passing yards.
More from Devils in Detail
Wilkin's also said that he would attribute the loss to poor quarterback play and that he needs to put the guys around him in better opportunities to make plays.
While Wilkins can put all the blame on himself, the Sun Devils didn't give him much help on the the ground as they had 81 total rushing yards between Demario Richard, Kalen Ballage, and Nick Ralston. The blame can't all be put on Wilkins and the running back group as the offensive line had troubles of their own, allowing five sacks and eight tackles for loss.
On the defensive side of the ball, ASU struggled after their encouraging performance in the previous game.
The Sun Devils allowed 580 total yards with a majority of those yards coming on the ground.
After the game head coach Todd Graham discussed the defense's performance.
"Our energy level was very low, there weren't any plays that they hadn't seen on film and a lot of [the problem on defense] was tackling. A lot of it was yards after contact and their tempo was fast and our guys struggled getting lined up…they were the better team tonight," Graham said.
One bright spot for the Sun Devils was Zane Gonzalez. After breaking the FBS record for career field goals with 89, he tacked on three more tonight with all three of them coming from at least 50 yards away.
The Sun Devils will return home to face the Washington State Cougars who are currently 3-2 on the season.
This article originally appeared on