ASU Football: Sun Devils Fighting for Bowl Eligibility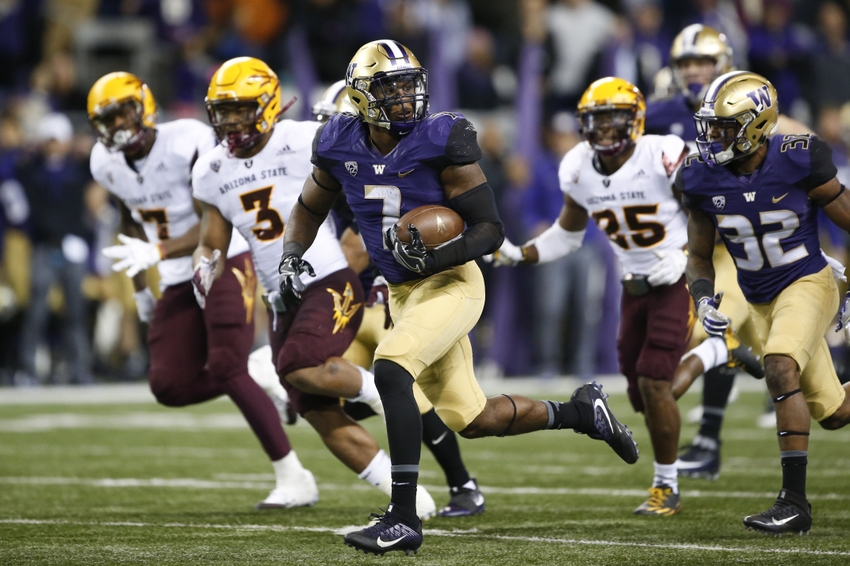 The longest losing streak of the Todd Graham era continued as ASU Football suffered a 44-18 loss to the Washington Huskies in Seattle.
A once-promising start to the ASU football season has taken a turn for the worst as the Sun Devils have now lost five straight games, the latest coming in a 44-18 blowout at Washington.
Huskies quarterback Jake Browning shook off a pair of early interceptions to throw for 338 yards and two touchdowns while the UW rushing attack combined for 201 total yards to set up a winner-take all game against Washington State in Pullman with the winner claiming the Pac-12 North division.
Early in the first quarter, the Sun Devils forced two Browning interceptions off of tipped passes, the second nearly returned for a touchdown by linebacker Koron Crump if not for a block in the back on the 3-yard line.
ASU once again struggled to convert off of turnovers as Browning's first interception led to a punt on a short field. The second put the Sun Devils at the 13-yard line, a drive that concluded in a Manny Wilkins turnover on a spectacular grab by cornerback Kevin King.
More from Devils in Detail
Despite the loss of defensive end Joe Mathis for the season, the Huskies pass rush came back to life against ASU as the unit forced eight tackles for loss and sacked Wilkins six times.
Injuries to the Arizona State offensive line have shifted players out of their normal positions, creating a very unstable pocket for Wilkins and other signal-callers this season.
The offensive also contributed to ASU registering 15 rushing yards on 27 carries, by far a season-low for Graham's team.
One bright spot for ASU was wide receiver N'Keal Harry. The true freshman notched his second straight 100-yard game was he caught six passes for 114 yards.
Graham praised Harry following the team's loss to Utah and the five-star prospect has continued to shine .
Following the defeat, Arizona State drops to 5-6 on the season, a far cry from a 5-1 start that had fans talking about the Sun Devils as a darkhorse Rose Bowl pick.
Now ASU must win the Territorial Cup over Arizona to become bowl-eligible, something the team has accomplished in every season under Todd Graham.
The previous four Territorial Cup games have been won by the home team. Kick-off between Arizona and Arizona State will be at 7:30 p.m. MST from Arizona Stadium in Tucson, Ariz. The game can be seen on ESPN2.
This article originally appeared on