ASU Football: Sun Devils Fall Apart at USC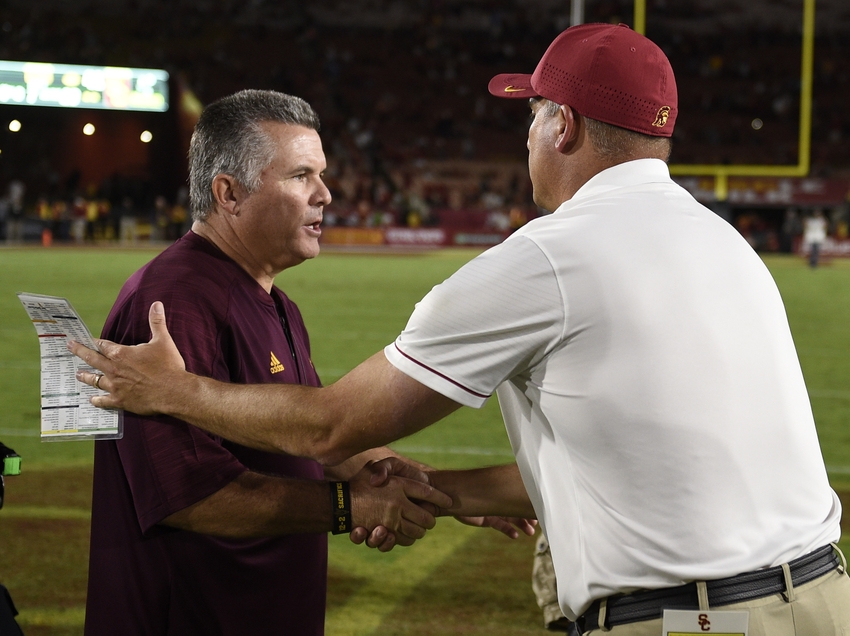 After a promising 4-0 start, the Arizona State Sun Devils suffered their first loss of the season in a 41-20 rout at the hands of USC.
Following a strong opening drive, it all went downhill for ASU.
The Sun Devils opened the game with a five-minute drive that resulted in a Zane Gonzalez field goal and followed that up by forcing a USC turnover on downs.
The Trojans responded to a sluggish start by scoring 27 of the next 30 points led by two touchdown receptions from junior wide receiver JuJu Smith-Schuster.
"Obviously, they were the better team tonight. We just played really poorly," said ASU Head Coach Todd Graham.
Trailing 24-6 minutes before halftime, the situation went from bad to worse for ASU.
While attempting to evade pressure, Sun Devils quarterback Manny Wilkins went down awkwardly on a sack and was clutching his left knee.
The redshirt sophomore needed assistance walking off the field and later returned to the sideline wearing a walking boot and using crutches for support.
More from Devils in Detail
Thrown into a difficult scenario, redshirt freshman quarterback Brady White was forced to play the second half.
Despite a clear lack of chemistry between the signal-caller and his receivers, White finished with 80 yards on six completions and scored his first collegiate touchdown on a 13-yard strike to tight end Raymond Epps in the final minutes.
Even with White reaching a milestone, the night belonged to USC.
The Trojans were 1-3 entering Saturday night and played a complete 60 minutes in what was a must-win game.
Redshirt freshman quarterback Sam Darnold seamlessly picked apart a porous ASU secondary for 352 yards and three touchdowns with Smith-Schuster being the recipient of all three scores.
Defensively, USC harassed a young Sun Devils offensive line and eliminated the ASU running game.
The Sun Devils couldn't generate any pressure on Darnold, allowing the run game to open up as senior tailback Justin Davis gashed ASU for 123 yards and a touchdown on 14 carries.
Once again, tackling was an issue for ASU as the Trojans broke several arm tackles for large gains throughout the night.
"We do tackling drills every day and the coaches put emphasis on it every day," said junior defensive tackle Tashon Smallwood. "We don't need to do it, we need to do it to apply it."
The loss marks the third straight season of ASU being blown out against a Southern California team.
"You just have to bring it every week in the Pac-12. If you don't, you're going to get beat and you can get beaten badly," said Graham.
Now 4-1, the Sun Devils will look to rebound against the UCLA Bruins on October 8.
This article originally appeared on