ASU Football: Manny Wilkins Impresses in Debut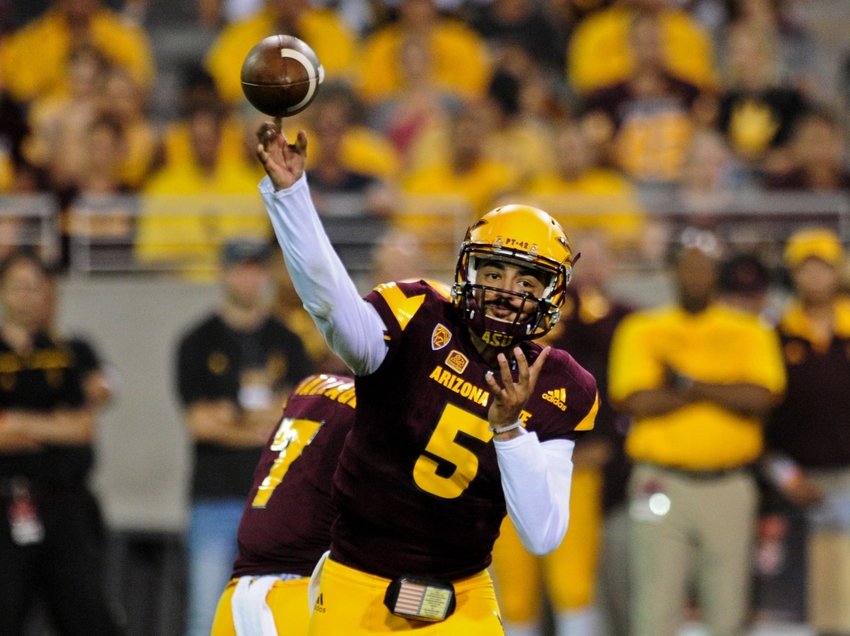 With the quarterback competition being the hot-button topic surrounding ASU football this offseason, whoever was picked as the starting quarterback was going to have a magnifying glass on them for the first game of the season.
Manny Wilkins was given the honor of being the starting quarterback for the first game of the season, but did he pass the test?
The short answer is yes, but not with flying colors.
Wilkins ended the night with 180 passing yards and, when strictly looking at yards gained, he had 113 rushing yards.
Wilkins didn't pick up a touchdown through the air, but he did pick up a touchdown with his feet. So overall where do we rank his performance?
While Wilkins did an efficient job of running the offense, he struggled when it came to throwing the ball. He rarely threw it downfield, with most of his throws being either screens or short check down passes.
More from Devils in Detail
Where he didn't struggle however was on the ground. Wilkins had no trouble torching the NAU defense for huge chunks of yards with every run. He even hurdled defenders, twice!
With all that being said, Wilkins did give a spark to the Sun Devil team that fans haven't seen in a while.
Last season under Mike Bercovici there were times where the team was boring to watch, plain and simple. Times where fans honestly didn't feel like they were watching the Sun Devils, more of a generic team.
Wilkins reinvigorated the Sun Devils in his first series as the starting quarterback, he reminded us why we all loved Taylor Kelly so much. The damage that can be caused with mobile quarterbacks is something that gets fans excited.
So at the moment, it seems that Wilkins has passed the tests given to him by both Todd Graham and the fans and will remain the starting quarterback for the time being.
With the 2016 football season official underway, Devils in Detail is the place to be. Stay with Devils in Detail for all the latest ASU football news, opinion, and more!
This article originally appeared on