ASU Football: How Long of a Leash Does Todd Graham Have?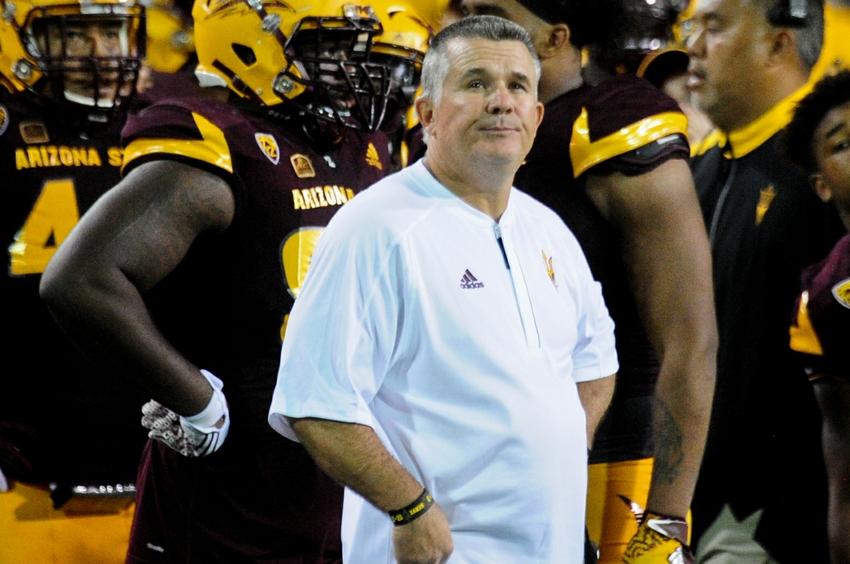 With his fifth season as head coach coming to a close, Todd Graham has an interesting situation on his hands.
Earlier this week it was announced that Todd Graham would be returning to Arizona State in 2017 as the head coach. Vice President for University Athletics, Ray Anderson, discussed coach Graham's and ASU's relationship in an interview on Arizona Sports 98.7.
"No one needs to doubt that, we are going to finish this season as best we can and then we are gonna go into 2017 with a lot of enthusiasm, and we will be led by Todd Graham," Anderson said when asked about coach Graham returning for next season.
When this season comes to an end, regardless of how it turns out, it will be considered a disappointment. When you look at how this team began the season, 4-0, this team should have more wins than five. Regardless of injuries, this team didn't live up to expectations that fans had after the great start.
More from Devils in Detail
But this isn't Graham's only disappointing season, last season was a disappointment as well. A team that was ranked to begin the season finished with a 6-6 record and then fell to West Virginia in the Cactus Bowl. A team that was picked to be a potential dark horse candidate for the College Football Playoff finished fourth in the Pac-12 south and was never in contention for the Pac-12 south title at any point in the season.
The similarities between these two teams? Poor pass defense. Anderson also discussed the defense that has plagued ASU and what his expectations are moving forward.
"Yes, we will have expectations that every aspect of our club will be improved. And certainly if you have been watching the games… you know that our defense needs improvement. So we will be, certainly, looking for improvement on the defensive side of the ball," Anderson said.
So for now, coach Graham is safe. He will be back as head coach of the Arizona State Sun Devils for his sixth season. But another 6-6 season might not be enough for him to keep his job in the future.
This article originally appeared on